Soya chunks manchurian recipe – How to make soya manchurian recipe – soya chunks recipes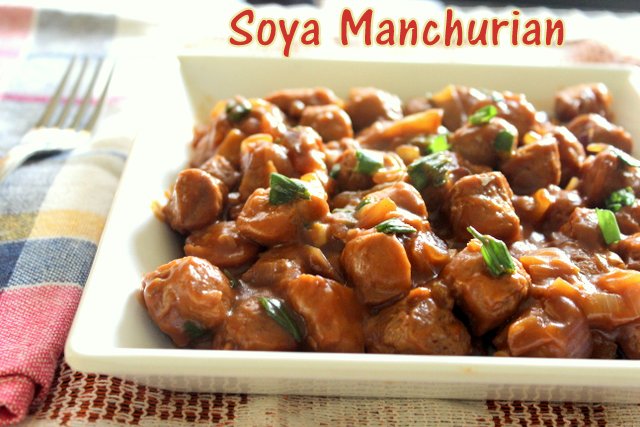 Soya chunks Manchurian is a healthy and tasty dish prepared with coated soya chunks cooked in chinese sauces.  Soya chunks or nuggets are full of proteins and rich in vitamins, minerals and other nutrients proven to help lower cholesterol and loss of bone mass.  Soya is strongly recommended for diabetics,  growing children, weight-watchers and the aged.   It is a  100 per cent vegetarian high quality protein source and great for growing children, as it provides critical vitamins, minerals, fibre and protein.  
The nuggets when boiled turn spongy and ready to absorb any flavours you cook them in and hence makes up for a delightful dish.  Soya chunks manchurian is a nutritious side dish for fried rice or noodles.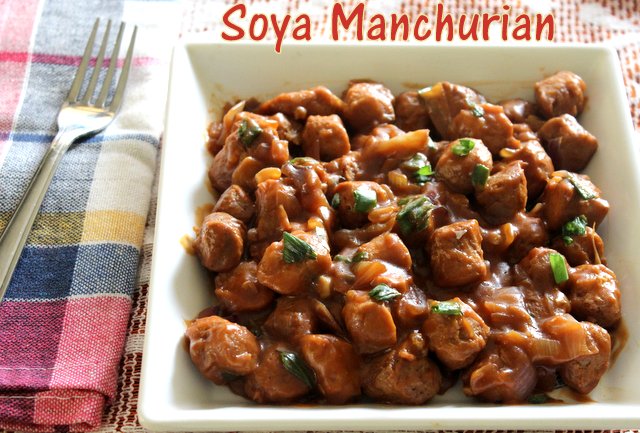 Prep Time :  15 mins
Cook Time :  20 mins
Servings : 4 persons
Indian cuisine
INGREDIENTS
Soya chunks – 2 cups
Onion – 1 (small sized) (chopped finely)
Spring onions – 1 (chopped finely)
Spring onion greens – 4 stalks (chopped finely)
Corn flour or corn starch – 2 tablespoons
Ginger – 1 inch (chopped finely)
Garlic cloves – 1 tablespoons (chopped finely)
Green chillies – 2 (chopped finely)
Red chilli powder – 1 teaspoon
Soya sauce – 2 tablespoons
Green chilli sauce – 1 tablespoon
Tomato ketchup – 2 tablespoons
Vinegar – 1 tablespoon
Oil – 2 tablespoons
Salt to taste
HOW TO MAKE OR PREPARE SOYA CHUNKS MANCHURIAN RECIPE
Boil sufficient water alongwith little salt in a vessel.  Once it reaches a nice boil, switch off the flame.  Add soya chunks to it and soak  for 10-15 minutes.  Then drain the water and wash the soya chunks.  Squeeze the water and keep it aside.
Take a mixing bowl or vessel.  Add the drained and squeezed soya chunks.  Add 1 tablespoon corn flour, red chilli powder, 1 tablespoon soya sauce and salt.
Mix well and marinate for 10 minutes.  Heat oil in a pan on medium flame.  Add the marinated soya chunks and saute for 2-3 minutes.
Transfer to a vessel.  Add the onions, spring onions, green chillies, ginger and garlic  cloves to the same pan.
Saute for 2-3 minutes on a medium flame.  Add soya sauce, green chilli sauce, tomato ketchup.  Mix well.
Add 1 and 1/2 to 2 cups of water and let the mixture come to a nice boil.  Add the soya chunks and mix well.
Dissolve 1 tablespoons of corn flour in 1/4 cup of water and add to the mixture.  Cook till the mixture thickens a bit.  Add salt as required.  Lastly add vinegar and give a good mix.  Switch off the flame.
Garnish with chopped spring onion greens and serve hot with fried rice or noodles.
NOTES/TIPS
Dark soya sauce gives a good colour to the dish.
Add salt sparingly, as sauces have enough salt content.
Ensure to squeeze the water from boiled soya chunks before marinating and cooking it.
Add little more water if you prefer a gravy consistency.