Broken wheat and moong dal dosa recipe – How to make broken wheat dal dosa recipe – dosa recipes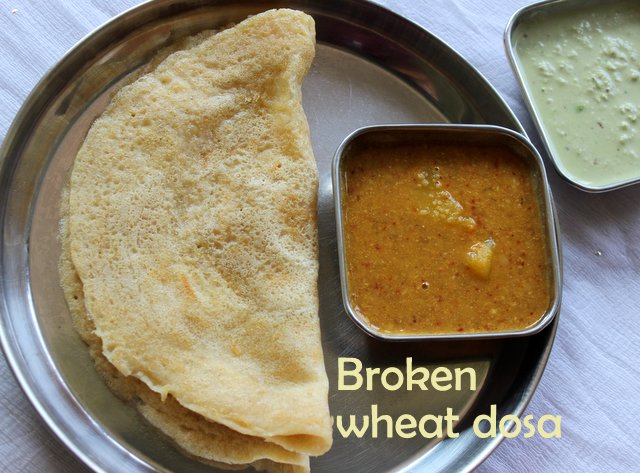 Broken wheat dosa with moong dal is a very healthy and instant dosa made with broken wheat and yellow moong dal.  It is not only tasty but also a very filling dish.  This dosa goes well with sambar or coconut chutney.  This dosa will not be very soft like the regular dosa, but little crispy as moong dal is added to it.  Broken wheat is also called as dalia in hindi and samba godhumai rava in tamil.  
Broken wheat or dalia or lapsi or samba godhumai  is prepared by milling whole wheat grains coarsely.  Eating broken wheat is a nutritious way of eating wheat as it is unpolished and does not lose out on any nutrients.  Dalia is a treat for anyone who needs a diet rich in fiber. Cracked wheat is considered to be more nutritious than rice and considered to be a good aid for weight loss and people who are having diabetics.
Varieties of dishes can be prepared from broken wheat such as upma, idli, dosas, adais or even sweet dalia with sugar or jaggery.  
Broken wheat dosa is a very healthy and nutritious breakfast dish made from broken wheat which is the main ingredient.  It is a sumptuous breakfast dish and very filling.  Do try this recipe and start your day with this energy filled dish.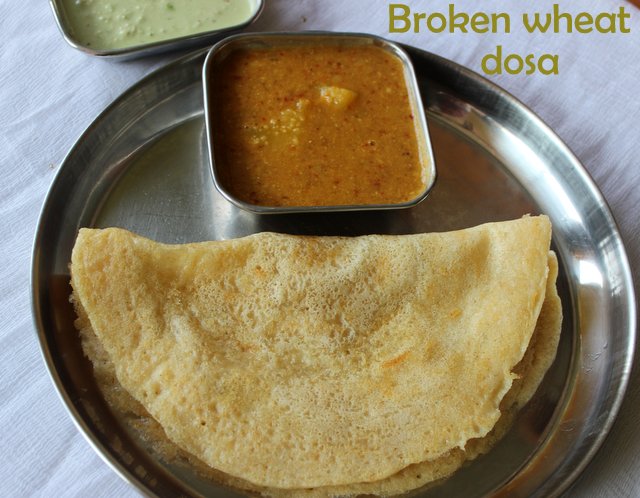 Prep Time :  10 mins plus 2 hours of soaking time
Cook Time : 15 mins
Servings :  2 to 3 persons
South Indian cuisine
INGREDIENTS
Broken wheat – 2 cups
Yellow moong dal – 1 cup
A pinch of asafetida or hing
Salt as required
HOW TO MAKE OR PREPARE BROKEN WHEAT DAL DOSA RECIPE
Soak the broken wheat and moong dal with enough water for 2 hours.  After 2 hours, drain the water and add the soaked broken wheat and moong dal to a mixer grinder.  Add hing and salt.
First grind for few seconds without adding water.  Then add very little water and grind to make a smooth paste.  Pour the batter in a vessel.  Check for salt and add if required.  Mix together thoroughly.  The consistency should be like dosa batter.
Heat a griddle or a non-stick tawa or plain dosa tawa on  a low to medium flame.  Pour a ladle of batter into the centre of the tawa and quickly spread the batter evenly into a round shape, starting at the inside of the circle and working towards the outside.  Drizzle a few drops of oil along the edges
Once the  corners starts lifting up and the underside is golden colour, flip to the other side and drizzle another 1/2 teaspoon of oil along the edges.  Once both the sides are cooked, transfer the dosa to a serving plate.  Healthy and tasty broken wheat dosa is ready to be served.  Serve with sambar and  coconut chutney.
NOTES/TIPS
Green chillies, ginger and coriander leaves can also be added to  the batter at the time of grinding.
Prepare this dosa immediately without fermenting.  Leftover batter can be refrigerated for 2-3 days.