Cornflakes mixture or chivda recipe – Easy and healthy South Indian Diwali snack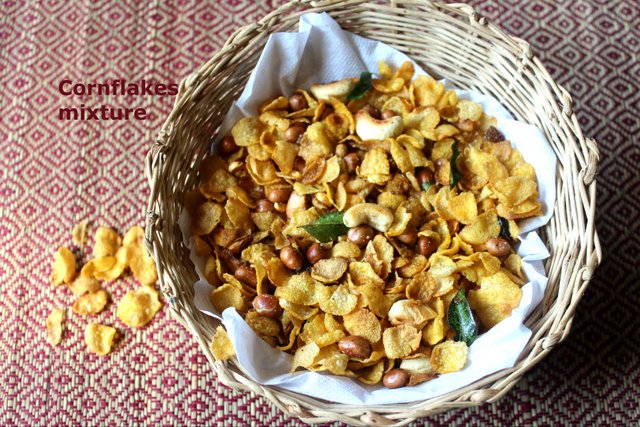 Cornflakes mixture or chivda is a traditional South Indian snack or mixture prepared from cornflakes, curry leaves, salt and red chilli powder and garnished with nuts. It is also a healthy mixture as it is stir fried and not deep fried and ideal for festive occasions like Diwali. It is a very quick to make crispy snack and can be had as a teatime snack too.
Ingredients
Cornflakes - 3 cups
Cashewnuts - 2 tablespoons
Peanuts - 2 tablespoons
Raisins - 2 tablespoons
Fried gram - 1 tablespoon
Red chilli powder - 1/2 teaspoon
1 string of curry leaves
Sugar - 2 teaspoons
Salt to taste
Cooking oil - 2 tablespoons
Method
Step 1
HOW TO MAKE OR PREPARE CORNFLAKES MIXTURE RECIPE Heat 1 tablespoon of oil in a non-stick pan or kadai. Add cashewnuts and stir fry till light brown. Set aside.
Step 2
Then add peanuts and roast till light brown. Keep aside.
Step 3
In the same pan, add raisins and stir fry for half a minute. Set aside.
Step 4
Now add cornflakes and stir fry for upto 2 minutes. Remove them.
Step 5
Add another 1 tablespoon of oil to the same pan. Add curry leaves and fried dal and stir for a minute. Add salt and chilli powder to it and mix.
Step 6
Add stir fried cornflakes, cashewnuts, raisins, peanuts to the fried dal mixture and combine together. Add sugar. Mix everything well and stir fry for a minute. Switch off the flame.
Step 7
Cornflakes mixture is now ready to be served.
Step 8
TIPS : You can make a instant chaat with cornflakes mixture. Just add chopped onions, tomatoes, green coriander leaves, green chutney and sprinkle little lime juice. Enjoy this healthy chaat with a cup of tea.