Green peas masala/curry recipe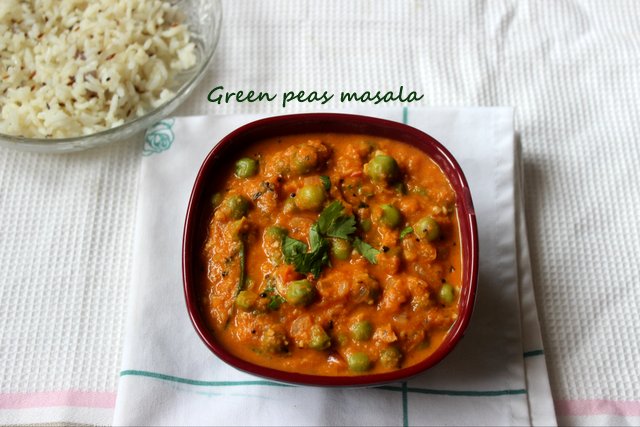 Green peas masala curry is a delicious and a great side dish for rotis, chapatis, phulkas or even pulaos.  It is a very easy and simple to make curry made with fresh green peas, onions and tomatoes and cooked in a spicy gravy.  Green peas are available throughout the year in frozen form, but during  winter green pods are available in plenty and making this curry with fresh green peas is more delicious and flavourful.   The use of cashewnuts and milk paste not only gives a rich taste but also a creamier look to this dish.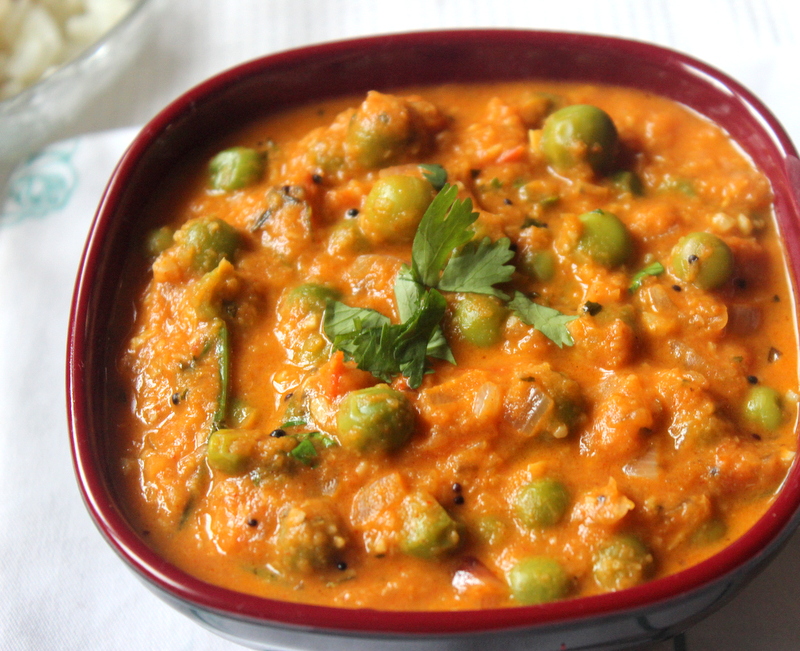 Prep Time : 20 mins
Cook Time : 20 mins
Servings : 4
Total time – 40 mins
Indian cuisine
INGREDIENTS
Fresh green peas – 1 cup
Onion – 1 ( medium sized chopped finely)
Red chilli powder – 1/2 teaspoon
Turmeric powder – 1/4 teaspoon
Coriander powder – 1/2 teaspoon
Garam masala  – 1 1/2 teaspoons
Coriander leaves – 2 tablespoons
Kasoori methi – 1 tablespoon (crushed by hand)
Salt to taste
Cooking oil – 2 tablespoons
TO ROAST AND GRIND (WET MASALA)
Onions – 2 (medium sized)
Tomatoes – 4 (medium sized)
Green chillies – 2
Garlic cloves – 5 to 6
Ginger – 1 inch small piece
TO GRIND (CASHEW PASTE)
Cashew nuts – 7-8
Milk – 1/4 cup
TO TEMPER/SEASONING
Butter/oil – 2 tablespoons
Cumin seeds – 1/2 teaspoon
Cloves – 2
Cinnamon – 1/4 inch small piece
Bay leaves – 2
HOW TO MAKE/PREPARE GREEN PEAS MASALA CURRY RECIPE
Pressure cook green peas for upto 3 whistles.  Keep aside.
Soak cashewnuts in a milk for 8-10 minutes.  Grind soaked cashewnuts to a smooth paste and set aside.
Heat 2 tablespoons of oil in a pan.  Add onions, tomatoes, garlic cloves, green chillies and ginger  (ingredients mentioned under TO ROAST AND GRIND WET MASALA) till the onions turn light brown and tomatoes become little soft or mushy.  Allow them to cool down.  Grind the roasted ingredients with little water to a smooth paste and set aside.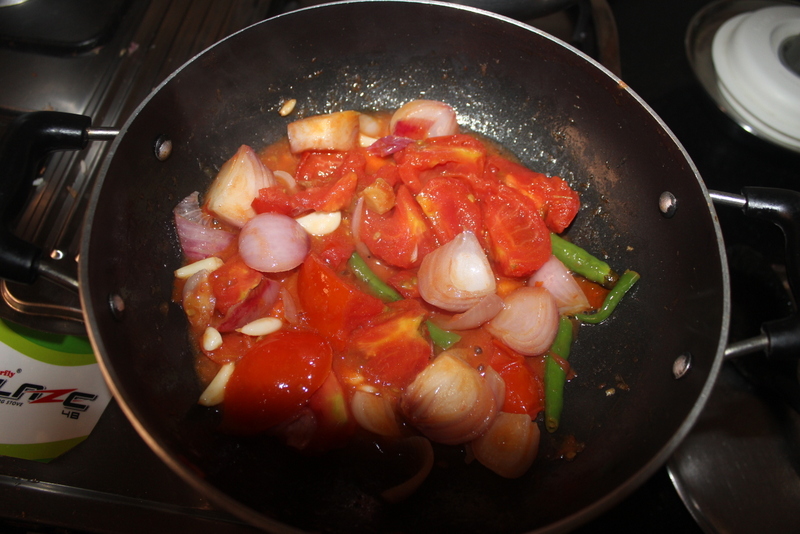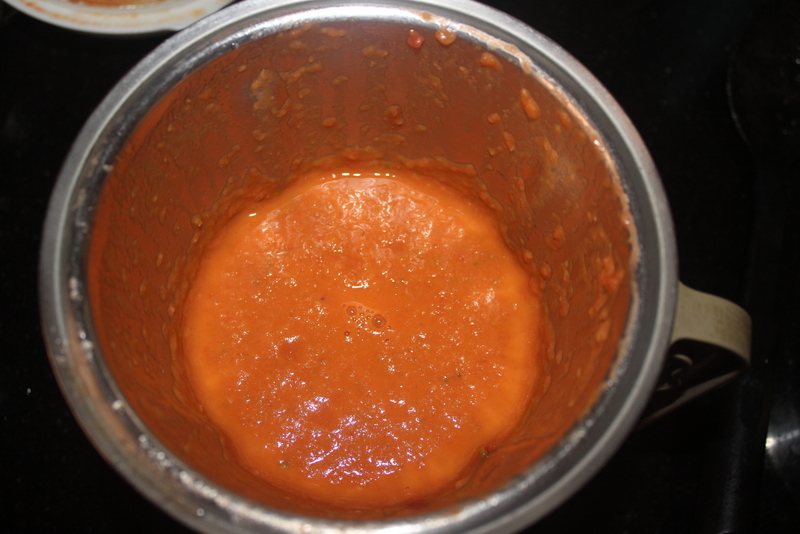 Heat another 2 tablespoons of oil or butter in a separate pan.  Add cumin seeds, cloves, cinnamon and bayleaves.  Saute on a low flame for 30 seconds,  Then add chopped onions and stir fry till light brown.
Then add ground onion tomato mixture and mix well.  Saute on a low flame for 4-5 minutes.  Then add turmeric powder, red chilli powder, coriander powder and  salt and combine together.
Add the cooked peas and cook for another 2 minutes.
Add kasoori methi and garam masala and mix well.  Allow it to simmer for 2-3 minutes on a low flame.  Finally add the cashew paste and give a quick stir and switch off the flame
Garnish green peas masala curry with chopped coriander leaves and serve hot with rotis, chapatis, naans, pulaos or any flavoured rice.
NOTES/TIPS
After adding cashewnut-milk paste, do not cook for too long as milk tends to curdle sometimes.
If you are using fresh green peas, you can cook it separately in a pan and then add it.  Do not overcook the green peas or else the curry tends to become mushy.