Mango lassi recipe – How to make mango lassi (aam ki lassi) (mango yoghurt drink) recipe – lassi recipes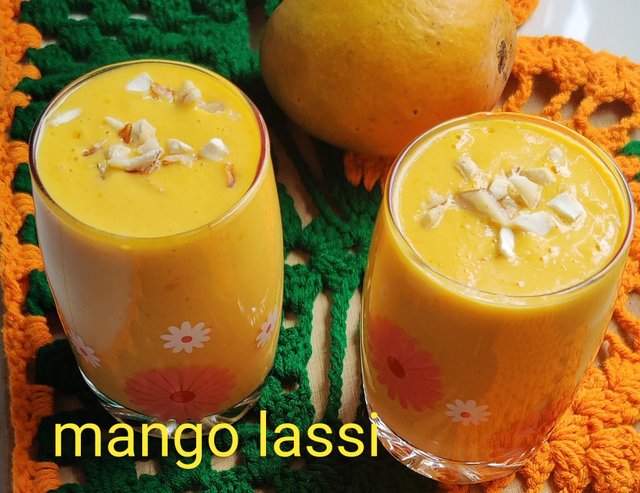 Lassi is a very refreshing yoghurt based drink and originates from Punjab.  Yoghurt flavoured with spices is called as salted lassi and lassi which contains sugar is the sweet lassi.  There are many varieties of lassi like mango lassi, strawberry lassi, salted lassi or sweet lassi. 
Mango lassi is a very popular and traditional drink from North India prepared from mango pulp, yoghurt,  sugar and cardamom powder.  It is an ideal drink during summers as yoghurt cools down your body.  In this recipe, I have used alphonso mangoes for making this lassi.  But you can use any variety of mangoes available in your area and in season.   But alphonso mangoes  gives a good taste to the lassi.   Ripe and non fibrous mangoes works best for making this lassi.  You can also call this mango lassi as mango yoghurt  smoothie.
If you are using canned mango pulp, just ensure to add more or less sugar according to the sweetness of the mango pulp.  You can serve mango lassi topped with vanilla icecream  and relish it as a dessert.
Do try this easy and delicious mango lassi recipe and enjoy this summer season !!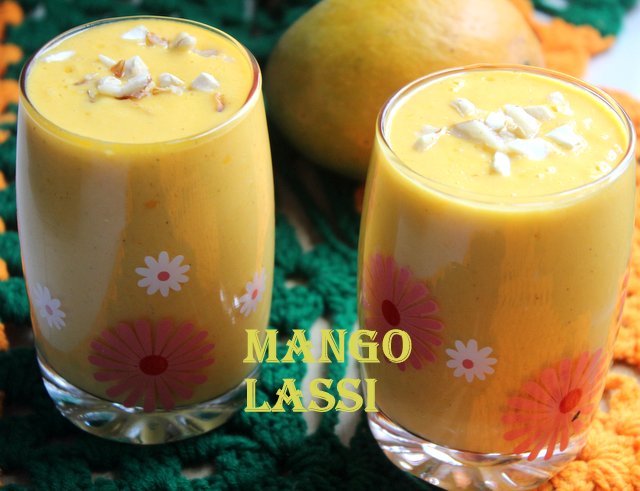 Prep Time : 15 mins
Indian cuisine
INGREDIENTS
Mango pulp – 2 cups (preferably fresh alphonso mangoes)
Yoghurt/curd – 2 cups (fresh and thick curd)
Sugar – 4 tablespoons or as per your taste
Cardamom powder – 1/4 tsp
Ice-cubes – 5
Chopped almonds and cashewnuts for garnishing
HOW TO MAKE OR PREPARE MANGO LASSI RECIPE
PREPARATION
Wash, peel and deseed 4 to 5 medium sized alphonso mangoes. Remove the pulp from the mango and keep it aside.  You will get approx 2 cups of mango pulp.
METHOD
Take 2 cups of mango pulp to a mixer grinder.  Add 2 cups of curd to it.
Add 4-5 tablespoons of sugar, 5 ice-cubes and 1/4 tsp of cardamom powder.  Blend all the ingredients  for few seconds, till smooth.
Pour the mango lassi to a serving glass and serve immediately chilled.  Garnish with chopped almonds and cashewnuts.
Delicious mango lassi is ready to be served.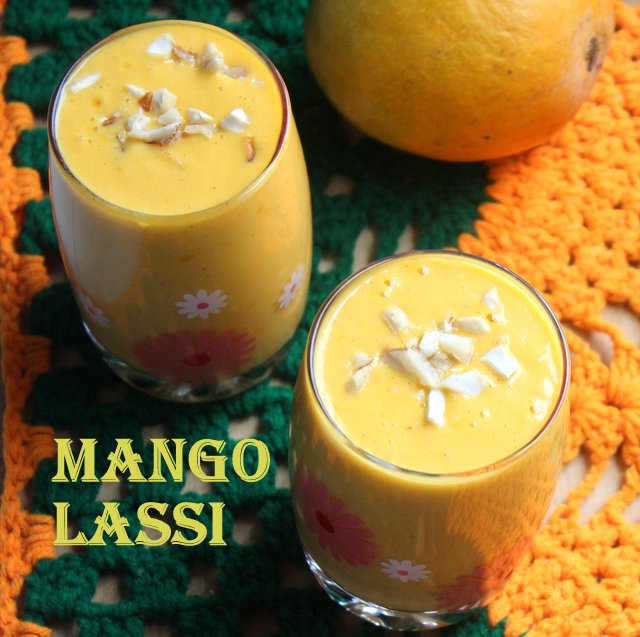 NOTES/TIPS
You can add grapes, musk melon, watermelon or any seasonal fruits of your choice and make fruits lassi.
You can add honey instead of sugar.
Do not use citrus fruits as they do not go well with curd.
Freeze or refrigerate the fruits before blending.  It  gives a creamy texture to the lassi.
You can add a pinch of saffron strings to enhance the flavour.
If you prefer a thinner lassi, add little cold water or  milk, to adjust the consistency.
Adding ice-cubes at the time of blending gives you a cold and refreshing lassi.
Ensure to use fresh and not so sour curd for making the lassi.