Ragi malt recipe – How to make ragi porridge or ragi malt recipe – ragi or finger millet recipes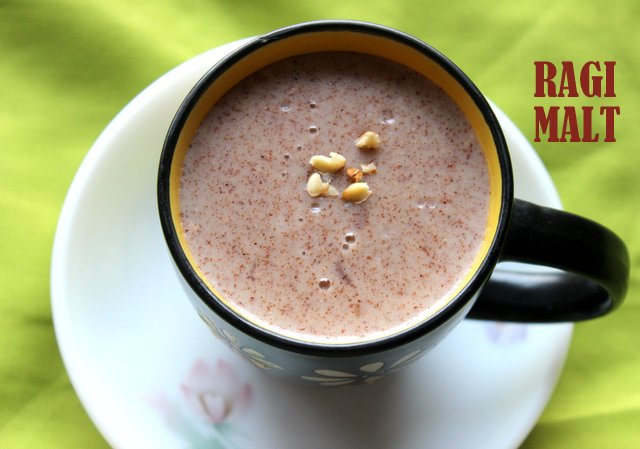 Ragi malt or ragi porridge is a very healthy and delicious drink made with ragi flour, milk, water, jaggery, cardamom powder and nuts.  It is a popular nutrient drink in South India.  As ragi is rich in calcium, iron and other essential nutrients, it is an ideal drink for weight conscious and diabetic people.  There are 2 versions of ragi drink – one is the sweeter version made with milk and jaggery and the other  salty one which is prepared with buttermilk and salt, along with mild spices.  Ragi drink is a popular health drink especially during summers, as it helps hydrate and cool down the body.
Ragi is called as finger millet in English, ragi in Kannada, nachini in Marathi and mandika in Hindi.  The consumption of ragi is believed to help women in osteoporosis.  It also helps in weight loss, reduces cholesterol, indigestion or constipation.  Do try this refreshing and nourishing drink!!  Ragi malt is best consumed as a breakfast meal or anytime of the day.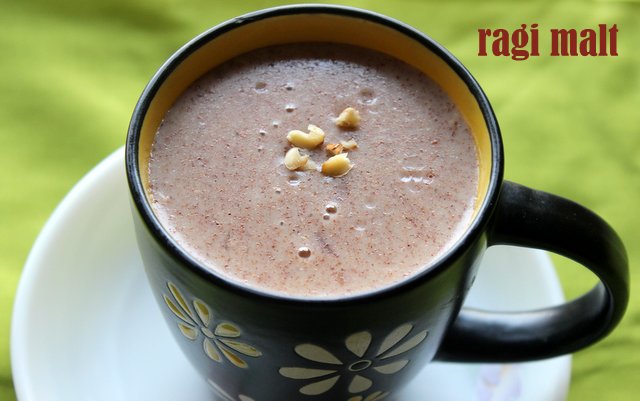 Prep Time :  10 mins
Cook Time : 5 mins
Servings : 2 persons
South Indian cuisine
INGREDIENTS
Ragi flour – 2 tablespoons
Milk – 1 cup
Water – 1 and 1/2 cups
Cardamom powder – 1/4 teaspoon
Jaggery or gur – 2 teaspoons or as per taste
Chopped almonds – 1/2 teaspoon
HOW TO MAKE OR PREPARE RAGI MALT  OR RAGI KANJI RECIPE
Take a small bowl and add 2 tablespoons of ragi flour.  Add 1/2 cup of water to it.
Dissolve the ragi flour into the water with the help of a whisker.  Ensure that there are no lumps formed.  Keep it aside.  Boil 1 cup of water in a vessel.
Once the water comes to a nice boil, add the dissolved ragi flour and mix well.
Cook on a low flame by stirring continuously till the mixture becomes little glossy.  The mixture will start thickening.  Keep stirring to avoid getting burnt.  Add jaggery powder and cardamom powder.  Mix well.  Then add 1 cup of milk and give a good mix again.
Keep cooking on a low flame for a minute till the jaggery is well blended with the ragi mixture.  Then switch off the flame.
Check for sugar or jaggery and add if required.  Tasty and nutritious ragi malt is ready to be served.  Garnish with chopped almond pieces and serve hot or cold.
NOTES/TIPS
You can add sugar or honey instead of jaggery powder.
It is better to dissolve the ragi flour with water first and then add to the boiling water, so that it is well cooked and no lumps are formed.
Ragi porridge tends to thicken once cooled down.  Add more milk and adjust the consistency.
You can also add almond powder to the ragi porridge to make it more nutritious.