Mooli paratha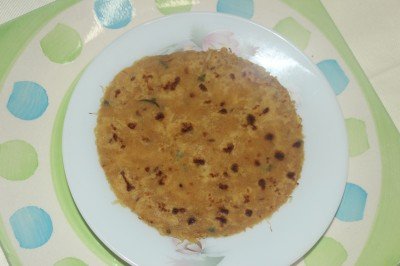 Mooli ka paratha is a popular North Indian dish and is served with curd or pickle. It is a healthy indian recipe which uses radish as the main ingredient.  Radish is rich in nutrients, Vitamin C and potassium.  It is an extremely low caloric vegetable.
Ingredients
Whole wheat flour - 2 1/2 cups
Grated radish - 1 cup
Red chilli powder - 1/2 teaspoon
Coriander powder - 1/2 teaspoon
Gram flour or besan - 2 teaspoons
Garam masala powder - 1/2 teaspoon
Chopped coriander leaves - 1 tablespoon
Salt to taste
Cooking oil - 1 teaspoon
Method
Step 1
Heat oil in a pan. Add grated radish, chilli powder, coriander powder, garam masala, salt and saute it for 2 minutes. Add besan and again saute it for a minute. Then add chopped coriander leaves.
Step 2
Remove the radish mixture in a bowl. Let it cool down.
Step 3
Add wheat flour to the radish mixture and knead into a soft dough with little oil. (Add water only if required as radish has lot of moisture)
Step 4
Divide the dough into equal size portions and roll into smooth balls.
Step 5
Take one ball of dough. Roll into 3 inch diameter circle.
Step 6
Heat a flat tawa on a medium flame. Apply butter on the tawa and put the paratha on it. Cook for a minute.
Step 7
Apply butter on the top of the paratha and flip on the other side. Cook till both the sides of the paratha becomes golden brown.
Step 8
Serve the parathas hot with curd or pickles.
Step 9
Note : Gram flour is added for binding the radish mixture. You can also use the radish mixture separately as stuffing. Take one small dough. Put the stuffing inside and cover from all sides and roll into a paratha.