Ginger chutney recipe – How to make ginger chutney for idli and dosa – chutney recipes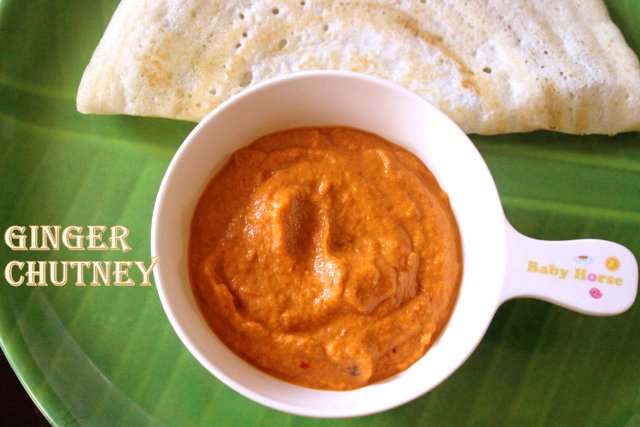 Ginger chutney is a tasty and easy to make chutney made with onions, ginger, dals and red chillies.  It goes well as a side dish for idlis and dosas.  With very few ingredients to make, this chutney can be prepared in less than half an hour.  Ginger is a wonder spice and has lot of health benefits.  It has digestion friendly properties and good for battling cold and flu.  Ginger chutney is called as allam chutney in Telugu and very popular in Andhra Pradesh.  Do try this tangy, sweet and spicy chutney as a side dish for idlis/dosas for a change from the regular.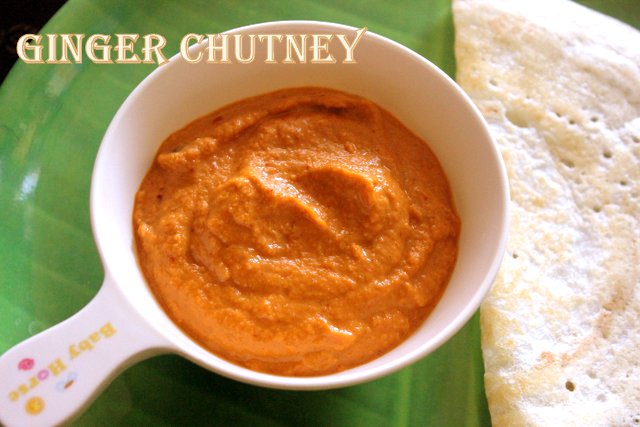 Prep Time :  10 mins
Cook Time : 15  mins
Servings : 2 to 3 persons
South Indian cuisine
INGREDIENTS
Onion – 1 (large sized) (chopped roughly)
Urad dal – 1 tablespoon
Chana dal – 2 tablespoons
Cumin seeds (jeera) – 1/2 teaspoon
Ginger – 2 inch sized chopped roughly  (or 2 tablespoons of grated ginger)
Curry leaves – 10
Tamarind – 1 small piece or 1 tablespoon tamarind paste
Red chillies – 3 or as per taste
Grated jaggery – 1 tablespoon
Grated coconut – 2 tablespoons (optional)
Salt as required
Oil – 2 tablespoons
HOW TO MAKE OR PREPARE GINGER CHUTNEY RECIPE
Heat oil in a pan on medium flame.  When the oil becomes hot, add cumin seeds, urad dal, chana dal and red chillies.  Saute till the dals turn golden brown in colour.  Then add roughly chopped onions, ginger and curry leaves
Saute on a medium flame till the onions become translucent.  Switch off the flame.  Let the mixture  cool down.  Take the mixture to a mixer grinder.  To this, add grated jaggery, grated coconut, salt and tamarind piece.
Grind all the ingredients to a smooth paste by adding 3-4 tablespoons of water.  Transfer the chutney to a serving bowl.  Serve ginger chutney with idlis, dosas or uthapam.  It can also be served as a side dish for rice and curry.
NOTES/TIPS
Ginger chutney stays good for 2-3 days when refrigerated.
You can also add tomatoes along with onions and make the chutney.
Adjust jaggery as per your taste.
You can give a tempering of mustards seeds, urad dal and curry leaves and then serve the chutney.