Bread upma recipe …breakfast recipes – how to make bread upma recipe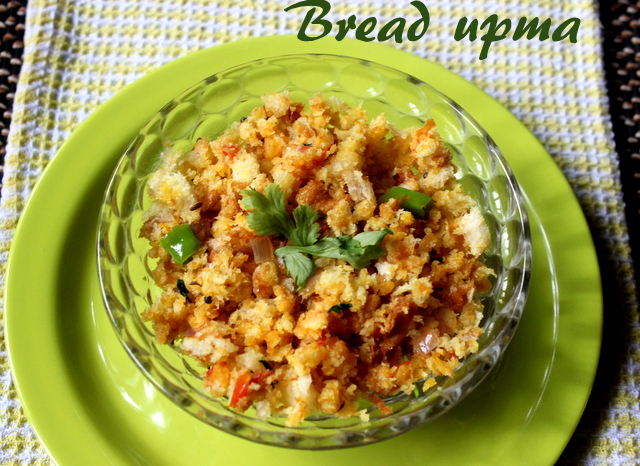 Bread upma is a  tasty and delicious indian dish made from  bread, onions, tomatoes and spices.  It can be prepared in a jiffy and  served for either breakfast or as a evening snack.  You can use wheat or atta bread or brown bread or multigrain bread to make it more healthier.  You can make bread upma with leftover bread.  If you are using fresh bread, you can make upma alongwith the edges of the bread.  Otherwise you can remove the edges if using old bread or if edges are too hard.
Other upma recipes which you can try from my blog ..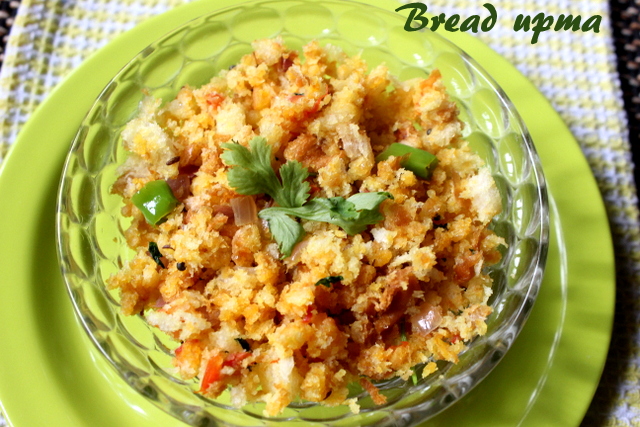 Ingredients
White bread slices - 10
Onion - 1 (chopped finely)
Tomato - 1 (chopped finely)
Green chillies - 2 (chopped finely)
Oil - 2 tablespoons
Mustard seeds - 1/2 teaspoon
Cumin (jeera) seeds - 1/2 teaspoon
Turmeric powder - 1/4 teaspoon
Few curry leaves
Salt to taste
Sugar - 1 teaspoon (optional)
Few coriander leaves for garnishing
Lime juice - 2 teaspoons
Method
Step 1
Cut the bread into medium pieces and grind them into a coarse or semi coarse powder in a mixer grinder and keep aside.
Step 2
Heat oil in a pan. Add mustard seeds and cumin seeds. Once the seeds start spluttering, add chopped onions, green chillies and curry leaves and saute them till onions become translucent.
Step 3
Add tomatoes, salt, turmeric powder and cook till the tomatoes become soft.
Step 4
Now reduce the heat and add the ground bread powder and mix well.
Step 5
Sprinkle little water and close the pan with a lid. Cook on a low flame for 5 to 6 minutes. Remove from heat.
Step 6
Add lime juice and sugar. Combine together.
Step 7
Garnish with chopped coriander leaves and serve hot.
Step 8
NOTE : You can add vegetables like peas, grated carrot, potatoes or any other vegetable of your choice to make it more nutritious. You can add cashew nuts and ghee to enhance the taste. You can opt for brown bread instead of white bread. If you want crispy bread upma, cook for a little longer while stirring continuously. You can cut bread into small pieces and prepare bread upma, directly instead of grinding them to a fine powder. This is also one option.