Mysore pak recipe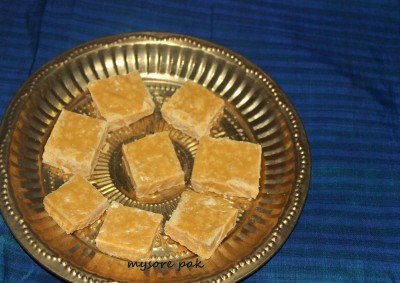 Mysore pak is a traditional sweet dish of Karnataka made for festive occasions like Diwali. It is made up of gram flour (besan), sugar and ghee. Legend says that Mysore pak was first created in the kitchens of Mysore Palace by a palace cook named Kakasura Madappa. Mysore pak is one of the most popular and delicious sweet from South India.
Ingredients
Fresh Gram flour/besan - 1 cup
Ghee - 1 cup
Sugar - 2 cups
Water - 1/4 cup
Method
Step 1
HOW TO MAKE MYSORE PAK RECIPE Heat a heavy bottomed pan. Add gram flour and roast till a nice aroma exudes. Keep the roasted flour aside.
Step 2
Grease a plate with little ghee and keep it ready.
Step 3
In the same pan, add water and sugar and heat till you get one string consistency. Here the sugar consistency is very important.
Step 4
Once the one string consistency is reached, lower the flame and add gram flour slowly. Keep stirring continuously without any lumps.
Step 5
Add ghee little by little and keep stirring continously till the mixture becomes thick and frothy. Since the ghee is absorbed quickly, add ghee in portions. (do not add ghee fully)
Step 6
Once the mixture binds together into a thick mass and you see the bubbles at the sides of the pan, pour the mixture immediately into the greased plate and pat gently with a spoon or a flat ladle.
Step 7
Allow it to cool down a bit. Once it is warm, cut into desired shapes and store in an airtight container.