Peanut ladoo recipe – How to make peanut/groundnut laddoo recipe – ladoo recipes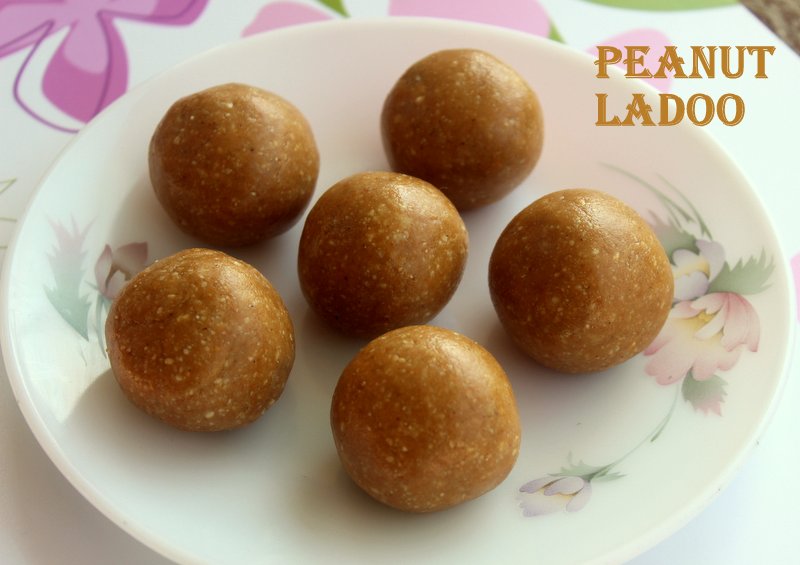 Peanut ladoo – a quick and healthy ladoo recipe made with peanuts and jaggery.  Jaggery is rich in iron and peanuts are high in protein.  They make up for a good healthy snack for kids and elders as well.  It is a traditional ladoo very popular in North India  and made especially during winters.  These ladoos are very simple and easy to make too.  Ghee added to it gives a good flavor to the ladoos.  Other peanut recipes from my blog :
Ground nut (peanut) and jaggery balls recipe – How to make peanut jaggery balls recipe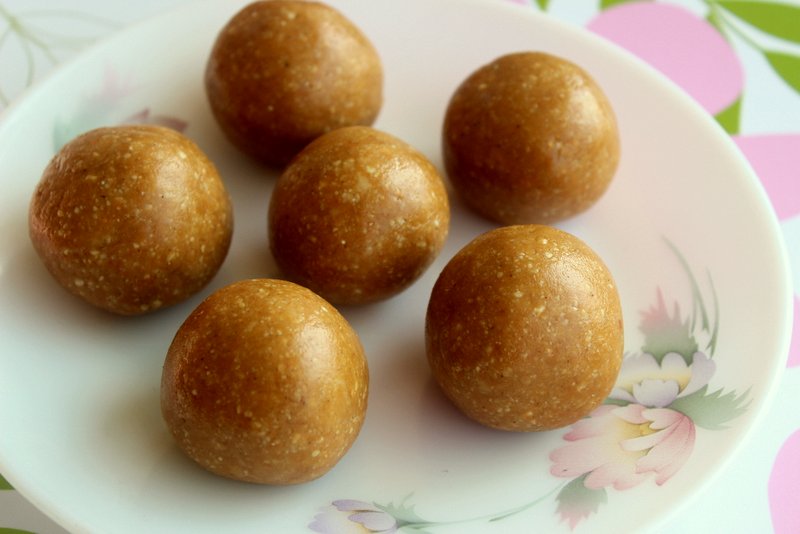 Prep Time : 20  mins
Yield:  7 to 8 ladoos
Indian cuisine
INGREDIENTS
Peanuts – 1 cup
Jaggery – 1/2 cup
Cardamom powder – 1/4 teaspoon
Ghee – 1 tablespoon
HOW TO MAKE OR PREPARE PEANUT LADOO RECIPE
Dry roast the skinned peanuts in a pan or tawa.  Remove the skin of the peanuts and set aside.  Take a mixer jar and add the  roasted and peeled peanuts.  Add the powdered jaggery.
Grind them to a coarse powder. (Do not grind too much, as otherwise the peanuts will release oil and  become very sticky).   Remove the ladoo mixture to a bowl.
Add ghee and cardamom powder and mix well.  Take a small portion of the ladoo mixture and shape it into a ladoo.  Continue with the rest of the mixture and make peanut ladoos.  Store the ladoos in an airtight container.
Healthy and delicious peanut ladoos are ready to be served.  Serve peanut ladoos as a sweet snack any time of the day.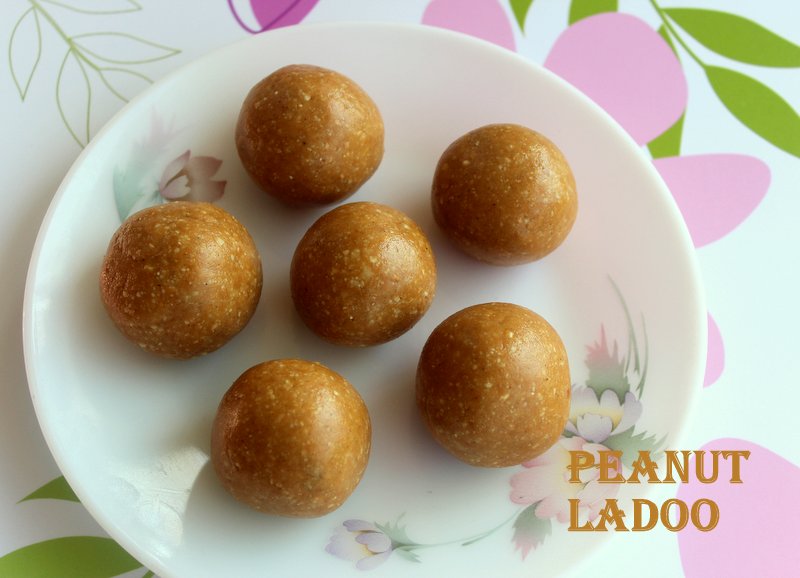 NOTES/TIPS
Ensure that the peanuts are roasted well before making ladoos.   There should not be any rawness in them. Otherwise it will affect the taste of the ladoos.
Adjust the jaggery content according to your taste.
You can add small coconut pieces or chopped raisins, almonds, cashewnuts or any nuts of your choice.
The oil in the peanuts and the moisture in the jaggery are enough to bind the ladoos.  Hence add just 1 tablespoon of ghee to make the ladoos.  Alternatively, you can also skip ghee, if calorie conscious.
Peanut ladoos stay good for a week at room temperature.