Curry leaves rice recipe – How to make karibevu chitranna or karuveppilai sadam recipe – rice recipes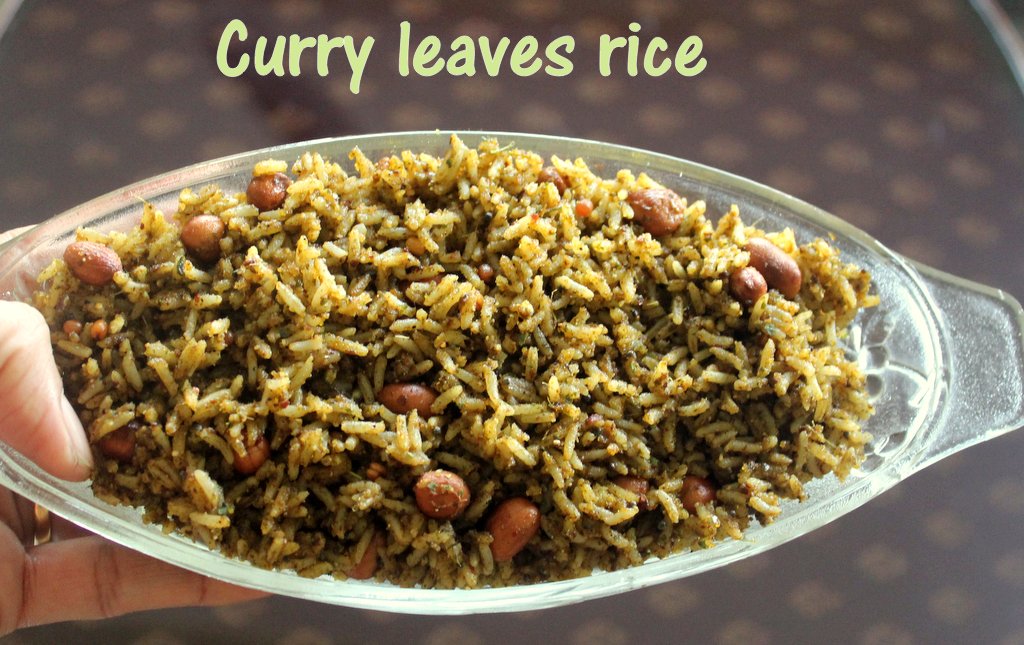 Curry leaves rice is a colourful, flavourful and delicious rice recipe made with rice, curry leaves and spices.  It is a very popular rice dish in South India and is best served with potato chips or raita.  Curry leaves makes this dish more flavourful and spices added to it makes it tasty.  Just ensure to use fresh curry leaves, as it adds more flavour to the rice.
Curry leaves not only add aroma to the food, but also they are fully loaded with immense health benefits.  They are widely used in Indian cooking. Curry leaves are rich in Vitamin A and C and a great source of iron and calcium.  By adding curry leaves to your daily diet, you can strengthen your immunity naturally.  Adding these leaves to your meals can also be a great way to derive the benefits of this herb.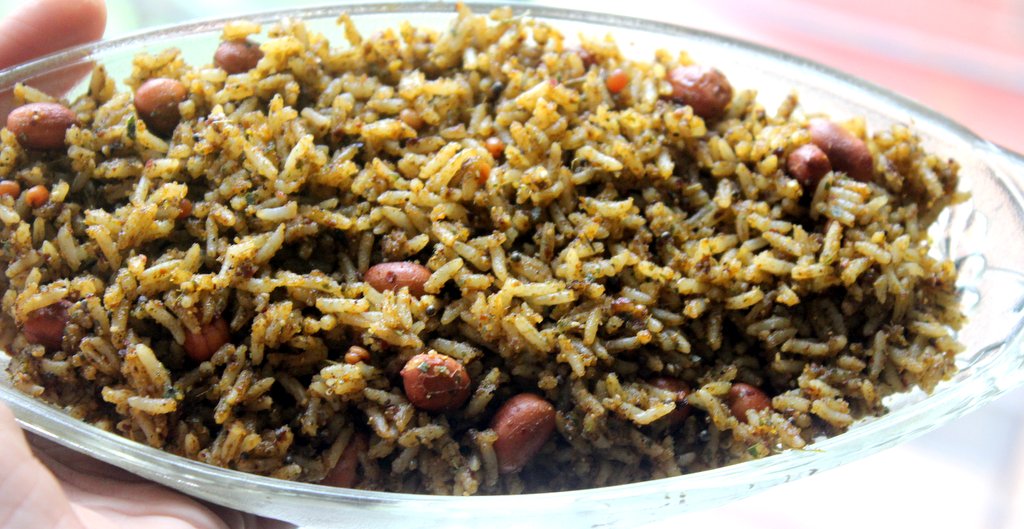 Prep Time : 10 mins
Cook Time :  15 mins
Servings : 2 persons
South Indian cuisine
INGREDIENTS
FOR DRY MASALA POWDER
Oil – 1 tablespoon
Chana dal – 1 tablespoon
Urad dal – 1 tablespoon
Coriander seeds – 1/2 teaspoon
Cumin seeds (jeera) – 1/2 teaspoon
Black peppercorns – 1/2 teaspoon
White sesame seeds – 1/2 teaspoon
Methi seeds – 1/4 teaspoon
Small piece of tamarind
Curry leaves or kadi patta- 1/2 cup
Red chillies – 3 to 4 nos.
FOR RICE
Oil – 2 tablespoons
Mustard seeds or rai – 1/2 teaspoon
Urad dal – 1 teaspoon
A pinch of asafoetida or hing
Peanuts or groundnuts – 3 tablespoons
Cooked rice – 3 cups
Salt to taste
For video recipe, please click on the link below :
HOW TO MAKE OR PREPARE CURRY LEAVES RICE RECIPE
Heat 1 tablesooon of oil in a pan or kadai.  Add chana dal, urad dal, coriander seeds, cumin seeds, black peppercorns, methi seeds, white sesame seeds, small piece of tamarind and red chillies.  Fry on low flame till they  become light golden in colour.  Then add 1/2 cup of curry leaves and roast till they turn crisp.  The entire process will take around 5-6 minutes on low flame.
Turn off the flame.  Allow the mixture to cool down completely.  Grind to a fine or coarse  powder as per your preference.  Do not add water as the powder should be dry.  Keep it aside.
Heat 2 tablespoons of oil in a pan.  Add mustard seeds and allow it to crackle.  Then add urad dal, hing and peanuts.   Saute for a minute on low flame.
Add the ground dry masala  and mix well.  Then add the cooked rice and salt as well.
Mix everything well and adjust the salt if required.  Switch off the flame.  Healthy and flavourful curryleaves rice is ready to be served.
Serve curry leaves rice with raita or chips or papad.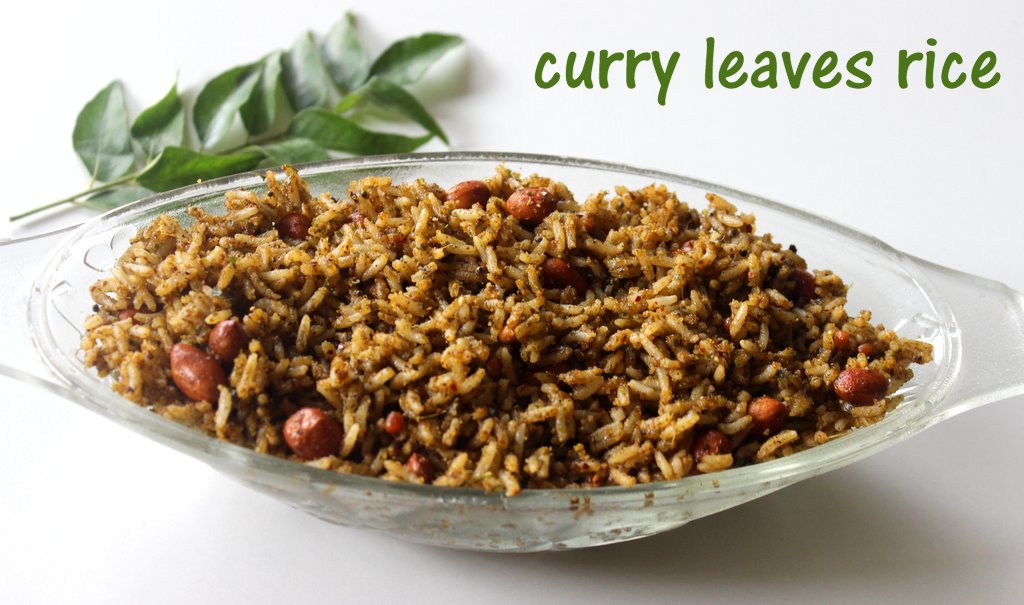 NOTES/TIPS
Ensure to wash and dry the curry leaves well, before making the masala powder.
You can make the powder either soft or coarse as per your preference and taste.  You can also store this powder for later use.
Keep the cooked rice ready and ensure it is not mushy.
Gingelly oil gives a good taste and flavour to this dish.
You can add cashewnuts instead of peanuts for a different flavour.
Curry leaves rice tastes better the next day, as the spices gets well absorbed in the rice.