Shakarpara or Shankarpali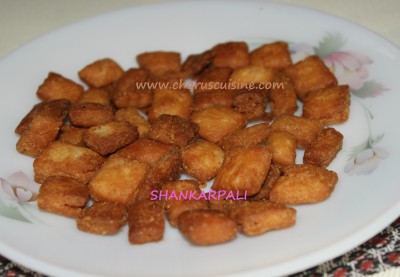 Shakarpara or shankarpali is a popular sweet snack in Maharashtra and Gujarat.  It is generally made on festivals like Diwali.  Shakarpara or shankarpali is rich in carbohydrates, an instant source of energy.  It is made with all purpose flour (maida), semolina, ghee and sugar and it has a long shelf life.
Ingredients
All purpose flour (maida) - 2 cups
Semolina (rava) - 1/2 cup
Ghee - 1/2 cup
Powdered sugar - 1/2 cup
Cooking oil for frying
Water as required
A pinch of salt
Method
Step 1
HOW TO MAKE SHAKARPARA OR SHANKARPALI Take a vessel. Add sugar and little water and make a thin syrup. In another bowl, add maida, semolina, salt, ghee, sugar water and knead into a soft dough.
Step 2
The dough has to be soft but little stiff.
Step 3
Cover the dough and keep aside for half an hour.
Step 4
Make small balls from the dough and roll into a thick roti.
Step 5
Cut the roti into small diamond shapes with the help of a knife.
Step 6
Heat oil in a kadai. Deep fry on a medium heat, till light golden colour. Crispy and crunchy shankarpalis are ready to eat.
Step 7
Store shankarpali or shakarpara in an airtight container and enjoy as an evening snack or with a cup of tea or during Diwali festivals.