Vegetable kurma (Mixed vegetable korma)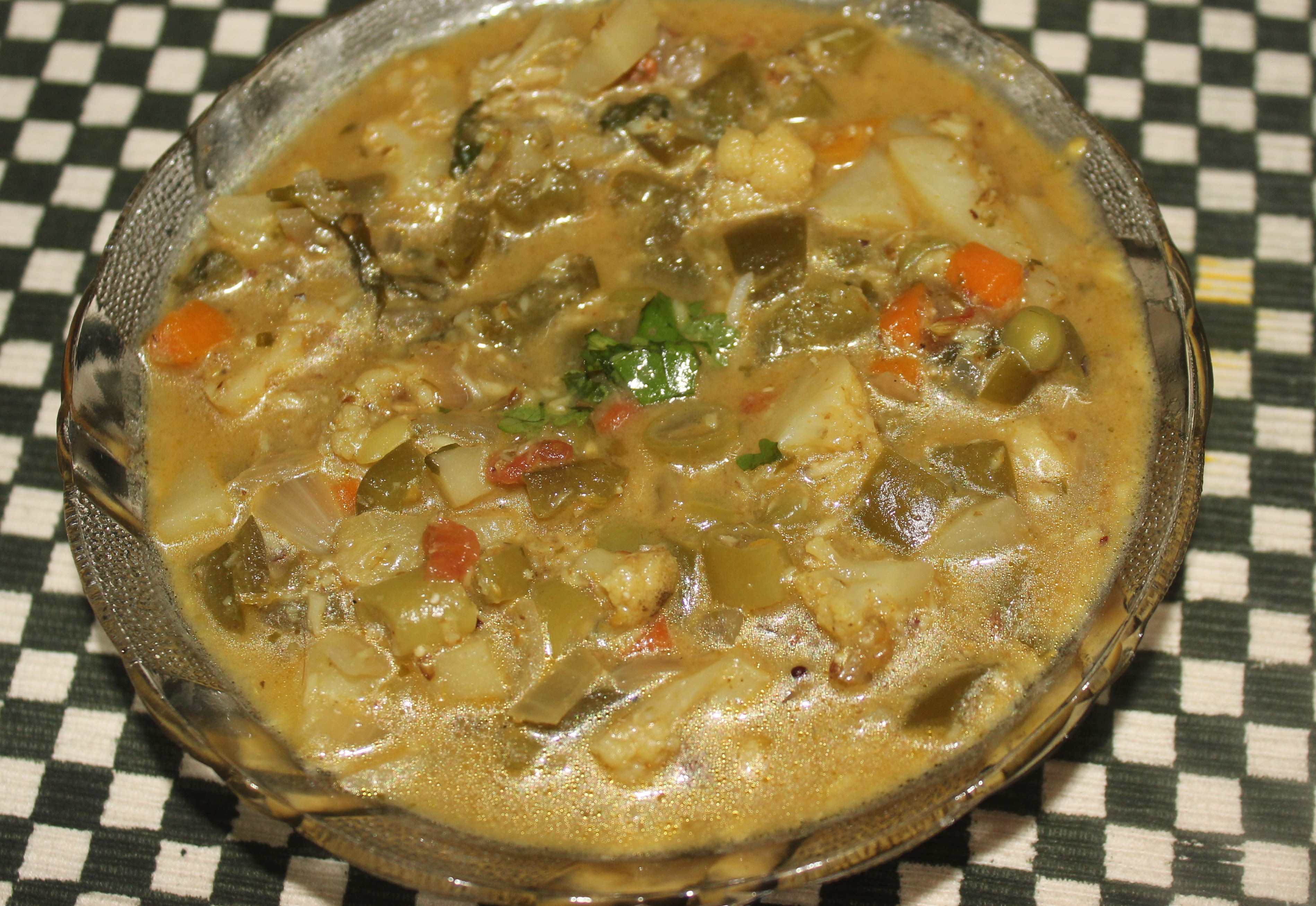 Vegetable kurma is a popular dish in Tamil nadu.  It is a combination of vegetables, spices, curd and coconut, cooked in gravy form.  It serves as a good accompaniment for both rotis as well as rice.
Ingredients
Cauliflower - 1 cup
French beans - 1/2 cup
Green peas - 1/2 cup
Carrot - 1/2 cup
Capsicum - 1/4 cup
Onion - 1 (chopped finely)
Tomato - 1 (chopped finely)
FOR MASALA
Garlic - 8 cloves
Ginger - 1 inch small piece
Green chillies - 3
Coriander leaves - 2 tablespoons
Grated coconut - 1/2 cup
Coriander seeds - 1 tablespoon
Cumin seeds - 1/2 teaspoon
Poppy seeds(khuskhus) - 1/2 teaspoon
Fennel seeds (Saunf/Sombu) - 1/2 teaspoon
FOR SEASONING
Ghee - 2 tablespoons
Mustard seeds - 1/2 teaspoon
Cloves - 2
Cinnamon stick - 2 (small)
Cardamom - 2
Bay leaf - 2
Method
Step 1
Wash and cut cauliflower, capsicum, beans and carrot into small cubes.
Step 2
Take a heavy bottomed vessel. Add these cut vegetables and peas. Add sufficient water, salt and turmeric powder and boil for 15 to 20 minutes on a medium flame or till vegetables are cooked. Once cooked, strain the water and keep aside. (Do not throw this water. It can be used later for simmering vegetables)
Step 3
Grind all the ingredients(given above for masala) with little water to a smooth paste.
Step 4
Heat ghee in a kadai. Add mustard seeds. Once it starts spluttering, add cloves, cinnamon stick, cardamom, star anise and bay leaf. Stir for half a minute
Step 5
Add chopped onions and fry till they turn translucent
Step 6
Add chopped tomatoes and cook till they turn soft.
Step 7
Add ground masala, little water (you can now use the water kept aside after boiling the vegetables) and salt. Stir well and simmer for 5 minutes
Step 8
Add boiled vegetables and mix well. Cook for another 5 minutes.
Step 9
Remove from fire. Once it cools down, add 2 tablespoons of curd.
Step 10
Garnish with coriander leaves and serve hot with rice or rotis.