Collection of 7 healthy and delicious ragi recipes – Finger millet/Nachni/ragi recipes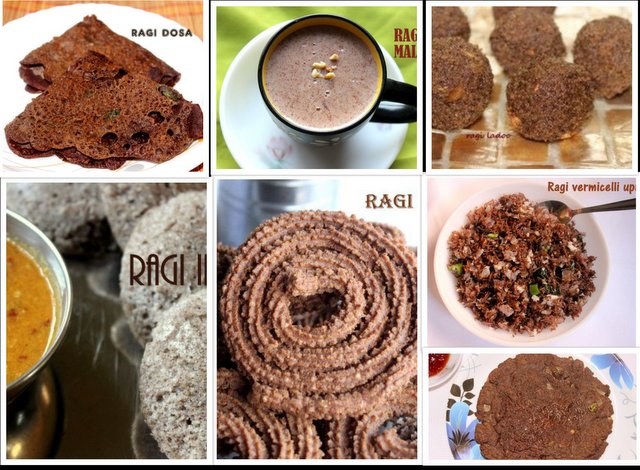 Ragi is a wonderful ingredient and a rich source of calcium, protein and iron.  Ragi is also called as nachni, finger millet or red millet and an extremely nutritious millet.  It resembles mustard seeds in appearance.  Nowadays, after realising the importance of ragi in our diet, people have started mixing ragi with other grains for preparing dishes like idli, dosas, upma etc.
Ragi is recommended for people suffering with a Vitamin D deficiency. A powerhouse of nutrients, ragi helps relieve stress and anxiety and is a great remedy for gastro-intestinal problems. It is packed with fiber and is digested slowly. This keeps you full for longer, makes you less hungry and aids weight loss. Fiber is also beneficial for diabetics as it helps lower blood sugar levels in the body.
Health Benefits of Ragi :
Ragi is a whole grain which is gluten-free and a staple in South India.
Ragi is rich in calcium, good carbs, ammino acids and Vitamin D.
It is rich in fiber that helps with weight loss and diabetes.
 Ragi has anti-cancer potential, as it is rich in antioxidants
 Ragi reduces bad cholesterol and prevents heart diseases.
I am compiling and  sharing 7 healthy ragi recipes in this post, which have already been posted in my blog earlier.  Hope this is useful for all viewers.
Ragi malt recipe – How to make ragi porridge or ragi malt recipe – ragi or finger millet recipes
Ragi idli recipe – how to make ragi (finger millet) idli recipe | Ragi recipes |
Ragi vermicelli upma – how to make ragi semiya upma recipe – millet recipes
Instant ragi dosa recipe – healthy breakfast recipes – ragi recipes
Ragi rotti or ragi roti – how to make fingermillet roti/ragi rotti recipe – Indian recipes
Ragi (finger millet) murukku or chakli recipe – How to make ragi murukku/chakli recipe – ragi recipes