Cauliflower tomato curry recipe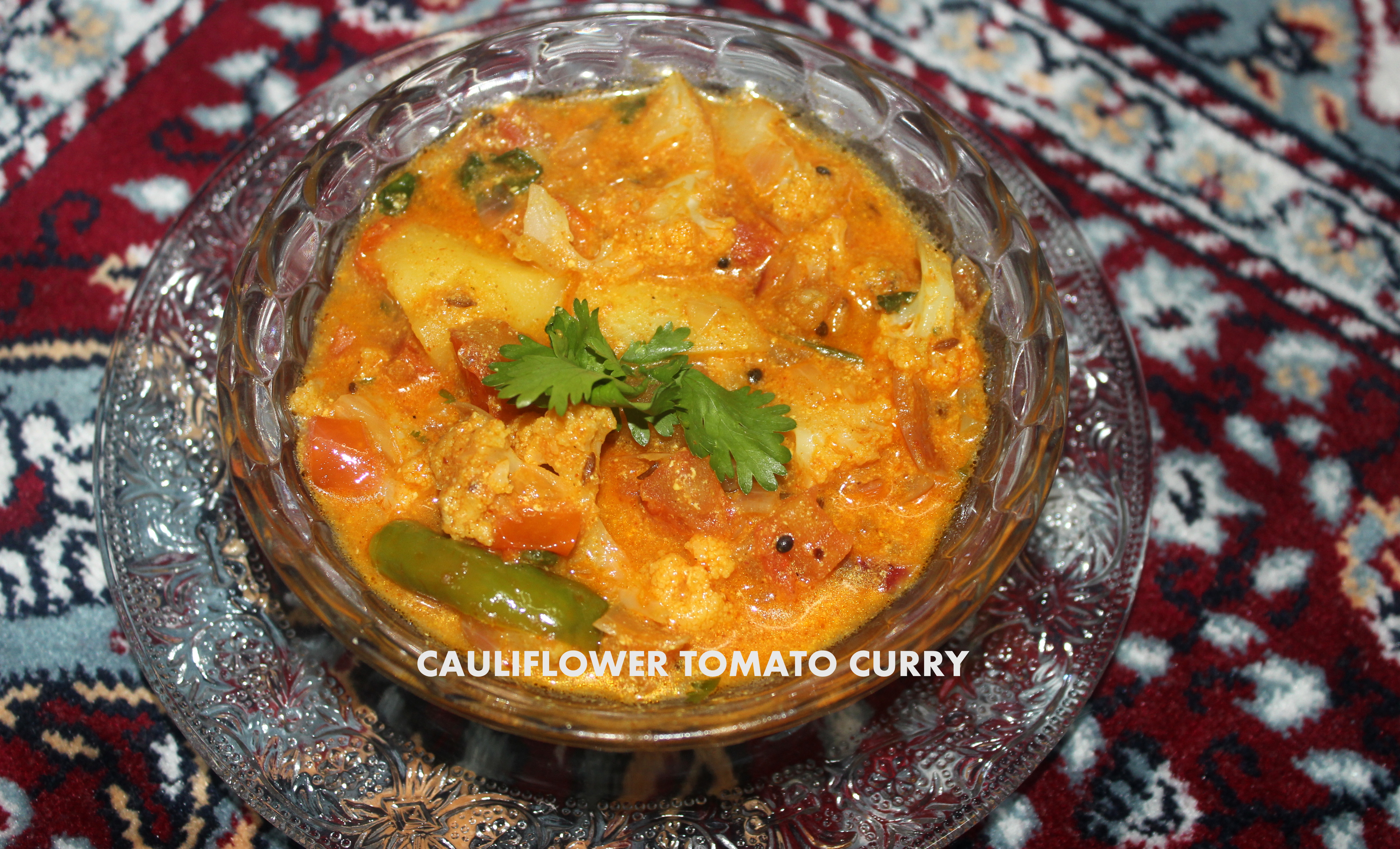 Cauliflower tomato curry is a very tasty and spicy Indian side dish for rotis, naans or rice. It is a very easy to make recipe where cauliflower is cooked in spicy tomato gravy and brought to a semi dry consistency. Very simple but a delicious curry. Do give a try.
Ingredients
Cauliflower - 2 cups (cut into small florets)
Tomatoes - 2 (finely chopped)
Onion - 1 (finely chopped)
Potatoes - 2 (chopped medium size)
Cooking oil - 2 tablespoons
Cumin seeds - 1/2 teaspoon
Ginger-garlic paste - 1 teaspoon
Turmeric powder - 1/4 teaspoon
Red chilli powder - 1/2 teaspoon
Green chillies - 2 (slit vertically)
Coriander powder - 1 teaspoon
Garam masala powder - 1 teaspoon
Yoghurt/curd - 1/2 cup
Chopped coriander leaves - 2 tablespoons
Salt to taste
Method
Step 1
HOW TO MAKE CAULIFLOWER TOMATO CURRY RECIPE Pressure cook cauliflower and potato upto 1 or 2 whistles. Do not make the vegetables too mushy. Just parboil the cauliflower florets and potato pieces. Drain them and keep aside.
Step 2
Heat oil in a pan. Add cumin seeds and stir fry for few seconds. Add onions, green chillies and ginger-garlic paste and fry till onions become translucent.
Step 3
Add chopped tomatoes and cook till they become soft.
Step 4
Add salt, turmeric powder, red chilli powder, coriander powder and mix well. Cook for 2 minutes.
Step 5
Add curd/yoghurt and very little water and bring it to medium consistency.
Step 6
Add parboiled cauliflower florets and potato pieces and mix well.
Step 7
Cover the pan with a lid and cook for 7-8 minutes on a medium flame till the vegetables are well blended and cooked.
Step 8
Add garam masala and combine together. Cook for another 2 minutes
Step 9
Add chopped coriander leaves and mix well. Switch off the flame. Cauliflower tomato curry is ready to be served.
Step 10
Serve cauliflower tomato curry hot with rice, naans or plain rice.