Shavige Payasa (Vermicelli Kheer)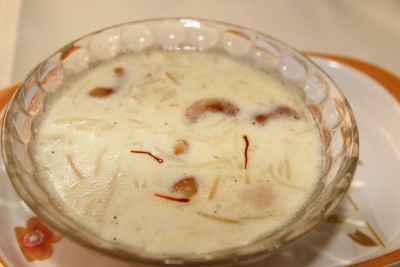 A traditional indian sweet dish made on festive and special occasions.
Ingredients
Vermicelli - 1 cup
Milk - 1 litre
Ghee - 2 tablespoons
Sugar - 3/4 cup
Cashewnuts - 10
Raisins - 10
Cardamom - 4 (crushed)
Few strands of saffron
Method
Step 1
Heat 1 tablespoon of ghee in a pan. Stir fry the vermicelli till light brown and aroma exudes and set aside.
Step 2
Boil the milk. Add the roasted vermicelli and heat on a low flame, till the vermicelli is fully cooked.
Step 3
Add sugar and crushed cardamom and mix thoroughly. Boil for 2 to 3 minutes.
Step 4
Fry the cashew\nuts and raisins in the remaining ghee and add to the milk mixture and stir well.
Step 5
Remove from the fire. Dissolve a pinch of saffron in 2 to 3 tablespoons of cold milk and add to the kheer.
Step 6
Serve warm or chilled.