Corn korma (microwave recipe)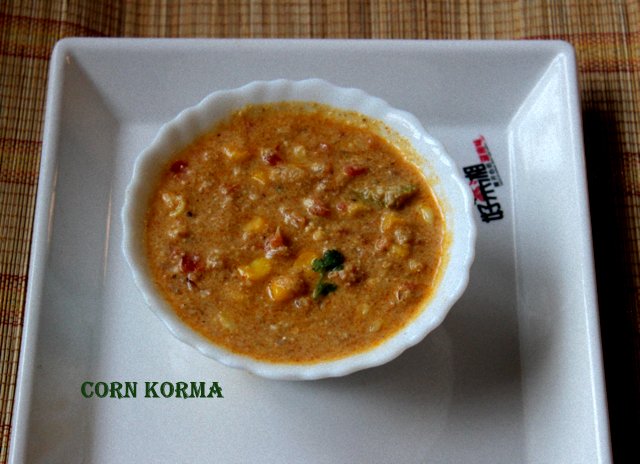 Corn korma is a perfect side dish for rotis or naans.  It is a protein rich recipe which is loved by kids as well as elderly. Corn korma is a quick and flavourful dish which makes up for a good accompaniment with chapatis.  Give this recipe a try and surprise your family!!
Prep Time :  10 mins
Cook Time : 20 mins
Yield : 3-4 persons
Total time – 30 mins
INGREDIENTS
Sweet corn kernels – 1 cup
Curd/yoghurt – 1 cup
Green chillies – 2 (deseeded and chopped into small pieces)
Red chilli powder –  1/2 teaspoon
Turmeric powder – 1/4 teaspoon
Garam masala – 1/2 teaspoon
Onion – 1 (chopped finely)
Tomatoes – 2 (chopped finely)
Sugar – 1/4 teaspoon
Salt to taste
Oil – 3 tablespoons
Cardamom (elaichi) – 2-3
MASALA PASTE
Grated coconut – 1/4 cup
Cashewnuts – 7-8
Poppy seeds (khuskhus) – 1 teaspoon
FOR GARNISHING
Chopped coriander leaves
HOW TO MAKE/PREPARE CORN KORMA RECIPE (MICROWAVE RECIPE)
Grind grated coconut, cashewnuts and poppy seeds with little water to make a fine paste.
Put oil and cardamoms in a microwave dish and micro for 2 minutes uncovered.
Add sugar, red chilli powder, turmeric powder and salt and mix well.  Add onions and micro high uncovered for 3 minutes.
Add ground masala paste and mix well.  Add chopped tomatoes and stir well.  Micro high covered for 3-4 minutes.
Add yoghurt, corn and garam masala and mix well.  Micro high for 5-6 minutes, stirring once in between.
Add 1/4 cup of water and microwave for 2 minutes.  Allow it to stand for 2 minutes.
Garnish corn kurma with chopped coriander leaves and serve hot with rotis or naans or parathas.