Khoya/mawa modak recipe … Ganesh chaturthi special sweet/mithai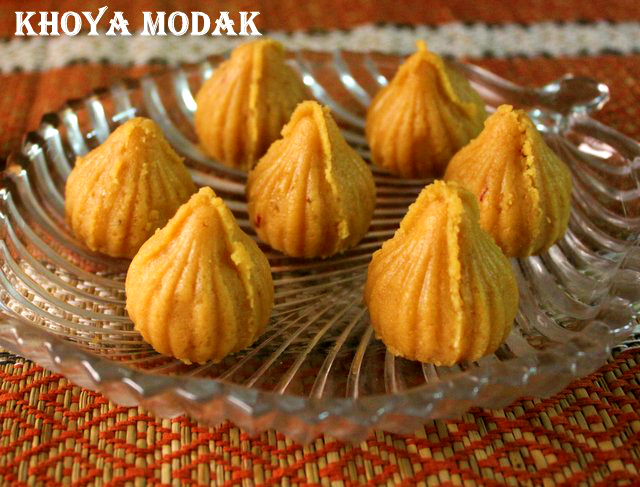 Khoya/mawa modak is also called as peda modak and is very popular in Mumbai during Ganesh Chaturthi festival.  This is one easy, quick and delicious modak recipe which is done only with 2 main ingredients i.e  khoya and sugar.  There are different varieties of modak prepared on this occasion like stuffed modak, malai modak, kesar modak, chocolate modak and so on.  Today I am sharing this recipe of yummy and moist khoya modak that you can easily make at home. Celebrate Ganesh Chaturthi with this easy and yummy khoya modak ..Ganpati Bappa Morya !!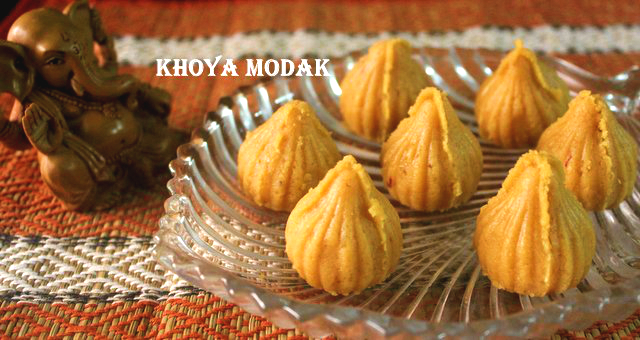 Prep Time :  10 mins
Cook Time :  8-10 mins
Servings :  7-8  small modaks
Indian cuisine
INGREDIENTS
Khoya/mawa – 1 1/2 cups
Powdered sugar – 1/2 cup
Cardamom powder – 1/4 teaspoon
Few saffron strings soaked in 2 tablespoons of milk
Ghee to grease the mould
HOW TO MAKE OR PREPARE KHOYA/MAWA MODAK RECIPE
Crumble or grate the khoya.   Heat a pan or kadai on a low flame.   Add the khoya and keep stirring continuously for 4-5 minutes till it oozes out with oil.  Cook on a low flame till the mawa becomes like a dough.  It should not take more than 5 minutes.
Transfer the khoya to a mixing bowl.  Once it is comes to room temperature, add powdered sugar, cardamom powder and saffron soaked in milk and mix well.  Knead it into a smooth dough.
Grease the mould with little ghee.  Take a small portion of the mawa mixture and place it in the mould.  Level the bottom of the mould.  Now close the mould tightly and  remove the excess mawa mixture from the edges of the modak mould.
Demould carefully and arrange it in a plate.  Repeat the process and  grease the mould again to make the modaks.
Delicious and rich khoya modaks are now ready for Ganesh Chaturthi.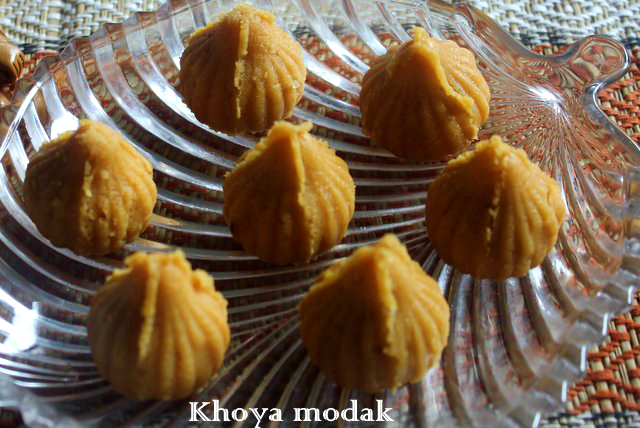 NOTES/TIPS
Take care to heat khoya on a low to medium flame or else it might get burnt or change its colour.  You can use non-stick pan or kadai for making modak.
Keep it refrigerated.  It stays for good for upto 2 days.
Ensure to grease the mould everytime you make the modaks.
If the khoya/mawa mixture becomes too dry or crumbly, just add few teaspoons of milk and knead again to make a smooth dough.  If the mixture is sticky or wet,  add little milk powder or refrigerate dough for 1 hour and then shape modaks  out of it.
I added half cup of powdered sugar.  If you prefer less sweet, you can add just 1/4 cup of sugar.  Adjust the sugar according to taste desired by you.