Eggless whole wheat almond cookies recipe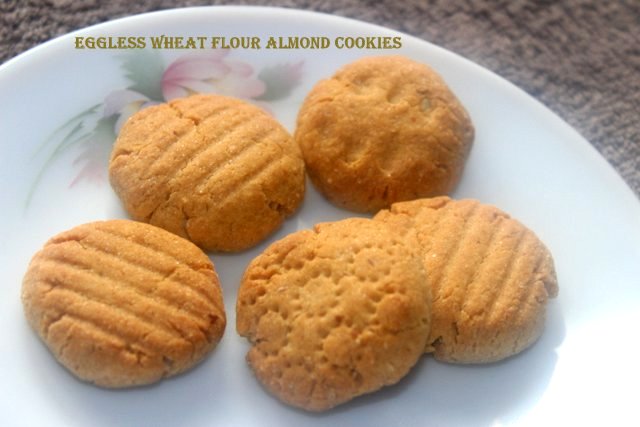 Almond cookies also called as almond biscuits.  They are prepared in different ways across various cuisines.  In China, sometimes almond cookies  are prepared with almond flour.  This almond cookies  recipe is prepared without eggs and with wheat flour, butter and almond powder.   These cookies are very delicious and  easy to make too.  A wonderful treat or snack for kids.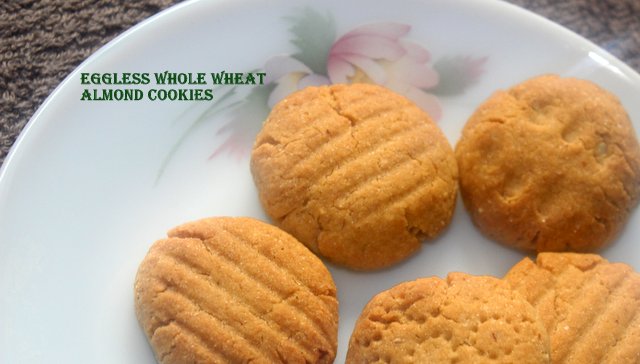 Prep Time : 45 mins
Cook Time : 20-25 mins
Servings : 3-4 persons
Total time – 1 hr 10 mins
INGREDIENTS
Whole wheat flour – 3/4 cup
All purpose flour or maida – 2 tablespoons
Baking powder – 1/4 teaspoon
Butter – 50 gms
Powdered sugar – 50 gms
Vanilla essence – few drops
Almond powder – 2 tablespoons
HOW TO MAKE OR PREPARE EGGLESS WHOLE WHEAT ALMOND COOKIES
Take the butter in a mixing bowl.  Add sugar and beat well.
Take a separate bowl.  Add whole wheat flour, refined flour, baking powder and mix well.  Add this mixed flour to the butter-sugar mixture and mix again.  Add vanilla essence and almond powder and mix again.  Knead the mixture into a dough.
Take a small portion of the dough and roll it round to a ball and flatten a little.  Place it on a grater and press gently to give a design to the cookie.  Repeat for other cookies with different designs.
Preheat the oven to 190 degrees.  Bake in the oven for 20-25 minutes.
Eggless whole wheat almond cookies are now ready to be served.