Ground nut (peanut) and jaggery balls recipe – How to make peanut jaggery balls recipe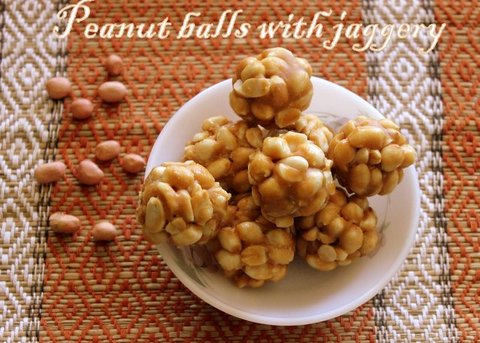 Peanut balls with jaggery, also called as kadalai urundai in Tamil Nadu is a tasty snack prepared especially on auspicious occasions like Karthigai deepam and Krishna Jayanthi.  It is a healthy snack as peanuts  is full of proteins and jaggery is rich in iron content.  Peanut balls is very easy to prepare at home and made with only 2 ingredients namely peanuts and jaggery.  It takes very less time to prepare too.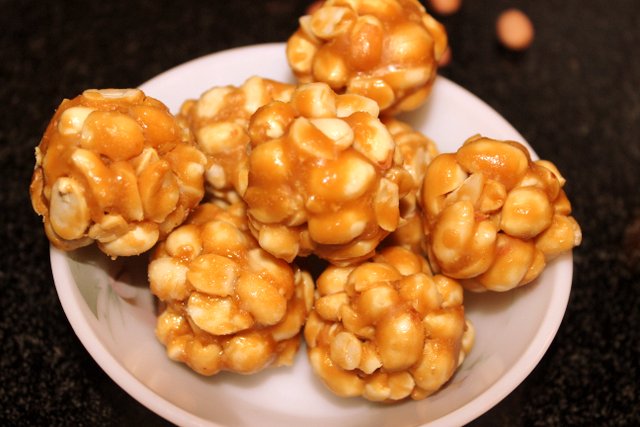 HOW TO MAKE PEANUT BALLS WITH JAGGERY RECIPE
Heat a pan or kadai on a medium flame.  Dry roast the peanuts for 5 minutes or  until light golden colour.  Once cooled down, remove the skin by rubbing it with your hands.  Phew the skin of groundnuts and discard them.
Press the groundnuts with your hand and split them into half as much as possible.  Keep them aside
Add jaggery and 4 tablespoons of water in a pan and melt them on a low flame.  When the jaggery dissolves, filter to remove the impurities.
Heat the jaggery syrup again. Add the cardamom powder. Boil the syrup till it reaches a soft ball stage.  Take little water in a small bowl and add few drops of boiling jaggery syrup into the water.
If you roll this mass with your fingers, it will make into a round hard ball.  Then this is the right consistency. Switch off the flame.  Add the peanuts to the jaggery syrup.  Mix it well with the help of a ladle.
When the mixture is still warm, grease your hand with little ghee or rice flour and make balls out of it.
Once cooled down completely, store them in an airtight container at room temperature.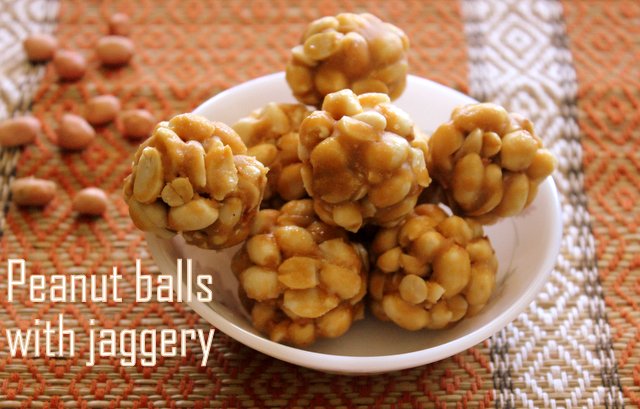 NOTES/TIPS
Make the balls when the mixture is still warm.  It will be little soft when hot, but once cooled down,  it will turn hard.
If the mixture cools down, just heat them for few seconds on low flame, the jaggery will melt a bit and you will be able to make the balls.
Ensure to roast peanuts well for crisp balls.  Even if the skinned peanuts is bought from the shop, roast them before making the balls.
Grease your hand well the ghee, for making each peanut ball.