Mango burfi recipe – How to make mango burfi recipe – mango recipes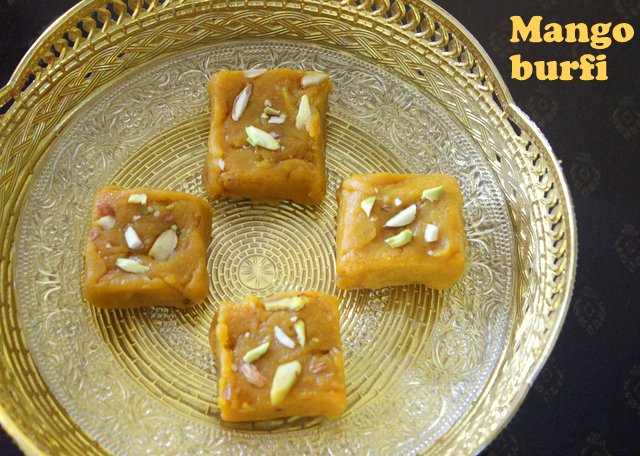 Mango burfi is a delicious sweet made from  ripe mangoes.  This burfi  is so tasty and has a mango flavor which is a treat to all mango lovers.  For making this burfi, you can use fresh ripe mangoes or preserved mango pulp.
Barfis can be made with different flavours like if you add cocoa powder, it will give you chocolate barfi or adding rose essence it will be rose barfi.  You can add any flavour you  wish or make a plain khoya barfi with just a pinch of cardamom powder added to it.   Do try this delicious mango burfi this mango season and enjoy!!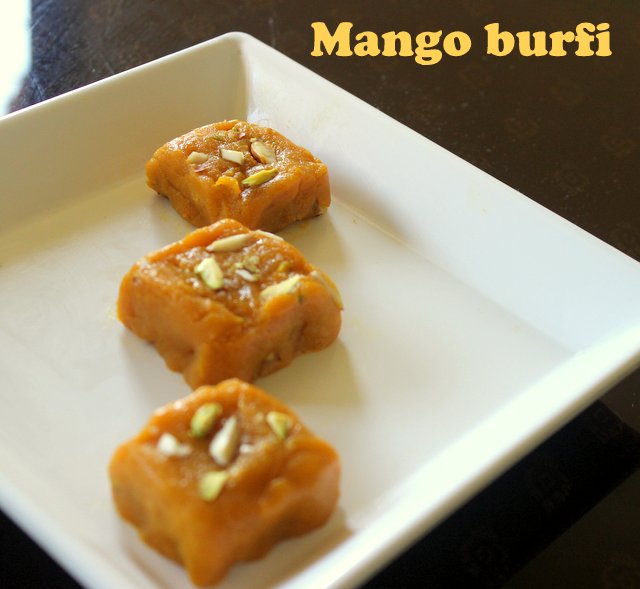 Prep Time :  10 mins
Cook Time :  25 mins
Servings :  10 pieces
Indian cuisine
INGREDIENTS
Ripe mango – 1 (medium sized)
Unsweetened khoya/mawa – 200 gms
Sugar – 1/4 cup or adjust as per desired sweeness
Pistachio – 1 tablespoon (chopped roughly)
Almonds – 1 tablespoon (chopped roughly)
Ghee – 1 tablespoon
HOW TO MAKE OR PREPARE MANGO BURFI RECIPE
Crumble or grate the khoya.  Take a medium sized mango.
Peel and scoop out the pulp and remove the seed.  Take the mango pulp to the mixer grinder and make a puree without adding any water.  Add the sugar and grind again.
Keep the mango sugar puree aside.  Grease a tray or plate with little ghee and keep it ready.
Heat 1 tablespoon of ghee in a pan.  Add the crumbled khoya and mix well.  Stir continuously on a low flame.
Cook on a low flame for 8-10 minutes by stirring continuously.  The mixture will start thickening.
At this stage, add the mango sugar puree mixture and mix well.  Keep stirring on a low flame.  The mixture will become smooth and start looking glossy.
Cook till the mixture leaves the sides of the pan.  Then switch off the flame. (Do not overcook the mixture or else the burfi will become chewy and hard)
Pour the mixture to the greased plate or bowl.   Spread evenly on the plate.
Sprinkle chopped almonds or cashewnuts or pistachios on top of the mixture.
Once the burfi cools down, cut them into square or diamond shapes or any desired shape of your choice.  Keep the burfis in the refrigerator for 3-4 hours to set completely.
Store the burfis in an airtight box or container. It stays good  for about 3 to 4 days in the refrigerator.
NOTES/TIPS
You can add cardamom flavor for enhanced taste.  As I wanted pure mango flavor in the burfi, I did not add it.
Ensure to remove the fibre from the mango pulp, if there is any.  This helps to get soft burfi.
Add dry fruits according to your choice.