Mango phirni recipe – How to make mango phirni recipe – mango recipes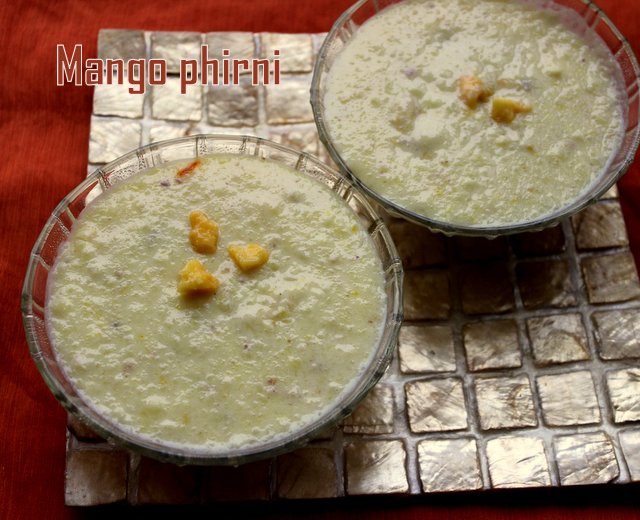 Mango phirni is a classic Indian dessert made with ripe mangoes.  It is a very popular North Indian sweet dish and is prepared with rice, milk, mangoes and dry fruits and especially made during special occasions or festive celebrations.  It is popularly called as aam ki phirni in North India and traditionally served in small earthen clay pots and garnished with nuts and chopped mangoes.  Mango phirni is very simple to make with the ingredients easily available at home.  You can even try different fruits flavours with phirni like apple, strawberry etc.  Do try this simple and traditional Indian dessert this summer and enjoy!!
If you are looking for more mango recipes, do click on this link..
http://charuscuisine.com/mango-recipes-13-easy-mango-recipes-indian-mango-recipes/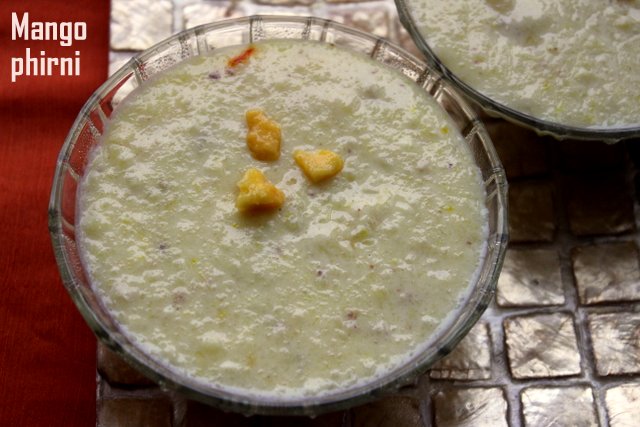 Prep Time : 10 mins
Cook Time :  40 mins
Servings :  4 persons
North Indian cuisine
INGREDIENTS
Milk – 1 litre
Basmati rice – 3 tablespoons
Sugar – 1/2 cup (adjust as per your desire)
Mango pulp – 1 cup
Saffron strands – a pinch
Cardamom powder – 1/4 teaspoon
Chopped dry fruits (almonds, cashew nuts and pistachios) – 2 tablespoons
HOW TO MAKE OR PREPARE MANGO PHIRNI RECIPE
Soak the basmati rice for 20 minutes.  Then drain the water and grind to a coarse paste
Grind all the nuts to a fine powder.  Keep it aside.
Take a medium sized ripe mango.  Peel and chop the mango into small  pieces.  Blend the pieces to a smooth puree. Keep 1 cup of mango pulp aside.
Heat the milk in a pan or vessel on a medium flame.  When the milk starts boiling, add the rice paste and give a good mix.
Keep stirring continuously on low flame, so that no lump are formed.  Scrape the sides of the pan and add it to the simmering milk.  Once the rice is well cooked, add sugar and stir well.
Add saffron strands and mix again.  Cook on a low flame till the milk thickens and you reach a thick consistency.
Add the ground dry fruits (nuts) and cardamom powder.  Mix well.
Keep simmering on a low flame for another 2 minutes.  Then switch off the flame.  Cover the pan with its lid.
Once the phirni cools down and comes to room temperature, add the mango pulp.  Mix well to get a uniform consistency
Garnish with chopped nuts or mango pieces and serve mango phirni warm or chilled as a dessert.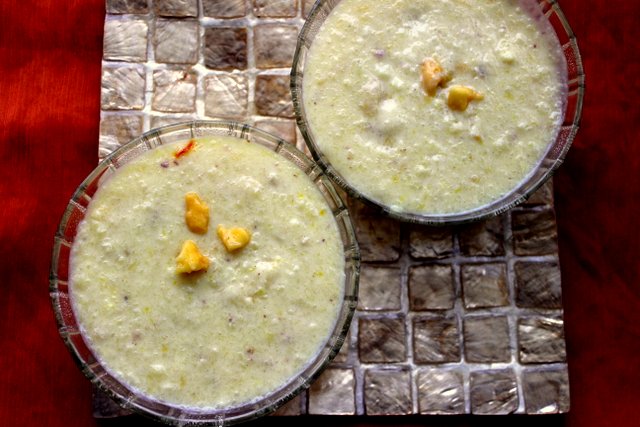 NOTES/TIPS
Add little milk to loosen it, if the phirni is too thick.
Adjust the sugar as per the sweet taste required by you.
Preferably use alphonso or sweet mangoes.  You can also garnish with chopped mangoes and serve chilled.
Use full cream or full fat milk for better taste.  Add little condensed milk to give richness to the phirni.