Heerekai or ridgegourd bajji (pakoda) recipe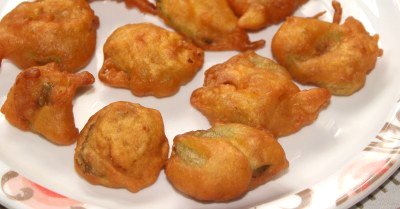 Ridgegourd vegetable is low in saturated fat and cholesterol, high in dietary fibre, vitamin C, iron, magnesium and manganese.  The nutritional value of ridgegourd makes it suitable for maintaining optimum health and weight loss and it has excellent cooling properties.  You can make delicious chutney or even curry with ridgegourd vegetable. Ridgegourd or heerekai bajji is very traditional and popular snack especially in South India. It is made with ridgegourd vegetable, gram flour and spices and deep fried.  A  perfect tea time snack during monsoons.  Ridgegourd bajji is best served with tomato sauce or coconut chutney as desired by you.
Ingredients
Ridgegourd/heerekai - 1 medium
Gram/besan flour - 1 cup
Rice flour - 2 teaspoons
Red chilli powder - 1 teaspoon
Ajwain seeds - 1/2 teaspoon (optional)
A pinch of asafoetida
Salt to taste
A pinch of cooking soda
Oil for deep frying
Method
Step 1
HOW TO MAKE RIDGEGOURD OR HEEREKAI BAJJI Peel the ridgegourd and chop them into thin round slices.
Step 2
Take a bowl. Add besan, rice flour, red chilli powder, cooking soda, asafoetida, ajwain seeds and salt. Mix well.
Step 3
Add water to make a batter. The batter should not be too thin or too thick but of medium consistency.
Step 4
Heat oil in a thick bottomed kadai. Once the oil becomes hot, take each ridgegourd piece and dip it in the batter and gently slide into the oil
Step 5
Deep fry on both the sides till golden brown. Put the bajjis in an absorbent towel to drain the excess oil.
Step 6
Serve heerekai bajji hot with tomato ketchup.
Step 7
Note : You can also add vegetables like onion, potato, capsicum, raw banana to make this bajji.