Kaju katli or kaju katri or kaju barfi recipe – diwali sweets recipe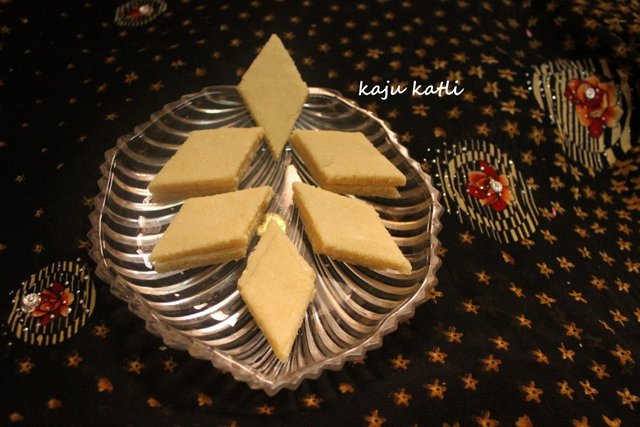 Kaju katli or kaju katri is a popular Indian dessert made up of cashewnuts, sugar and little ghee. Kaju means cashew nut in Hindi. Kaju katli is one of the variety of sweets which is made on the joyous occasion of Diwali festival or any special occasions.
Ingredients
Cashewnuts - 1 cup
Sugar - 1/2 cup
Ghee - 1 tablespoon
Water - 1/4 cup
Method
Step 1
HOW TO MAKE KAJU KATLI OR KAJU KATRI RECIPE Grind the cashew nuts in a dry mixer to a fine powder and keep aside
Step 2
Heat a non-stick pan on a medium flame. Add sugar and 1/4 cup water and boil till sugar is dissolved. Cook on a low to medium flame for another 2 minutes till you get a one string consistency.
Step 3
Once you get the desired consistency, add cashewnut powder and mix well. Keep stirring continuously and ensure no lumps are formed.
Step 4
Once the mixture comes together and becomes little thick, which takes about two to three minutes, switch off the flame. Allow it to cool down in the same pan.
Step 5
Once cooled down, roll with your hands to make it to a soft dough.
Step 6
Grease a plate (you can use the inverted surface of the plate) or a flat clean surface or a butter paper on a flat board with little ghee.
Step 7
Put the dough and spread lightly with your hand and then roll with a greased rolling pin into a thin round shape. Cut into square or diamond shaped pieces. Kaju katli is ready to be served.
Step 8
Kaju katli or kaju katri can be stored in a refrigerator upto one week.