Khaman dhokla recipe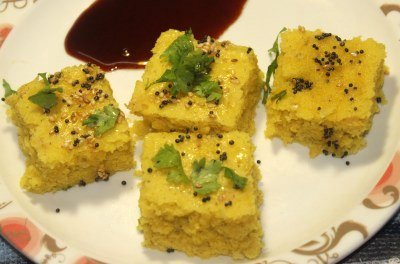 Khaman dhokla is a delicacy of Gujarat State.  It is a savoury steamed cake made with a batter of gram flour, curd and semolina and garnished with coriander leaves and grated coconut.  It can be eaten as a side dish or as a tea-time snack.  Although a Gujarati snack, it has become popular across India.  You can serve as it is or with pudina chutney or with tomato ketchup or tamarind chutney.
Ingredients
Gram flour/besan - 1 cup
Semolina/rava - 2 tablespoons
Curd - 1/2 cup
Water - 1/2 cup
Lemon juice - 2 tablespoons
Turmeric powder - 1/4 teaspoon
Sugar - 1 teaspoon
Oil - 2 tablespoons
Salt to taste
Eno fruit salt - 1 teaspoon
Green chillies - 3
Ginger - 1 inch small piece
FOR SEASONING
Oil - 1 tablespoon
Mustard seeds - 1 teaspoon
White sesame seeds/white til - 1 teaspoon
Chopped coriander leaves - 3 tablespoons
Method
Step 1
HOW TO MAKE KHAMAN DHOKLA RECIPE Grind green chillies and ginger into smooth paste.
Step 2
In a mixing bowl, add gram flour and semolina. Mix well.
Step 3
Add curd, water, lemon juice, turmeric powder, sugar, oil, salt and green chilli-ginger paste.
Step 4
Whisk well to form a smooth batter. Ensure there are no lumps formed. Set aside the batter for 5 minutes.
Step 5
Grease a thali or dhokla mould with little oil. Pour the batter into the greased mould.
Step 6
Add 1 teaspoon of Eno fruit salt. Mix well for a minute.
Step 7
Place the mould in the pressure cooker (without the whistle) or steamer and steam cook for 10 to 12 minutes on medium heat.
Step 8
To check if the dhokla is done, just insert a knife inside the dhokla and if it comes out clean, it means it is cooked. If not, steam for another 2 to 3 minutes.
Step 9
Heat oil in a small or tadka pan. Add mustard seeds, sesame seeds. Once seeds stop spluttering, switch off the flame. Add 2 tablespoons of water and 1 teaspoon of sugar. Combine together and pour over dhoklas.
Step 10
Cut into square pieces. Garnish with coriander leaves.
Step 11
Serve with tamarind or green chutney
Step 12
Tips: Once the eno salt is added to the batter, mix for a minute and immediately steam cook the batter. Allow the dhokla to completely cool down before you cut them into pieces. Ensure there are no lumps in the batter and batter should fall in dollops.