Jeera (cumin seeds) rice recipe (cumin flavoured rice)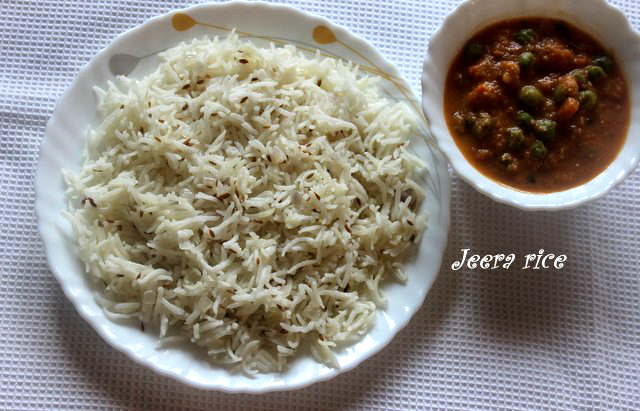 Jeera rice or Zeera rice is a flavoured Indian dish prepared from rice and cumin seeds.  It is very popular in North India and very easy to prepare unlike  a biryani.  The main ingredients for jeera rice are rice, cumin seeds and any vegetable oil/butter/ghee.  It is one of the most simplest, easiest but most ordered rice dish in Indian restaurants. Jeera rice goes very well with most of the  gravy dishes.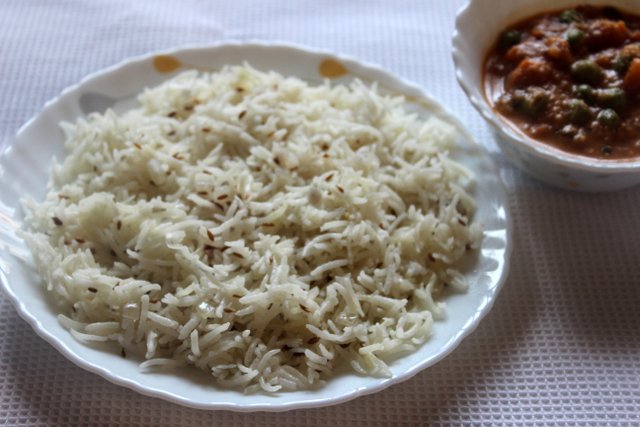 Prep Time : 30 mins
Cook Time : 15 mins
Servings : 2-3 persons
Total time – 45 mins
INGREDIENTS
Basmati rice – 1 cup
Water – 2 cups
Cumin seeds – 2 teaspoons
Onion – 1 (chopped finely) (optional)
Butter/Ghee- 2 tablespoons
Cinnamon – 1 inch small piece
Cloves – 2
Bay leaves – 2
Salt to taste
HOW TO MAKE JEERA (ZEERA) RICE OR CUMIN FLAVOURED RICE RECIPE
Wash rice thoroughly and soak in water for half an hour. Drain and keep it aside.
 Heat butter/ghee in a pan. Add cinnamon, cloves and bay leaves and saute for few seconds.  Then add cumin seeds. When cumin seeds crackle, add chopped onions and saute till onions become golden brown.
Add the drained rice and salt and stir fry on a low flame for few minutes till the rice is well coated with butter/ghee and looks glossy.  Then add 2 cups of water and bring it to a boil, by stirring once.
Then reduce the flame and close the pan with a lid. Leave a little gap between the pan and the lid so that the water does not spill over.
 Cook till the rice is cooked and the water has been fully absorbed.  Fork the rice into a serving dish as it will spread out each grain.
Serve jeera rice with any gravy dish or curry.