Mango thokku/mavinakayi thokku recipe – how to make grated raw mango thokku recipe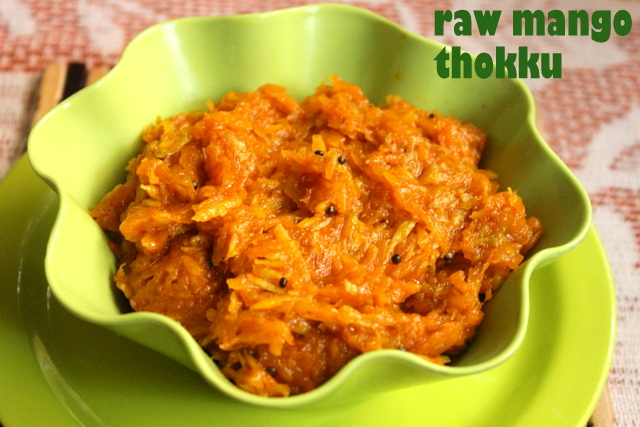 Mango thokku is a very simple and delicious pickle made with raw mangoes.  It is an excellent accompaniment for sambar rice, curd rice, upma and plain rotis too.  Since summer has already started, this is an ideal time to make this pickle/thokku when raw mangoes are available easily in the market.  This is an instant version of mango pickle and lasts for a much longer period of time, since oil and salt is used liberally in this recipe.  You can also add little sugar or jaggery to thokku if you want a mildly sweet taste.
Other raw mango recipes :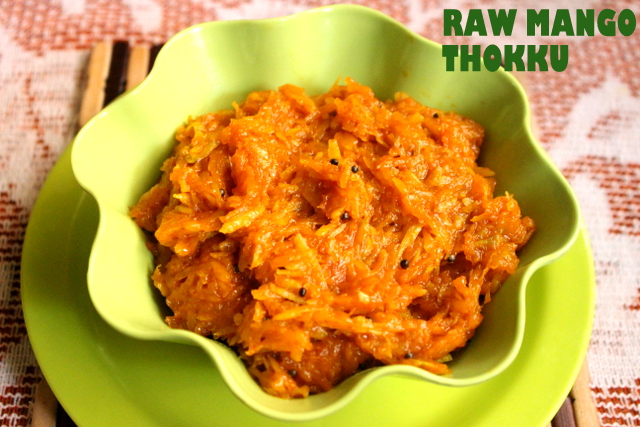 Prep Time :  15 mins
Cook Time : 10 mins
Servings :  4 persons
INGREDIENTS
Raw mango  – 2 medium sized
Red chilli powder – 2-3 teaspoons
Turmeric powder – 1/4 teaspoon
Gingelly/sesame/til oil – 4 tablespoons
Mustard seeds/rai – 1 teaspoon
Asafoetida/hing – a pinch
Fenugreek/methi powder – 1/2 teaspoon
Salt as required
HOW TO MAKE OR PREPARE MANGO THOKKU RECIPE
Wash the mangoes and pat it dry.  Peel and grate the mangoes with the help of a grater.  Set aside.  Heat 2 tablespoons of oil in a pan.  Once the oil becomes hot, add mustard seeds and hing and allow the seeds to splutter.
Once the seeds stops spluttering, add turmeric powder and mix well.
Immediately add the grated mango and cook on a low flame.  Saute for 4-5 minutes on a low flame till the raw mango becomes little soft and cooked nicely.  Once the mangoes are well cooked, add red chilli powder and salt and mix well.
Add the remaining 2 tablespoons of oil and saute till the oil starts oozing out from the thokku.  Lastly add methi powder and give a quick mix.  Switch off the flame.  Spicy and delicious mango thokku is ready to be served.
Once cooled down completely, store the thokku in an airtight container and refrigerate it.  Use as and when required as an accompaniment for curd rice, bread, idlis or rotis.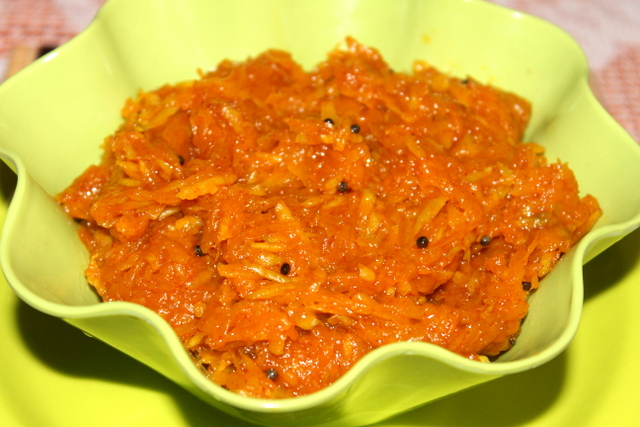 NOTES/TIPS
Add red chilli powder according to the spicyness desired by you.
For fenugreek/methi powder, you can use either readymade fenugreek powder or alternatively, dry roast the methi seeds in a pan and powder it.  Take care not to overroast or brown it.
Adding more oil serves as a preservative and helps the thokku to have a long shelf life.  You can also refrigerate once cooled down completely.
Use a dry spoon while serving.