Masala milk recipe – How to make masala milk recipe – Beverages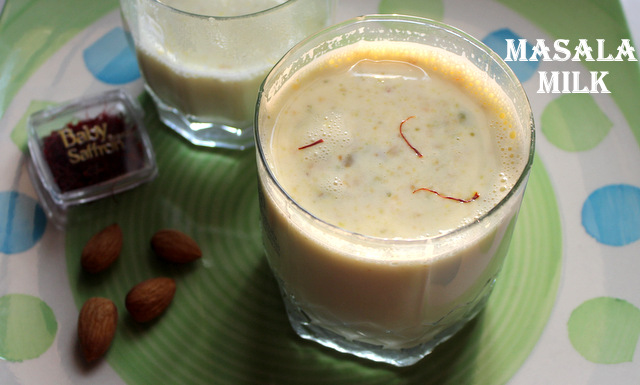 Masala milk is a flavoured milk beverage made with nuts, spices and sugar.  It is very healthy for kids and elders as well as it is full of vitamins and minerals.  Masala milk is a popular drink in India.  It is a simple and nutritious drink which can be made with the ingredients easily available at home.  Masala milk when consumed hot or warm helps in getting good sleep at night and also an ideal drink during winters, as it gives some warmth which is required by the body.
You can also try these beverages from my blog: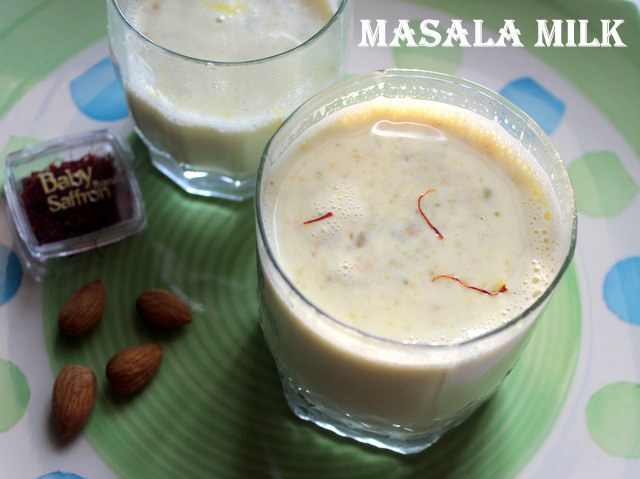 Prep Time : 10 mins
Cook Time :  20 mins
Servings : 2 persons
Indian cuisine
INGREDIENTS
Milk – 3 cups
Sugar – 2 teaspoons or as desired
Cashew nuts – 5
Pistachios – 5
Almonds/badam – 5
Cloves – 2
Cardamom – 2
Cinnamon – 1 inch small piece
Pepper powder – a pinch (optional)
Saffron – 6 to 7 strands
HOW TO MAKE OR PREPARE MASALA MILK RECIPE
PREPARATION
Soak the cashew nuts, pistachios and almonds in hot water for 15-20 minutes.  Then drain the water completely.  Peel the skin of almonds. Grind the almonds, pistachios and cashewnuts with little milk to make a smooth paste.  Keep it aside.
METHOD
Heat milk in a thick bottomed vessel.  Once the milk starts to boil, add cloves, cinnamon and cardamom.  Simmer for about 5-6 minutes.  Then add discard the spices by filtering the milk.  Add the ground almond-pistachios-cashewnuts paste to the milk and stir well.
Add saffron strands and give a good mix.  Keep the stirring the milk continuously taking care so that it does not get burnt at the bottom of the vessel.  Boil for another 8-10 minutes.  Finally add a pinch of pepper powder and sugar.  Mix well.
Boil for another 2-3 minutes.  Switch off the flame.  Pour in a serving glass garnished with chopped nuts.  Serve tasty and healthy masala milk hot or warm or chilled.
NOTES/TIPS
You can add a pinch of turmeric powder to give a rich colour and make it more nutritious.
It is good to have masala milk during winters as the nuts and dry fruits helps to keep the body warm.
Adjust sugar as per your taste preference.
Use full fat milk for a rich and good taste.