Methi matar malai recipe – How to make methi malai matar recipe – side dish for rotis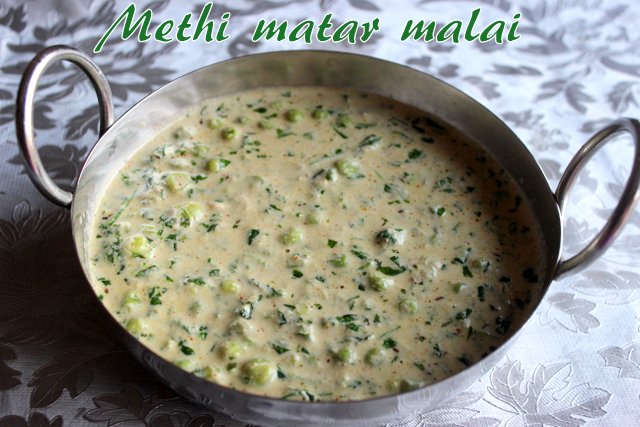 Methi malai matar  is a rich punjabi dish made from fenugreek leaves, green peas and fresh milk cream.  It is best served with rotis and naans. This dish is very popular especially during winter as fresh green peas and methi leaves are easily available in plenty in the market.  Methi matar malai is healthy due to the presence of iron in methi leaves and protein in green peas.  Fresh cream when added to this dish reduces the bitterness of methi leaves and gives a creamy texture and rich taste to the dish.
Methi leaves and green peas have a lot of health benefits.  Do try this yummy dish this winter and enjoy!!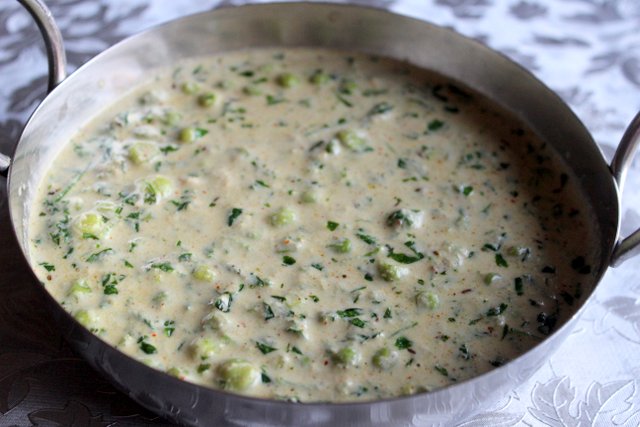 Prep Time : 20 mins
Cook Time : 15  mins
Servings :  4 persons
North Indian cuisine
INGREDIENTS
Fenugreek leaves/methi leaves – 2 cups
Green peas – 1 cup (boiled)
Fresh cream – 1/2 cup
Cooking  oil – 4 tablespoons
Cumin seeds – 1/2 teaspoon
Red chilli powder – 1 teaspoon
Coriander powder – 1/2 teaspoon
Cumin powder – 1/2 teaspoon
Garam masala – 1/2 teaspoon
Dry fenugreek leaves (kasuri methi) – 1/2 teaspoon
Salt to taste
TO GRIND TO A FINE PASTE
Onion – 2 nos (medium sized) (chopped roughly)
Garlic cloves – 5 to 6
Ginger – 1 inch sized
Cashew nuts – 10
HOW TO MAKE OR PREPARE METHI MALAI MATAR RECIPE
Wash and boil the green peas till cooked.  Once cooked, strain the water and keep the boiled peas aside.
Clean the methi leaves and immerse them in water for 15-20 minutes.  Any impurities or mud will get settled down,
Wash thoroughly again with running water.  Then chop the methi leaves finely and keep it aside.  Heat 1 tablespoon of oil in a pan.
Add the methi leaves and saute for 2 minutes on a low flame.  Once the leaves shrink a bit, remove to a plate.  This step is optional.  But this helps to remove the bitterness from the methi leaves.  (You can also boil/steam the methi leaves separately).  Add another 1 tablespoon of oil to the pan.  Add the chopped onions, garlic cloves, ginger and cashewnuts.
Stir fry for 2 minutes on a low flame till the onions become translucent.  Once cooled down, grind them to a fine paste without adding water.
Add 1-2 tablespoons of water, if required, it will help in making a smooth paste.  Heat 2 tablespoons of oil in a pan.  Add cumin seeds and allow them to splutter.
Add the ground paste and stir continuously on a low flame till the oil starts to separate from the paste.
Add coriander powder, cumin powder, red chilli powder, garam masala and salt.  Mix well.  Cook for a minute on low flame.  Once the spices gets well blended, switch off the flame.
Once the mixture cools down, add the milk cream and give a good mix.  (switching off the flame helps to avoid curdling of the cream).  The mixture will now become a creamy paste.  Switch on the flame.
Add the boiled spinach and green peas and mix well.  Add salt here, if required.
Add 1/2 cup of water to adjust  the consistency of the gravy and simmer for another 2 minutes on a low flame. Finally sprinkle with crushed kasoori methi.  Switch off the flame.
Delicious and healthy methi matar malai is ready to be served.  Serve with rotis, naans or paratha, as desired.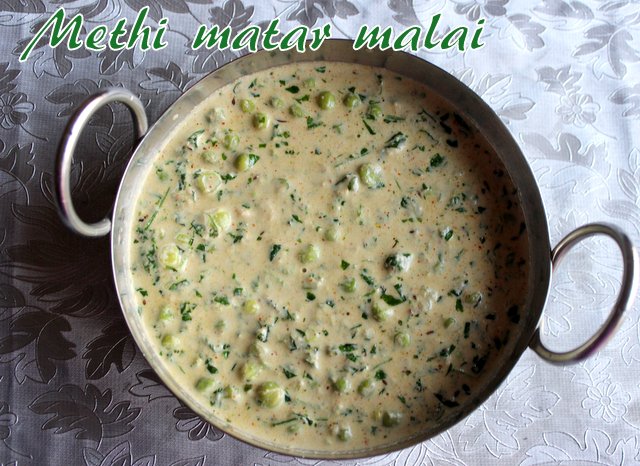 NOTES/TIPS
You may also use frozen peas, if fresh green peas are not available
Add green chillies if you prefer a bit more spicy.
You can reduce the milk cream and add milk instead.
Add milk cream after the mixture is cooled down, otherwise there are chances that the cream might get curdled.
You can used blanched almonds instead of cashew nuts.