Pakora kadhi recipe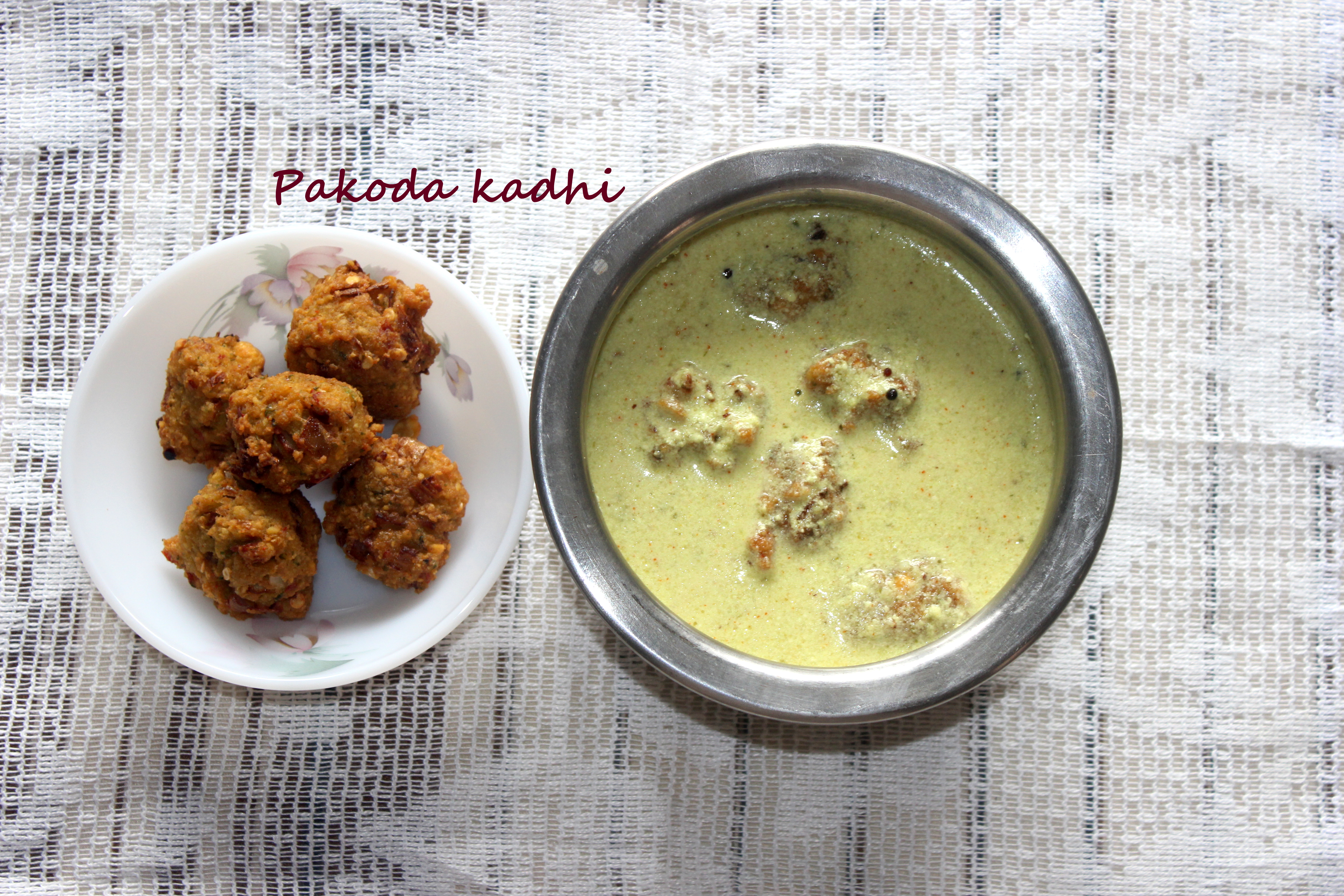 Pakora kadhi is a spicy dish which is prepared with a thick gravy based on bengal gram or besan and pakoras to which sour yoghurt is added to it to give a little sour taste. It is best served with steamed rice. I have prepared this kadhi in South Indian style by adding coconut. Instead of pakoras, you can also add boiled white pumpkin pieces which tastes good.. But pakora kadhi has a unique and delicious taste with pakora submerged in kadhi and goes well with rice.
Ingredients
FOR THE PAKORA
Bengal gramdal (chana dal) - 1/2 cup (soaked for 1/2 an hour)
Red chillies - 2
A pinch of asafoetida
Onion - 1 (chopped finely) and few chopped coriander leaves
Salt to taste
FOR THE KADHI
Whole milk yoghurt or curd (slightly sour) - 2 cups
Turmeric powder - 1/4 teaspoon
Grated coconut - 1/2 cup
Green chillies - 3
Ginger - one inch small piece
Cumin seeds - 1 teaspoon
Bengal gram dal (chanadal) - 2 tablespoons (soaked in water for 1/2 hour)
Salt to taste
FOR SEASONING
Cooking oil - 1 teaspoon
Mustard seeds - 1/2 teaspoon
Method
Step 1
HOW TO MAKE PAKORA KADHI RECIPE FOR MAKING PAKORA Grind the soaked chana dal, red chillies, asafoetida, chopped coriander leaves and salt to a coarse paste without adding water. (You can sprinkle little water at the time of grinding)
Step 2
In a mixing bowl, add the ground chana dal paste and chopped onions and mix well. Keep it aside. Do not add water. It should be of thick consistency.
Step 3
Heat sufficient oil in a heavy bottomed pan on a medium flame. Once hot, drop small portions of pakora batter with the help of fingers or with a spoon.
Step 4
Deep fry in small batches on medium flame till golden brown. Remove them in an absorbent paper to remove excess oil. Set aside.
Step 5
FOR MAKING THE KADHI Grind coconut, green chillies, ginger, cumin seeds and soaked chana dal by adding little water to a smooth paste. Take a vessel. Add curd, turmeric powder, ground paste and salt and combine together
Step 6
Heat the kadhi on a low to medium flame to a boil. Simmer it for 10-15 minutes till the kadhi thickens. Once the kadhi becomes little warm, add the pakoras and combine together.
Step 7
Heat 1 teaspoon of oil on a medium flame. Add mustard seeds and once it starts spluttering add the seasoning to the kadhi and mix well.
Step 8
Pakora kadhi is now ready to be served. Serve pakora kadhi hot with steamed rice and enjoy.