Ragi kheer – How to make ragi payasa or ragi kheer or nachni kheer recipe – ragi recipes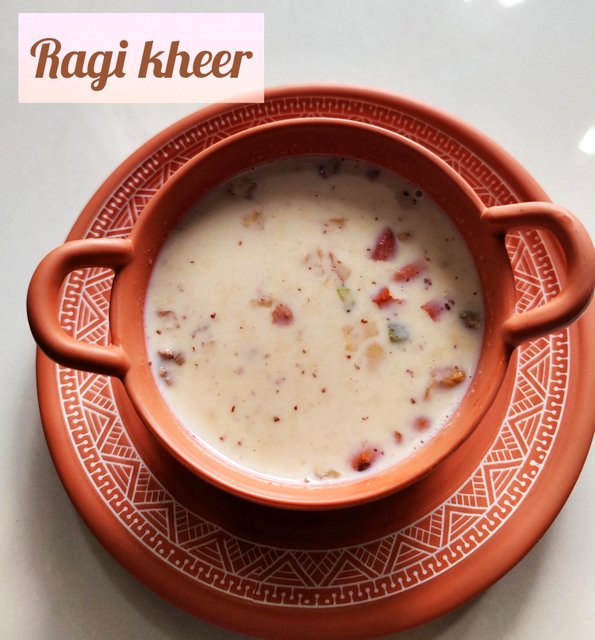 Ragi also known as finger millet or nachni is a rich source of iron, protein, calcium and fiber and helps in lowering cholesterol level.  Ragi aids digestion and also makes your stomach full for a long time which is good for weight control. Ragi is also a staple diet in many villages across South India.  It is a low fat cereal and among other health benefits, ragi is considered as a useful cereal for anemic patients.  Regular intake of ragi prevents many health conditions such as malnutrition and premature aging.  Ragi is also a good source of dietary fibres which helps in improving metabolism and digestion.  It is believed that adding ragi to your diet helps in better absorption of nutrients from the food.
Ragi kheer is a nutritious and sweet dessert made with ragi grains, milk, sugar, nuts and cardamom powder.  It is also a rich, creamy and delicious dessert which can be made in half an hour's time, except for the soaking time of 4-5 hours.  Do try this healthy kheer and enjoy!!
For more ragi recipes, please click on this link :
http://charuscuisine.com/category/archives/ragi-recipes/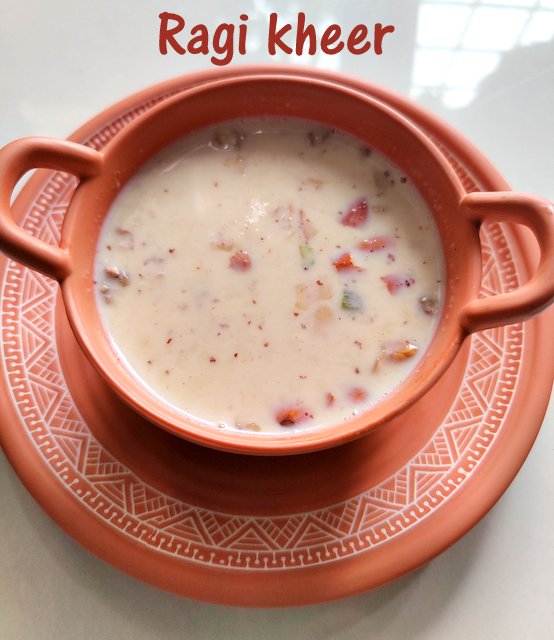 Prep Time : 10 mins
Soaking Time – 4 to 5 hrs
Cook Time :  20-25 mins
Servings :  4 persons
South Indian cuisine
INGREDIENTS
Ragi seeds – 2 tablespoons
Milk – 5 cups
Sugar – 3/4 cup
Cardamom powder – 1/2 teaspoon
Saffron strings – 2 pinches
Mixed nuts (pistachios, cashewnuts and almonds) – 2 tablespoons
For video recipe,  please click on this link :
HOW TO MAKE OR PREPARE RAGI KHEER RECIPE
Wash the ragi seeds thoroughly and then soak them with enough water for 4-5 hours.  After 5 hours, drain the water completely.
Add the drained ragi seeds to a mixer grinder. Add very little water and grind to a smooth paste.  Keep it aside.
Boil 5 cups of milk in a wide pan or vessel.  Let it come to a nice boil.
Once it reaches a nice boil, lower the flame.  Add the ground ragi paste and mix well.
Boil the milk for 20-25 minutes on a low flame, till the ragi seeds are cooked completely.  The milk also will get thickened a bit.  Scrape the sides of the pan and add it back to the milk.
Now add 3/4 cup of sugar to the milk and give a good mix.   Simmer the kheer for another 5 minutes on a low flame till the sugar is dissolved completely.  Then add cardamom powder, saffron strings and mixed nuts.  Mix well.
Nutritious and delicious ragi kheer is ready to be served.  Serve ragi kheer hot or warm or chilled as desired by you.  Once the kheer comes to room temperature, refrigerate and serve chilled.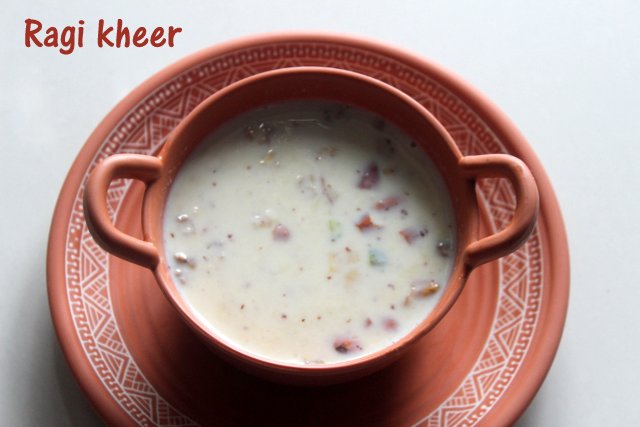 NOTES/TIPS
Ensure that no lumps are formed when adding the ragi paste to the hot milk.  So keep the flame to low and keep stirring continuously.
You can add jaggery or palm sugar instead of regular sugar for a healthier version.
Adjust the sugar according to your preference.
Add sugar only after the ragi grains are fully cooked.