Coconut milk rice kheer recipe – How to make coconut and rice payasam – kheer recipes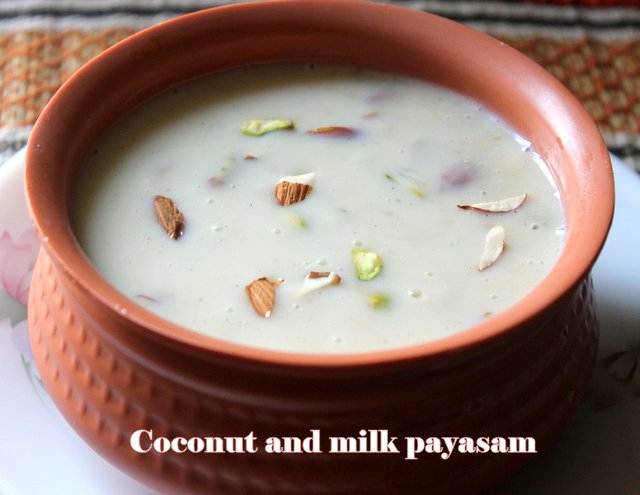 Coconut milk rice kheer or payasam is a very popular sweet dish prepared with coconut milk, rice, sugar, cardamom powder and garnished with nuts.  In this recipe I have used condensed milk and coconut milk instead of sugar and normal milk, to give a rich taste and creamy texture to the dish.  You can use basmati rice instead of normal rice.  Coconut milk gives a unique flavour as well as adds thickness to the kheer.  Coconut milk rice payasam is very often made during special occasions and festivals.
Cashewnuts, almonds, pistachios and raisins are added for texture and flavouring, while green cardamom and saffron are added for fragrance.
Coconut milk rice kheer can be made quickly and with just minimum ingredients.  It is an ideal and perfect Indian dessert to celebrate a festival or as an after meal dessert at home.  You can try this delicious kheer recipe if you are bored of the regular rice kheer.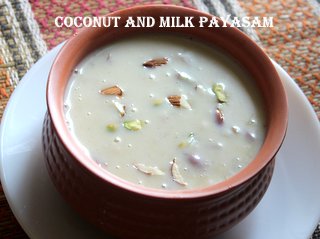 Prep Time : 10 mins
Cook Time : 25 mins
South Indian cuisine
INGREDIENTS
Coconut milk –  600 ml
Condensed milk – 200 gms
Rice – 3 tablespoons (washed and soaked for half an hour)
Cardamom powder – 1/4 tsp
Chopped almonds and cashewnuts – 2 tablespoons
HOW TO MAKE OR PREPARE COCONUT MILK RICE KHEER RECIPE
In a wide pan, add 600 ml of coconut milk and boil on a low flame.  Let the coconut milk come to a nice boil.
Then add the soaked 3 tablespoons of (washed and soaked) rice to the coconut milk.  Cook on a low flame for 20-25 minutes till the rice is cooked completely.  Keep stirring in between to ensure that the rice does not stick to the bottom of the pan.  Once the rice is cooked, add 200 gms of condensed milk and give a good mix.  Keep cooking on a low flame for another 5 minutes.
Once the kheer starts thickening after 5 minutes, add the chopped nuts like almonds, cashewnuts and raisins to it. Then add 1/4 tsp of cardamom powder.  Give a good mix.  Then switch off the flame.
Delicious coconut milk rice kheer is ready to be served. Serve the kheer hot or chilled or at room temperature.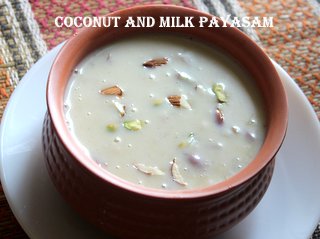 NOTES/TIPS
Ensure to boil coconut milk on a low flame, stirring in between to avoid burning at the bottom of the pan.
You can add saffron strings for adding fragrance to the kheer.
Add nuts of your choice like almonds, cashewnuts, pistachios or raisins.
Adjust the condensed milk according to the sweet taste desired by you.