Hara bhara kabab recipe – How to make hara bhara kabab recipe – veg kabab recipe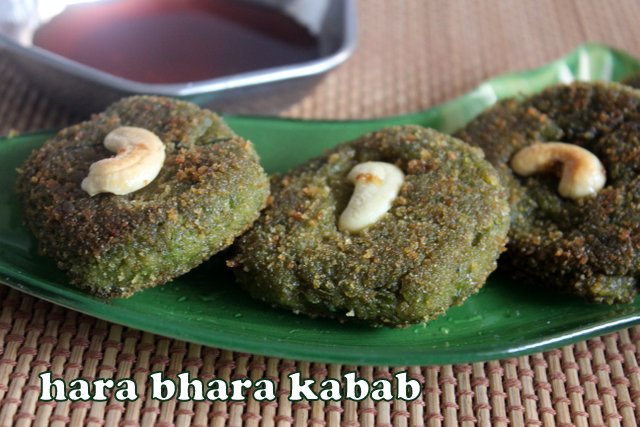 Hara bhara kabab is a vegetarian kabab prepared with palak leaves, green peas, capsicum, green beans, potatoes, bread crumbs and Indian spices.  It is an ideal evening snack or can also be enjoyed as a starter.  This veg kabab can be deep fried or shallow fried in a pan or tawa.  Along with the green vegetables, you can also add fresh paneer too, which helps to bind all the ingredients as well as add to the taste.
Hara bhara kabab is one of the most popular vegetarian version  and a good way to include greens in your diet.  It gets its name and colour from the green vegetables used to make the kababs.
Other cutlet recipes
Prep Time :  20 mins
Cook Time : 20 mins
Yield:  10 kababs
Indian cuisine
INGREDIENTS
Palak/spinach leaves – 1 bunch
Green peas – 1 cup
French beans – 1 cup
Green capsicum – 1/2 cup (chopped finely)
Green chillies – 2 (chopped finely)
Potatoes – 2 nos (boiled and mashed)
Coriander leaves – 2 tablespoons
Corn flour – 2 tablespoons
Bread crumbs – 2 tablespoons
Turmeric powder – 1/4 teaspoon
Red chilli powder – 1/2 teaspoon
Coriander powder – 1/2 teaspoon
Amchoor powder – 1 teaspoon
Chat masala – 1  teaspoon
Bread crumbs – 1 cup
Cashewnuts – 10 nos
Oil for shallow frying
Salt to taste
HOW TO MAKE OR PREPARE HARA KABAB RECIPE
Clean the palak leaves thoroughly and blanch them by boiling for 5 minutes in water.  Once done, strain the water and transfer the blanched palak leaves into cold water.  After 2 minutes, drain the cold water completely. Take the blanched palak leaves to a mixer grinder.
Heat 2 tablespoons of oil in a pan on medium flame.  Add 2 green chillies, 1/2 cup green capsicum, 1 cup green peas, 1 cup french beans and  salt.  Saute for 4-5 minutes on medium flame till the moisture goes away.  Then switch off the flame and allow them to cool down completely.
Not add the sauteed vegetables to the blanched palak leaves in the mixer grinder.  Grind everything to a smooth paste without adding water.
Transfer the paste  into a large mixing bowl.  Add the boiled and mashed potatoes and chopped coriander leaves to the mixture.
Mix all the ingredients well.  Then add 2 tblspoons of bread crumbs and 2 tblspoons of corn flour to it.   Bread crumbs and corn flour helps to absorb the moisture and binds well.  At this point, you can also add crumbled panner to enhance the taste.
Give a good mix.  Add turmeric powder, red chilli powder, coriander powder, amchoor powder and chat masala.  Check for salt and add accordingly.
Mix well again and keep the mixture in the refrigerator for 15-20 minutes.  This helps the mixture to become little dry and helps to make the kababs easily.
Grease the hands with little oil and make small kababs out of the mixture. Roll the kababs into the bread crumbs to coat evenly on all the sides.  Place a cashew at the centre of the kabab.
Heat little oil in a pan on a medium flame for shallow frying.    Place the kababs gently in the pan.
Shallow fry the cutlets on both the sides till they turn golden brown in colour.   This will take around 2-3 minutes.
Once done, remove them in an absorbent paper to remove the excess oil.    Transfer the kababs to a serving place and serve with green chutney or tomato sauce.
NOTES/TIPS
Ensure that the palak leaves are blanched and squeezed thoroughly to remove the water.
Bread crumbs and corn flour helps to remove the moisture and binds the ingredients well.
You can keep the kabab mixture in the refrigerator and make the kababs later when required.
You can bake the kababs at 180 degree celcius for 10-12 minutes for a healthier version.
If the mixture it little watery, you an also add little gram flour to bind the mixture.
Add 3-4 garlic cloves along with the green vegetables to get a garlic flavoured kabab.
Take care not to overcrowd the pan while deep frying kababs.