Rice kheer with jaggery or akki payasa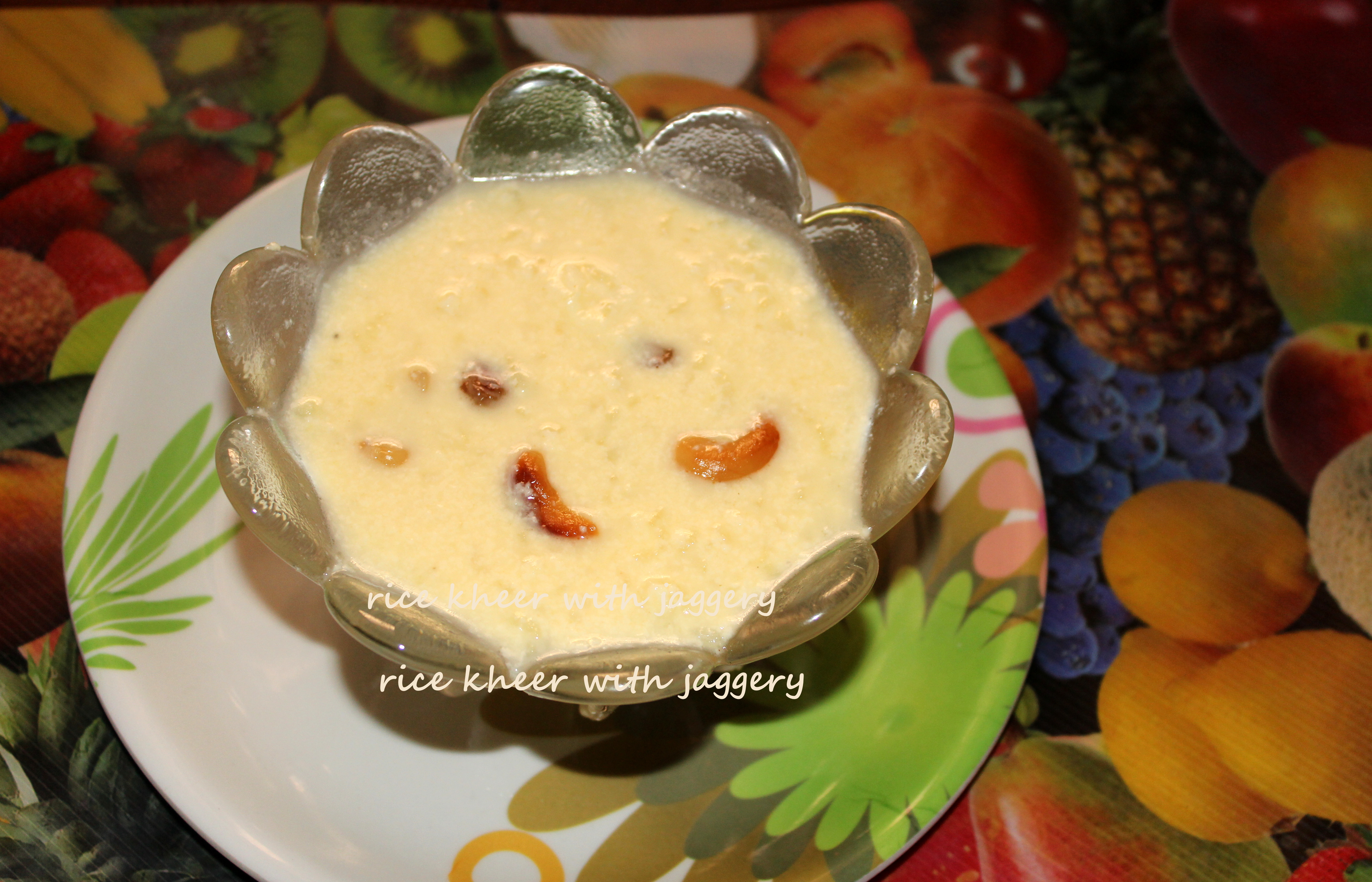 Rice kheer is made with milk, basmati rice and jaggery and garnished with raisins and cashewnuts. Jaggery is a good substitute for sugar for those who are health conscious. Rice kheer with jaggery is a good variation since jaggery is added instead of sugar and it tastes divine when served either warm or chilled. Jaggery is full of iron and other minerals and hence also has got lot of health benefits.
Ingredients
Milk - 1 litre (preferably full cream milk)
Powdered or grated Jaggery - 1 1/2 cups
Basmati or raw rice - a handful (approx 3 to 4 tablespoons)
Ghee - 1 tablespoon
Cashewnuts - 2 tablespoons
Raisins - 2 tablespoons
Cardamom powder - 1/4 teaspoon
Method
Step 1
HOW TO MAKE RICE KHEER WITH JAGGERY RECIPE Wash and soak rice for 15 to 20 minutes.
Step 2
Boil the milk in a heavy bottomed pan on a medium flame. Once it comes to boiling point, reduce it to low flame.
Step 3
Add the soaked rice and stir the milk. Boil the milk on a low flame till the rice is fully cooked. Keep stirring the milk every 10 minutes to ensure that the kheer does not get burnt.
Step 4
Boil on a low flame, till the milk reaches 3/4th of its volume. It may take approximately about 30 to 40 minutes. Remove from heat.
Step 5
Allow to settle down for 10 minutes. Then add grated jaggery and stir well till dissolved. (Jaggery if added to hot milk may curdle the milk, hence add jaggery after 10 to 15 minutes after removing from heat) Then add cardamom powder and mix well.
Step 6
Heat 1 tablespoon of ghee in a small pan. Roast cashewnuts and raisins till golden brown and add to the kheer. Mix well.
Step 7
Serve rice kheer warm or chilled, as desired.
Step 8
NOTES : Use full cream milk to give better taste. Adjust the jaggery according the sweetness desired by you. Ensure to boil on a low flame and keep stirring intermittently so that rice does not get burnt. Once the kheer comes to room temperature, refrigerate for at least 3 hours before serving. Rice kheer thickens once it cools and tastes absolutely divine.