Sweet corn cheese sandwich recipe – How to make corn cheese sandwich recipe – sandwich recipes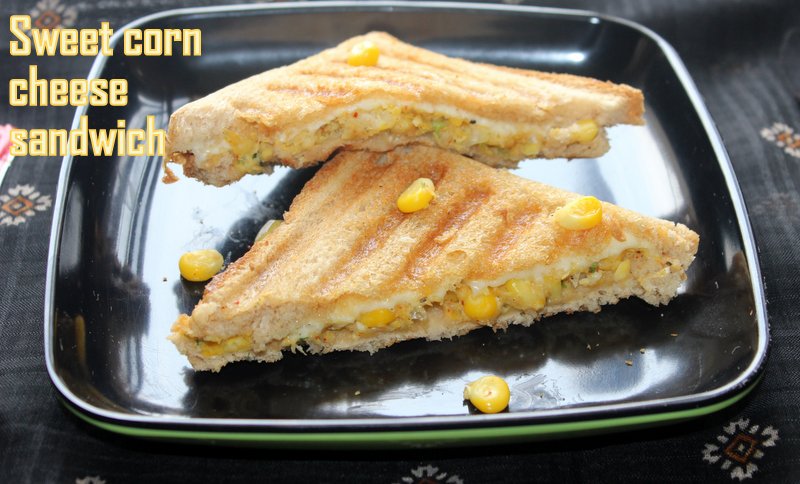 Sweet corn cheese sandwich is a simple and delicious snack made with sweet corns and  seasoned with spices and cheese.  It makes up for a perfect tea-time snack along with hot cup of tea or coffee.  It can be also eaten at any time of the day.  You can make this sandwich quickly too, as it does not require lot of ingredients. Add veggies like chopped capsicum or tomatoes to give a more healthy taste to the sandwich.
For more  sandwich recipes  click on this link :
http://charuscuisine.com/collection-of-sandwich-recipes-indian-sandwich-recipes/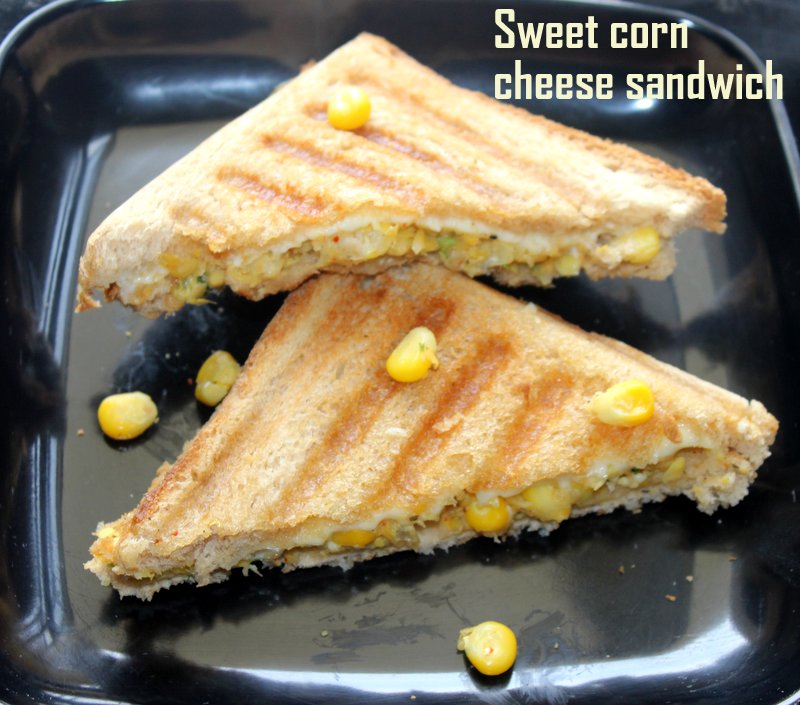 Prep Time :  20 mins
Cook Time :  10 mins
Servings :  2 to 3 persons
Indian cuisine
INGREDIENTS
Bread slices – 6
Sweet corn kernels – 1 cup
Cheese slices – 3
Black pepper powder – 1/2 teaspoon
Red chilli  powder – 1/2 teaspoon
Oregano seasonings – 1/4 teaspoon (optional)
Chaat masala – 1/4 teaspoon
Chopped coriander leaves – 1 tablespoon
Butter or ghee as required
Salt to taste
HOW TO MAKE OR PREPARE SWEET CORN CHEESE SANDWICH RECIPE
Heat water in a vessel with little salt added to it.  Boil the kernels for 15-20 minutes.  Alternatively, you can also pressure cook the corn kernels.  Once cooled down, drain the water completely.  In a mixing bowl, add the kernels. (I ground 1/4 boiled kernels in a mixer for the sake of binding the mixture and better taste). You can also mash them by hand.
Add black pepper powder, red chilli powder, oregano seasonings, coriander leaves, chaat masala and salt.  Mix all the ingredients well and keep it aside.
Take 2 bread slices in a plate.  Smear butter or ghee on 1 bread slice.  Add the corn mixture on the other bread slice and spread evenly.  Place one cheese slice on the top. Cover it with the butter smeared bread slice.
Smear some oil or butter on the toaster.
Place the corn cheese sandwich and grill till golden brown in colour or till done.
Serve the hot corn cheese sandwith with tomato ketchup or green chutney.
NOTES/TIPS
You can use olive oil instead of butter or ghee.
I had grilled the sandwich in my electric sandwich maker.  You can also toast them in an ordinary sandwich toaster  or grill the sandwich in an oven.
If fresh corns are not available, you can use the tinned or packaged corns.