Yam stir-fry recipe or how to make suran stir fry or senai kizhangu curry recipe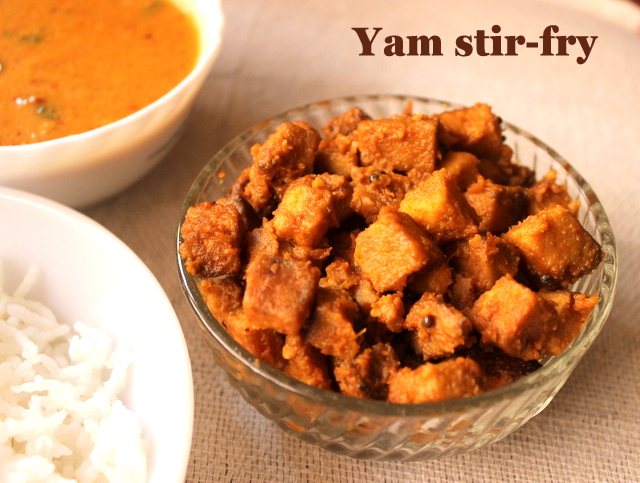 Yam (elephant yam) stir fry is also called as suran fry in hindi and senai kizhangu in tamil. Yam is full of complex carbohydrates and dietary fibre which helps in lowering bad cholesterol.  It is a very popular side dish for rice and sambar in south indian cuisine.  But it goes well with rotis too.   Yam is steamed till it becomes soft and then cooked with spices.  It is a no onion no garlic recipe. 
You can try these recipes too, as side dish for rice and sambar or rasam.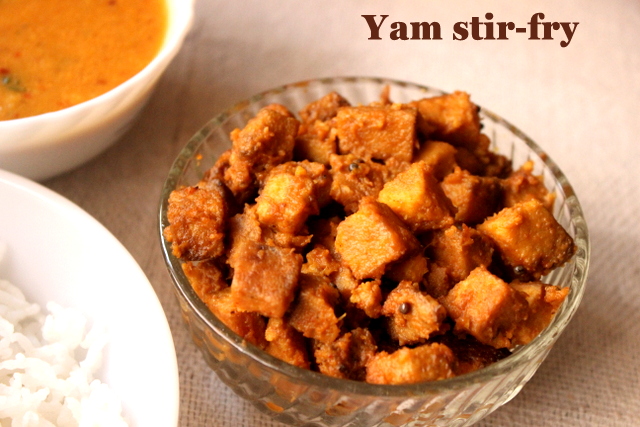 Prep Time :  15 mins
Cook Time : 25 mins
Servings : 3-4 persons
South Indian cuisine
INGREDIENTS
Yam or suran or elephant foot yam – 3 cups (chopped into medium cubes)
Oil – 3 tablespoons
A pinch of hing or asafoetida
Mustard seeds – 1/2 teaspoon
Red chilli powder – 1 teaspoon
Turmeric powder – 1/4 teaspoon
Besan or Bengal gram flour – 2 tablespoons
Salt to taste
HOW TO MAKE OR PREPARE YAM  OR SURAN STIR-FRY RECIPE
Peel the skin of the yam and chop them into equal medium cubes.  Rinse thoroughly in water to remove any impurities.
Heat sufficient water in a wide pan or vessel.  Add the yam cubes, turmeric powder and salt.  Cook on medium flame till the yam is cooked and gets soft.  Switch off the flame.  (Alternatively, you can also cook the yam with sufficient water,  in a pressure cooker.  In that case, pressure cook for 4 to 5 whistles).  Drain the excess water and keep the cooked yam cubes aside.
Heat oil in a kadai or pan.  Add mustard seeds and hing.  Once the seeds stops spluttering, add the cooked yam cubes and mix well.  Saute for 3-4 minutes on a low flame.
Add red chilli powder and salt.  Mix well.  Add salt only if required, as salt was already added at the time of boiling yam cubes.
Sprinkle besan and mix well again.  Cook for another 2 minutes on a low flame.  Switch off the flame.
Serve yam stir fry as a side dish for rotis or rice and sambar.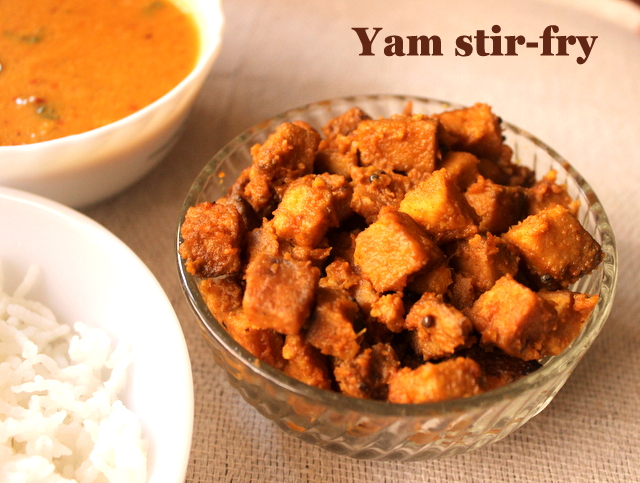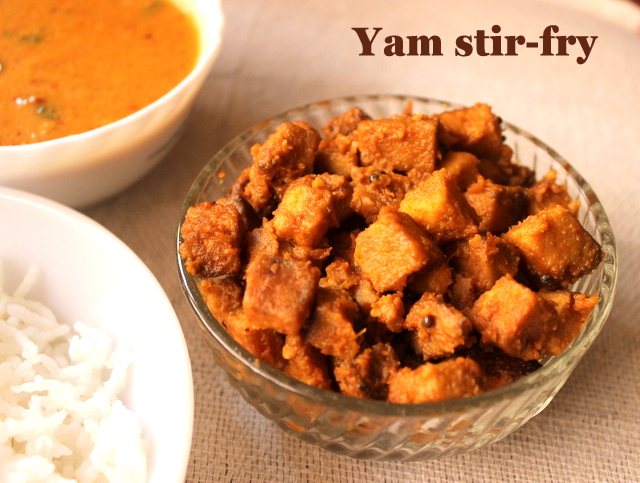 NOTES/TIPS
You can also garnish with grated coconut for that south indian touch, but tastes good without coconut too.
You can use chopped green chillies instead of red chilli powder.
To avoid itching while chopping yam, just smear little oil to your hands.  You can also refrigerate the yam and chop it later,  to avoid itchy feeling.