Akki payasa or pal payasam (rice kheer) recipe
Tweet
Akki payasa or pal payasam or rice kheer is a popular south indian dessert made of milk, rice and sugar. It is made on festival days and special occasions. Milk is cooked on a low flame for a long time to get the right texture and a rich flavour. Pal payasam is an ideal sweet dish during festive occasions.
Ingredients
Milk - 2 litres
Raw rice - 2 handfuls
Sugar - 2 cups
Method
Step 1
HOW TO MAKE AKKI PAYASA OR PAL PAYASAM Wash and soak rice for 10-15 minutes.
Step 2
Boil the milk in a heavy bottomed pan on a medium flame. Once it comes to boiling point, reduce it to low flame.
Step 3
Add raw rice and stir the milk.
Step 4
Boil the milk on a low flame till the rice is fully cooked stirring in between.
Step 5
Once the rice is cooked and milk is reduced to 3/4th of its volume, add sugar and stir well.
Step 6
Boil till the milk is reduced to half its volume. It may take 1 ½ to 2 hours.
Step 7
The milk colour will change to very light pink. It means the payasam is now ready. Switch off the flame.
Step 8
Remove from the heat. Serve akki payasa milk kheer warm or chilled.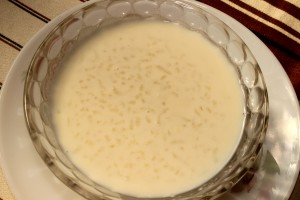 Step 9
Note : Use fresh and full cream milk for better taste. This recipe is a very tradional way of making payasam as the raw rice is being cooked slowly in boiling milk. It is a little time consuming but the kheer turns out to be very delicious. While boiling the milk alongwith rice, keep stirring the milk every 10 minutes and keep it on a low flame so that the payasam doesn't get burnt. Rice payasam tastes better without any nuts added to it..