Kayi holige recipe – kayi obbattu recipe – coconut puran poli – Holi recipes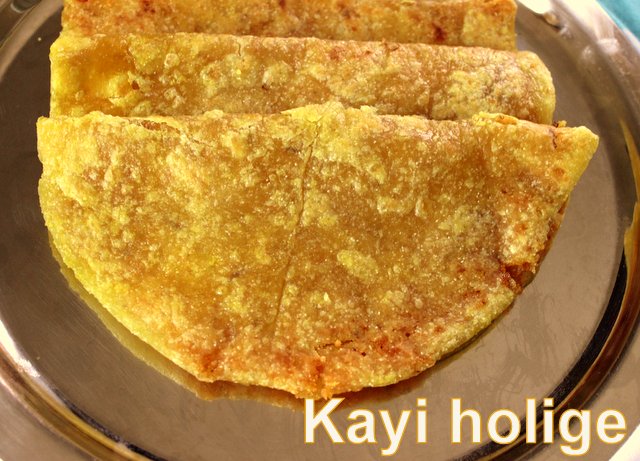 Kayi holige is a very popular sweet dish from North Karnataka.  It is very similar to puran poli which is prepared in Maharashtra.  For puran poli, the stuffing is made with boiled chana dal, jaggery, ghee and cardamom powder and the outer cover is prepared from maida or all purpose flour. But kayi holige is made with coconut and jaggery as the filling and maida as the outer covering. It is called as kayi holige or obbattu in Karnataka.   Holige is generally served alongwith ghee and hot milk.
Holige or puranpoli is an Indian dessert served during auspicious occasions and during important festivals such as Holi and Gudi Padwa. It is made mostly during Holi when the bonfire is lit. The stuffing is known as puran and the outer cover is known as poli.  It is a great breakfast dish and also can be served as snack.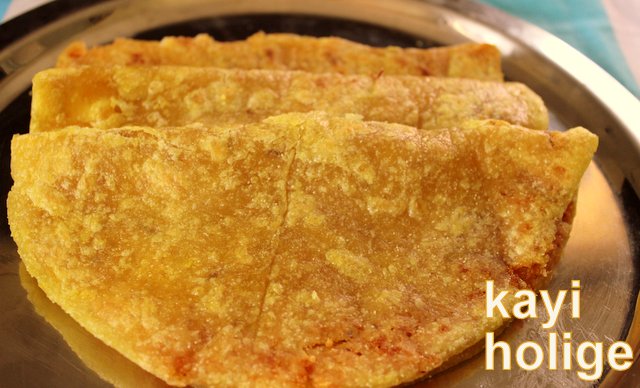 Prep Time :  30 mins
Cook Time : 20 mins
Yield :  7 holige
South Indian cuisine
INGREDIENTS
For the dough
Maida or all purpose flour – 1.5 cups
Semolina or fine rava – 1/4 cup
Turmeric powder – 1/4 teaspoon
A pinch of salt
Oil – 4 tablespoons
For the stuffing
Freshly grated coconut – 1 cup
Powdered jaggery – 3/4 cup
Water – 2 tablespoons
Cardamom powder – 1/2 teaspoon
Oil or ghee to make holige
HOW TO MAKE OR PREPARE KAYI HOLIGE RECIPE
Preparation of covering
Take a mixing bowl.  Add maida, rava, salt, turmeric powder, oil and  little water  and make a smooth and soft dough. Cover the bowl with a lid and keep aside  for half an hour.
For the stuffing
Heat a pan on  medium flame.    Add the powdered jaggery and 2 tablespoons of water.  Keep stirring till the jaggery is fully dissolved in water.  Once it reaches a thick consistency, add the grated coconut and mix well
Keep cooking on a low flame till the mixture becomes thick and the water in the mixture is fully absorbed.  Add cardamom powder and mix well.
Now the stuffing is ready.  Switch off the flame. Once it is cooled down, make small equal balls of the mixture and keep it ready.
Making of kayi holige
Apply little oil or ghee in your hand.  Take a butter paper or rolling board and smear oil on it.   Take a small ball from dough and spread it on  the butter paper.    Roll it to a small puri-sized with the help of your hand. Keep the stuffing in the centre of the rolled dough and close the edges towards the centre.
Press the dough lightly and start rolling the dough to a round shape.
Now place the rolled holige directly to the tawa or pan, alongwith the butter paper on top.  Gently remove the butter paper from the top.
Heat the tawa on a medium flame  and cook on a medium flame.  Once cooked, flip on the other side and cook till light golden spots appear on the poli.  Flip again and put some ghee on the top.  
Holige  will fluff a little.  Once cooked on both the sides, remove from the flame to a serving plate.  Repeat the process with the remaining mixture and dough.
Serve kayi holige hot or warm with a dollop of ghee over it.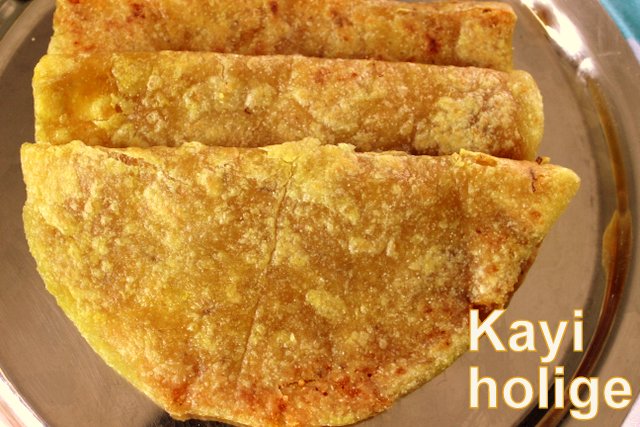 NOTES/TIPS
Kayi holige can also be made from wheat flour or a combination of wheat flour and maida/all purpose flour.
Apply some more ghee on the holige at the time of serving and serve hot immediately.
It can be stored in a refrigerator for upto a week.  Reheat over a skillet or in the oven before serving them.