Beetroot paratha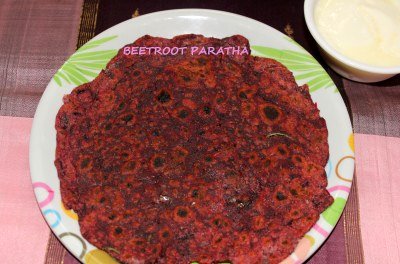 Beetroot paratha is a very healthy and brightly coloured delicious paratha made with grated beetroot, wheat flour and mixed with spices.  It is very easy to make and very tasty too.  Beetroot has got lot of health benefits as it helps in reducing blood pressure, treats conditions like fatigue and aneamia.  It is an excellent source of iron and manganese and other nutrients as well.
Ingredients
Wheat flour - 4 cups
Beetroot - 2 (medium sized and grated finely)
Red chilli powder - 1/2 teaspoon
Coriander powder - 1 teaspoon
Cumin powder - 1/2 teaspoon
Garam masala powder - 1/2 teaspoon
Green chillies - 2 (chopped finely)
Chopped coriander leaves - 2 tablespoons
Ajwain or carom seeds - 1/2 teaspoon
Salt to taste
Cooking oil
Method
Step 1
HOW TO MAKE BEETROOT PARATHA RECIPE Take a mixing bowl. Add wheat flour, grated beetroot, red chilli powder, coriander powder, cumin powder, garam masala powder, green chillies, coriander leaves, ajwain seeds, 2 tablespoons of oil and salt and mix well.
Step 2
Add water gradually little by little and mix together to form a dough. Knead for about 10 minutes till you get a smooth and soft dough. Set aside for 15-20 minutes.
Step 3
Divide the dough into equal sized smooth balls. Roll each ball into thin round sized with the help of a rolling pin.
Step 4
Heat a non-stick pan/ tawa on a medium flame. Once the tawa gets heated, transfer the rolled paratha into the tawa and cook on both sides. Spread ghee/oil on both the sides of the paratha and serve hot.
Step 5
Serve beetroot paratha hot with curd/raita or any curry of your choice.