Tomato oats recipe – How to make tomato oats recipe – Healthy breakfast recipes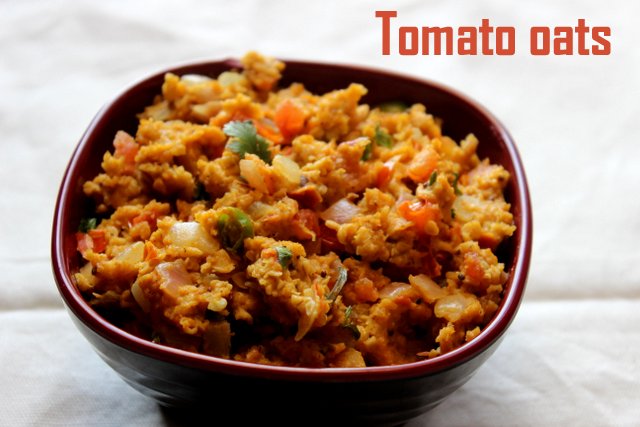 Tomato oats is a healthy breakfast dish made with oats.  This is a very nutritious and wholesome snack which can be prepared in less than half an hour.   Oats have lot of health benefits and are a great substitute to a lot of Indian grains and cereals in the Indian diet.  They help lower cholesterol, keeps you fuller for a long time and a good source of anti-oxidants.  Oats are rich in fibre and nutrients like manganese, zinc etc.  Tomato oats is also a good weight loss recipe as they are low in calories.
For more oats recipes, please click on this link :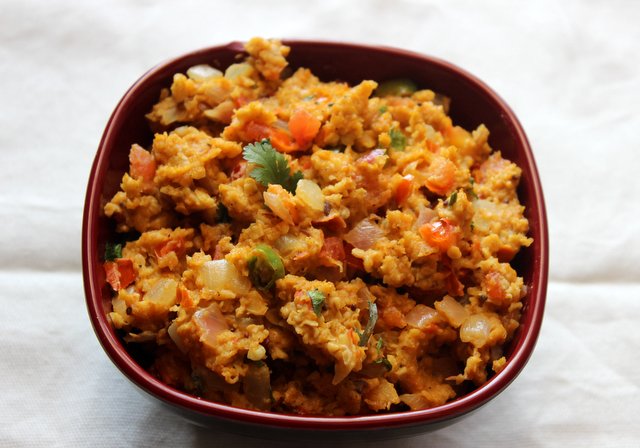 Prep Time :  10 mins
Cook Time :  15 mins
Servings :  2 to 3 persons
Indian cuisine
INGREDIENTS
Oats – 1 cup
Onion – 1 (chopped finely)
Tomatoes – 2 (chopped finely)
Ginger-garlic paste – 1 teaspoon
Green chillies – 2 to 3 (chopped finely)
Turmeric powder – 1/4 teaspoon
Coriander powder – 1/2 teaspoon
Garam masala – 1/2 teaspoon
Oil – 2 tablespoons
Mustard seeds or rai – 1/2 teaspoon
Cumin seeds or jeera – 1/4 teaspoon
Salt to taste
Few coriander leaves for garnishing
HOW TO MAKE OR PREPARE TOMATO OATS RECIPE
Take 1 cup of oats and rinse with the help of a colander.  Drain the water completely and keep it aside for 10-15 minutes.
Heat 2 tablespoons of oil in pan.  Add mustard seeds and allow it to splutter.  When it stops spluttering, add cumin seeds and stir till light brown in colour.  Then add green chillies and chopped onions.  When the onions become translucent, add ginger garlic paste and saute for few seconds on low flame.
Add chopped tomatoes and cook till they become little soft.  Then add turmeric powder, coriander powder and garam masala and mix well.  Cook on a low flame for 1-2 minutes.
Add the oats and mix well.  Cook for another 1 minute.  Then switch off the flame.
Garnish with chopped coriander leaves.  Serve tomato oats hot with curd, raita or as it is plain.
NOTES/TIPS
Do not soak the oats or add water while cooking,  as it they tend to become sticky.
Ensure to cook on low flame once you add the oats.  Otherwise oats may stick to the bottom of the pan.
Sprinkle lemon juice on top, just before serving.