Veg Masala Vermicelli recipe – How to make veg masala vermicelli recipe – veg recipes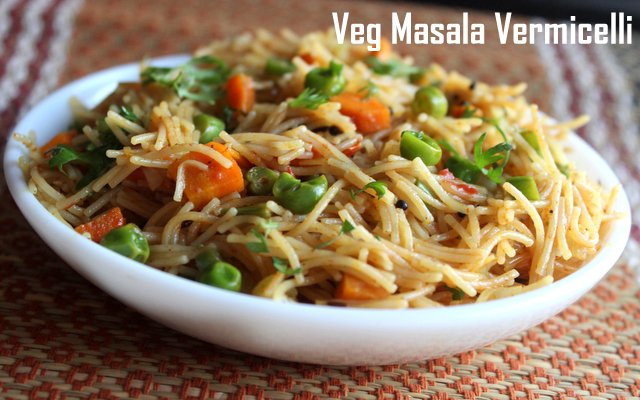 Veg masala vermicelli is a popular breakfast dish made with vermicelli, vegetables and spices.  It is not only healthy and nutritious but very delicious too.  A quick to make dish, it can be had as an evening snack also.  Vermicelli is called as shavige in kannada, semiya in tamil and seviyan in North India.  You can add your own choice of vegetables to make it more healthy and filling.  Now for the recipe..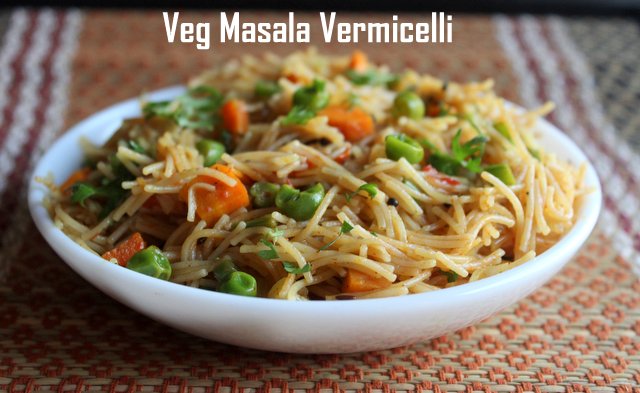 Prep Time : 15  mins
Cook Time :  15 mins
Servings :  2 to 3 persons
Indian cuisine
INGREDIENTS
Vermicelli/sevai/shavige – 1 cup
Ghee/oil – 2 tablespoons
Mustard seeds/rai – 1/2 teaspoon
Cumin seeds/jeera – 1/2 teaspoon
Tejpatta/bay leaf – 1
Cloves – 2
Cinnamon stick/dalchini – 1/2 inch
Onion – 1 (chopped finely)
Tomato – 1 (chopped finely)
Curry leaves – 10
Ginger-garlic paste – 1/2 teaspoon
Turmeric powder – 1/4 teaspoon
Green chillies – 2 (chopped finely)
Red chilli powder – 1/4 teaspoon
Garam masala – 1/2 teaspoon
Chaat masala (1/2 teaspoon)
Carrot – 1/4 cup (chopped)
French beans – 1/4 cup (chopped)
Green peas – 1/4 cup
Water – 2 cups
Salt to taste
Chopped coriander leaves for garnishing
Lemon juice – 2 tablespoons
HOW TO MAKE OR PREPARE VEG MASALA VERMICELLI RECIPE
PREPARATION
Heat 1 teaspoon of ghee in a pan.  Add vermicelli and fry on medium flame till they turn golden brown in colour.  Keep it aside.  Allow them to cool down.
METHOD
Heat 2  cups of water in a pan.  Add 1 teaspoon of oil to it.  Once the water comes to a nice boil, lower the flame and add the roasted vermicelli.
Cook the vermicelli for 4-5 minutes or till it is completely cooked.  Once cooked, switch off the flame.
Drain off the excess water with the help of a strainer or colander.  Keep it aside.  Heat 2 tablespoons of ghee in a pan.
Add mustard seeds, cumin seeds, cloves, tejpatta and cinnamon stick.  Allow the seeds to splutter and fry till the spices gives a nice aroma.  Then add ginger-garlic paste, green chillies, curry leaves and chopped onion.
Fry till the onion becomes translucent.  Add chopped carrot, beans and green peas. Mix well.
Add turmeric powder and salt.  Mix well.  Once the vegetables are half cooked, add chopped tomatoes and cook till the tomatoes become little soft.
Once all the vegetables are well cooked, add garam masala and chaat masala.
Add red chilli powder and cook for another 2 minutes.  Lastly add boiled and strained vermicelli.
Cook on a low flame till all the spices are blended with the vermicelli and  the water is well absorbed, if any.  Switch off the flame.  Sprinkle lemon juice and mix well.
Delicious veg masala vermicelli is ready to be served.  Serve hot.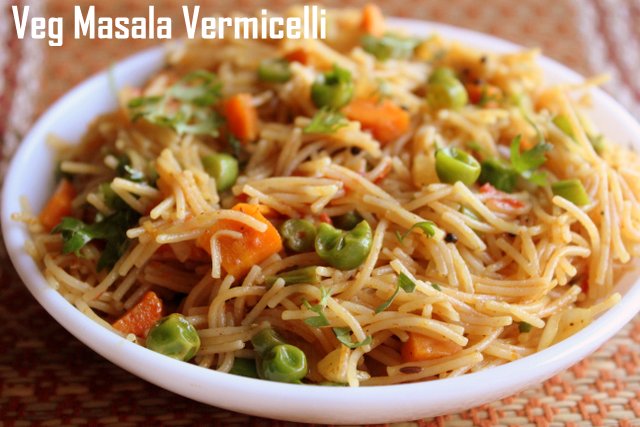 NOTES/TIPS
Ghee gives a good flavor and taste to the dish.
You can also add vegetables like potato, cabbage  or  cauliflower to make it more nutritious.
Adding oil to the water while boiling the vermicelli, helps to avoid vermicelli from sticking to each other.  Ensure that you do not overboil, else the vermicelli becomes mushy.