Bread rolls recipe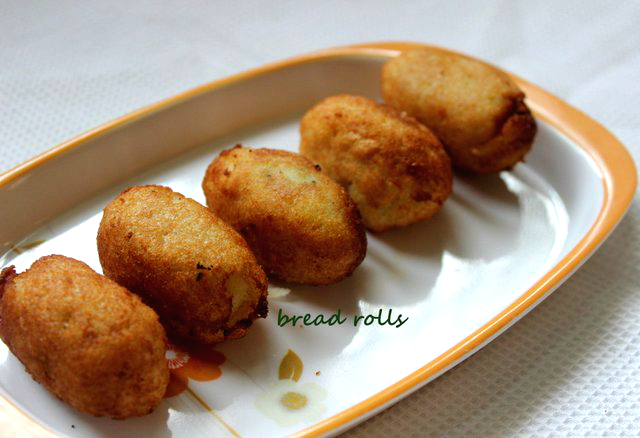 Bread rolls is a very tasty and crispy rolls made with mashed potatoes and mild spices and deep fried. It can be eaten whole or served with sauce or any chutney of your choice. Bread rolls is very easy to prepare and a perfect afternoon snack with tea.
Ingredients
Potatoes - 4 (medium sized)
Bread slices - 12
Ginger-garlic paste - 1 teaspoon
Coriander powder - 1 teaspoon
Cumin powder - 1/2 teaspoon
Garam masala powder - 1/2 teaspoon
Red chilli powder - 1/2 teaspoon
Green chillies - 2 (chopped finely)
Amchur or mango powder - 1/2 teaspoon
Chopped coriander leaves - 2 tablespoons
Cooking oil for frying
Salt to taste
Method
Step 1
HOW TO MAKE BREAD ROLLS RECIPE Boil the potatoes with sufficient water. Once cooled down, peel and mash the potatoes with a masher or by hand. Keep it aside.
Step 2
Heat 2 tablespoons of oil in a pan. Add green chillies, ginger-garlic paste, coriander pdr and saute for few seconds.
Step 3
Add mashed potatoes, salt, amchur powder, red chilli powder, cumin powder, garam masala and coriander leaves and stir well for 2 minutes and switch off the flame.
Step 4
Cut and remove the edges of bread slices.
Step 5
Make oval shaped balls or any shape of your choice from potato mixture. Set aside.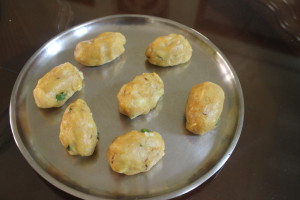 Step 6
Take little water in a bowl. Dip the bread slice in the water and squeeze the water completely.
Step 7
In the centre of bread slice, place a ball of potato mixture and wrap or close the slice around the potato ball to give an oval or round ball shape. Similarly make bread rolls with all the bread slices.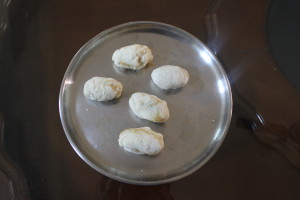 Step 8
Heat sufficient oil in deep bottomed pan. Deep fry all bread rolls until they turn brown. Remove the bread rolls in an absorbent paper to remove the excess oil.
Step 9
Serve bread rolls hot with tomato sauce or sweet chutney.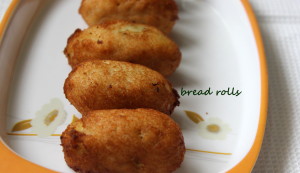 Step 10
NOTES : Ensure that the oil is hot enough before deep frying the bread rolls or else the rolls might break