Capsicum pulao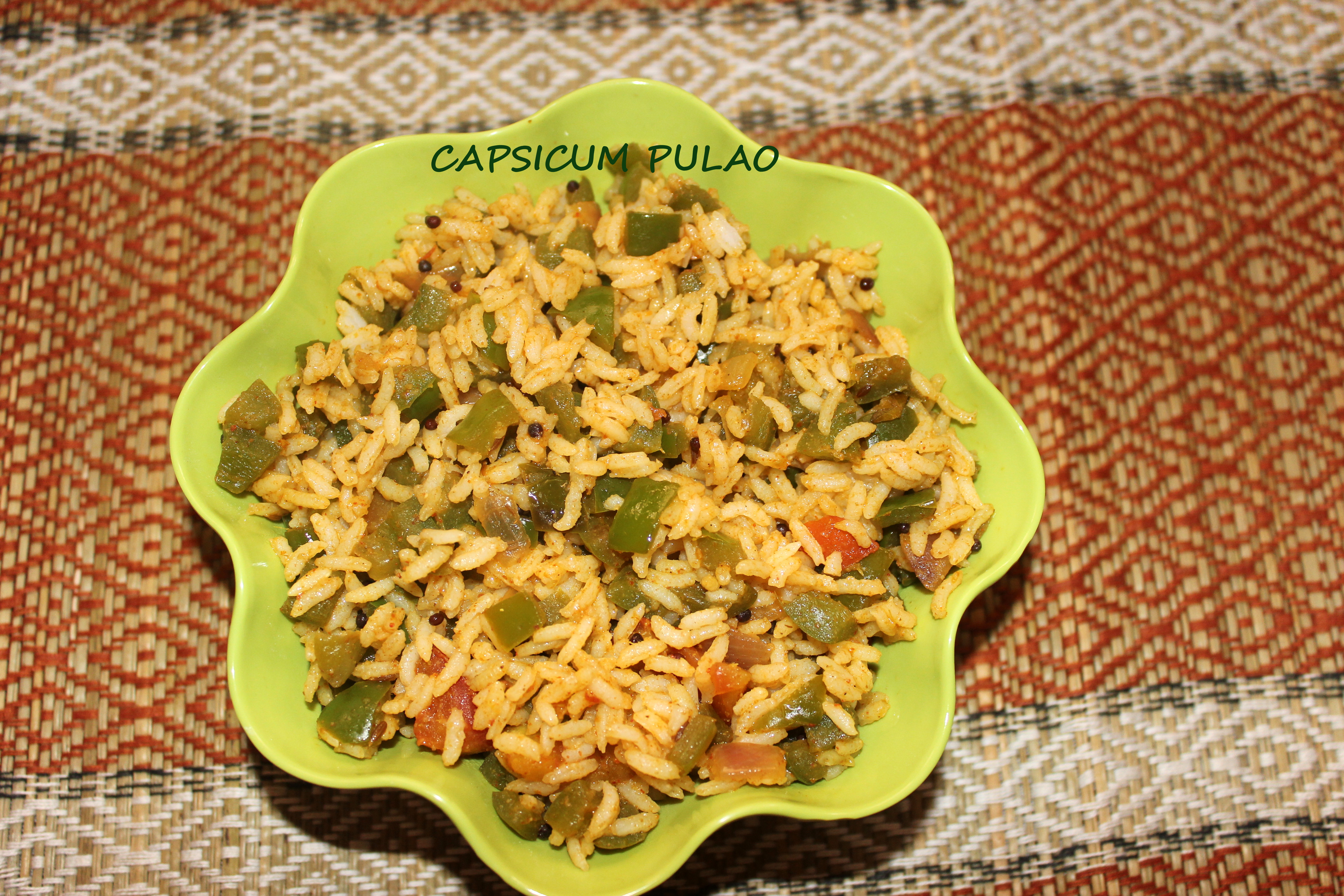 Capsicum pulao is a simple and tasty one pot meal made with green capsicum, onions and tomatoes.  It can be prepared in a jiffy with less effort.  Capsicum pulao is best served with raita or papads and makes a complete meal by itself.
Ingredients
Cooked rice - 4 cups
Green capsicum - 5 nos (chopped finely)
Cooking oil - 1 tablespoon
Mustard seeds - 1/2 teaspoon
Cumin/jeera seeds - 1/2 teaspoon
Ginger-garlic paste - 1 teaspoon
Onions - 2 (chopped finely)
Tomatoes - 2 (chopped finely)
Turmeric powder - 1/4 teaspoon
Red chilli powder - 1 teaspoon
Coriander powder - 2 teaspoons
Cumin/jeera powder - 1 teaspoon
Garam masala powder - 1 teaspoon
Salt to taste
Method
Step 1
HOW TO MAKE CAPSICUM PULAO RECIPE Spread the cooked rice in a plate and allow it to cool down completely. This way the rice grains remains separate and does not become too mushy.
Step 2
Heat a heavy bottomed pan or kadai. Add mustard seeds and allow it to splutter. Then add cumin seeds and stir fry for few seconds. Once the seeds changes the colour, add ginger garlic paste and onions and stir fry on a low flame till onions become translucent.
Step 3
Add tomatoes and cook for 2-3 minutes. Then add capsicum and cook till they become little soft.
Step 4
Add turmeric powder, red chilli powder, coriander powder, cumin powder, garam masala and mix well. Saute for few minutes on a low flame.
Step 5
Gently add cooked rice and mix thoroughly to it. Here check for salt and add if required.
Step 6
Serve capsicum pulao hot or warm with curd/raita or papads.