Tomato sambar recipe – How to make tomato or thakkali sambar recipe – tomato sambar for idli and dosa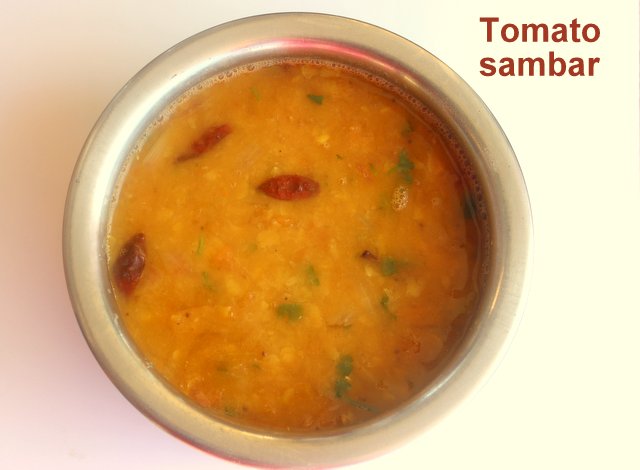 Tomato sambar is also called as thakkali sambar and is made with toor dal, tomatoes and tamarind, as the main ingredients.  This sambar goes well with idlis, dosas, steamed rice or ven pongal.  It is a very flavorful sambar and tomatoes gives a nice tangy taste to the sambar.  Tomato sambar is one of the  popular and traditional sambar which is prepared as a side dish for south indian snacks and also as an accompaniment for rice at lunch.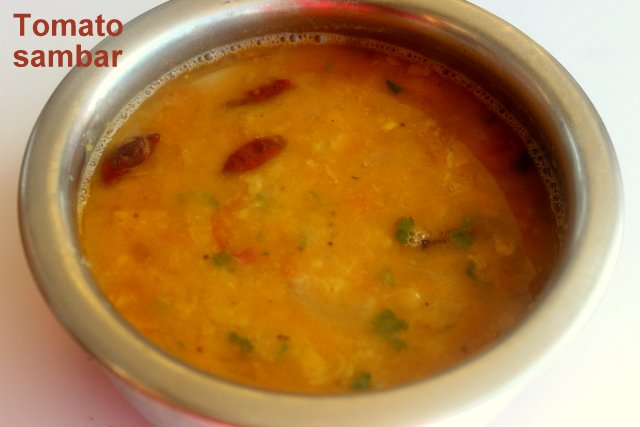 Prep Time :  25 mins
Cook Time :  15 mins
Servings :  4 persons
South Indian cuisine
INGREDIENTS
Toor dal – 1/2 cup
Tomatoes – 2 (ripe) (chopped finely)
Tamarind – lemon sized
Cooking oil – 2 tablespoons
Onion – 1 (chopped vertically) (optional)
Sambar powder – 2 teaspoons
Turmeric powder – 1/4 teaspoon
A pinch of asafetida or hing
Whole red chillies – 2
Mustard seeds (rai) – 1/2 teaspoon
Chopped coriander leaves – 2 tablespoons
Salt to taste
HOW TO MAKE OR PREPARE TOMATO SAMBAR RECIPE
Wash the toor dal thoroughly.  Soak the toor dal in 2 cups of water for half an hour.  (This helps in fast cooking of the dal).  Then add turmeric powder and chopped tomatoes to it.
Pressure cook the dal for 4-5 whistles or until cooked.  Once the pressure is cooled down, mash the dal-tomato mixture a bit and keep it aside.  Soak the tamarind in hot water for 15-20 minutes.
Extract tamarind juice with 1 cup of water.  Set the tamarind juice aside.  Heat 2 tablespoons of oil in a pan.  Add mustards seeds and asafoetida.
Once the mustards stops spluttering, add red chillies and onions.  Saute till the onions become light brown in colour.
Add the tamarind juice.  Allow it to boil till the raw smell of the tamrind goes away.  Then add sambar powder and salt.  Mix well.
Cook on a low flame for another 2 minutes.  Then add the mashed dal-tomato mixture and 1/2 cup of water.
Boil the sambar for 10 minutes on a low flame.  Keep stirring occasionally and add more water, if required, if the sambar is too thick.  Bring it to a medium consistency.  Once the sambar comes to a desired consistency, add chopped coriander leaves and mix well.  Switch off the flame.
Tomato sambar is now ready to be served. Serve tomato sambar with rice, idlis, dosas or ven pongal.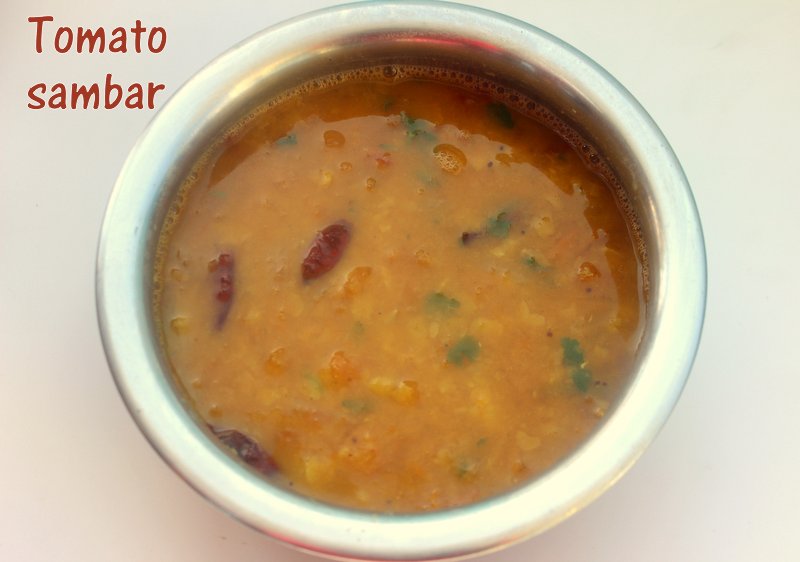 NOTES/TIPS
Adjust the consistency of the sambar as per your taste and preference.
Cook the tamarind water till the raw smell of the tamarind goes away.
You can use either home made sambar powder or store bought powder.
You can replace red chillies with green chillies.