Tendli/masale bhaat or Ivy gourd rice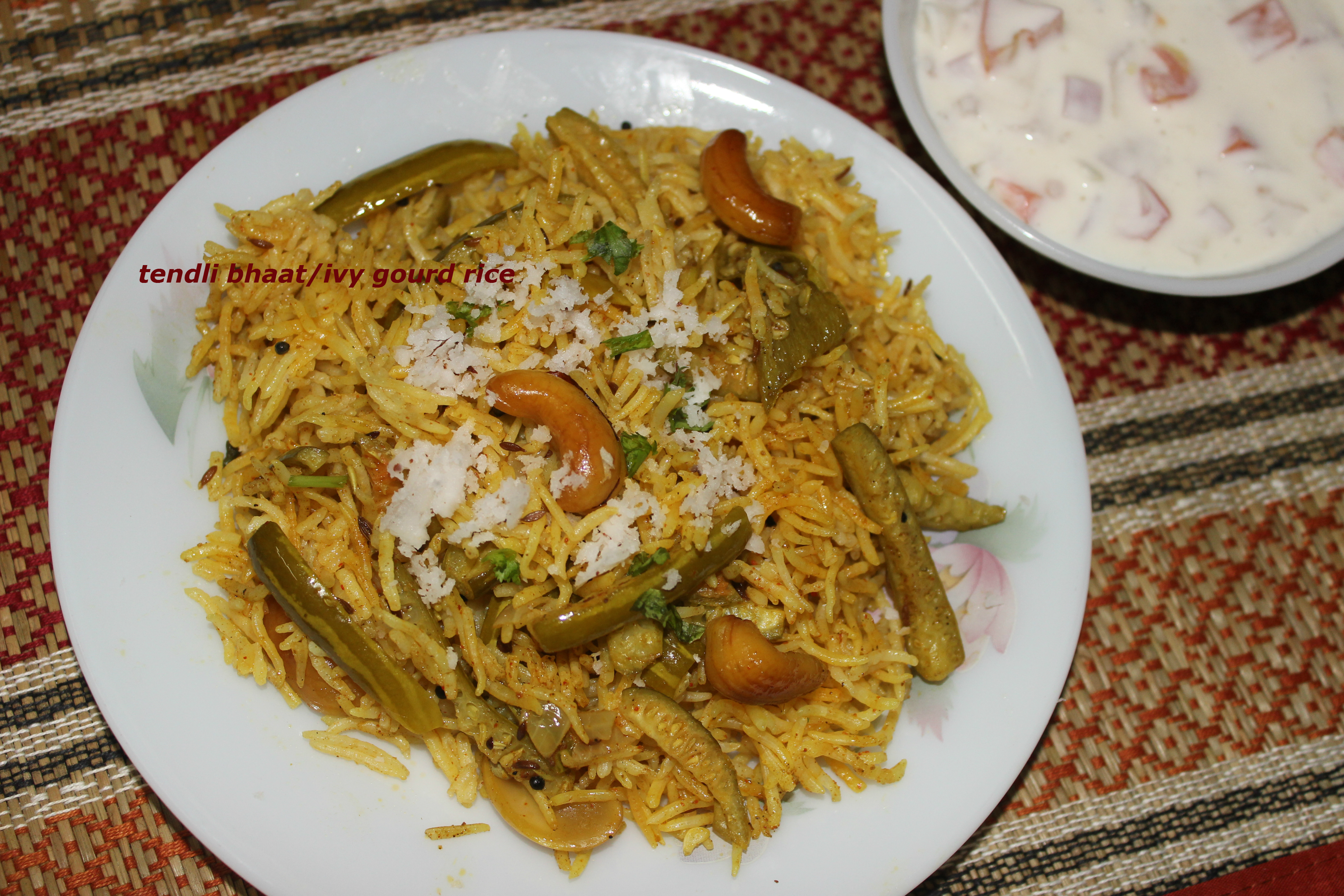 Ivy gourd is also called as tindora, dundru, tendli or tondekayi.  Ivy gourd or tendli is high in fibre which helps in the digestion of food.  It is a powerful antioxidant and is known to increase immune system function as well.  Ivy gourd is known to be good for treating skin infections too. Tendli or ivy gourd rice is a very popular rice dish in Maharashtra and some parts of North Karnataka.  A very delicious one pot meal which can be had plain or with curd or onion tomato raita.
Ingredients
Basmati rice - 2 cups
Ivy gourd/tendli - 1 cup (slit vertically thin pieces)
Cooking oil/ghee - 2 tablespoons
Mustard seeds - 1 teaspoon
Cumin/jeera seeds - 1 teaspoon
A pinch of asafoetida
A string of curry leaves
Cashewnuts - 2 tablespoons
Green chillies - 2 (slit vertically)
Red chilli powder - 1/2 teaspoon
Goda masala powder - 1 1/2 teaspoons
Turmeric powder - 1/2 teaspoon
Sugar - 1 teaspoon
Coriander powder - 1/2 teaspoon
Lemon juice - 1 tablespoon
Salt to taste
FOR GARNISHING
Grated fresh coconut - 2 tablespoons
Chopped coriander leaves - 2 tablespoons
Method
Step 1
HOW TO MAKE TENDLI OR IVY GOURD RICE Wash and cut the tendli into vertically thin pieces and keep aside.
Step 2
Wash and soak basmati rice in water for 10 to 15 minutes. Drain the water and set aside.
Step 3
Heat oil or ghee in a pressure cooker. Add mustard seeds and cumin seeds. Once the seeds stop spluttering, add curry leaves, green chillies, asafoetida, cashew nuts and chopped tendli and stir fry for 2 to 3 minutes.
Step 4
Add turmeric powder, salt, coriander powder, goda masala and mix well. Cook for another one minute.
Step 5
Add drained basmati rice and mix well. Add 4 cups of water and combine together.
Step 6
Add sugar, lemon juice and mix well. Pressure cook on medium flame upto 3 whistles.
Step 7
Once the rice is cooked and steam is settled down, remove the rice in a serving plate. Garnish with coriander leaves and grated coconut.
Step 8
Serve tendli/masale bhaat hot with onion-tomato raita, papads or with just plain curd.
Step 9
NOTES : Goda masala is an important ingredient for this dish. But if you don't have it, you can replace with garam masala. This rice can also be cooked in a heavy bottomed sauce pan instead of pressure cooker.