Tri coloured rice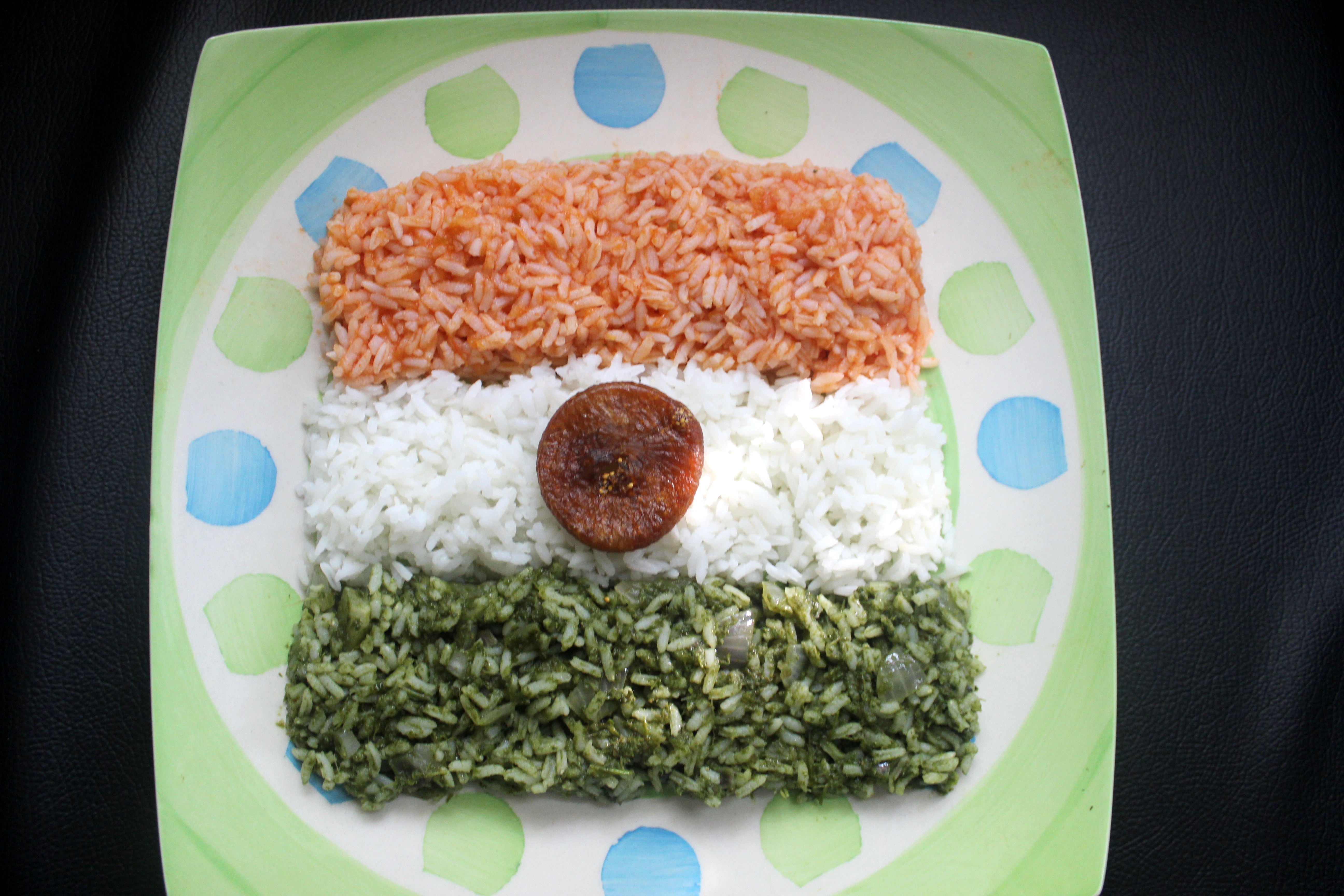 Tri coloured rice is made with tomato rice, spinach rice and plain rice. Try this mouthwatering rice dish and enjoy. Happy Republic Day!!!!
Ingredients
FOR TOMATO RICE
Tomatoes - 2 (blanched and ground to a thick puree)
Cooked rice - 1 cup
Red chilli powder - 1/2 teaspoon
Cooking oil or ghee - 2 tablespoons
Garam masala powder - 1 teaspoon
Salt to taste
FOR WHITE RICE
Cooked rice (plain) - 1 cup
FOR SPINACH OR PALAK RICE
Spinach or palak - 1 bunch (medium sized)
Onion - 1 (chopped finely)
Cooking oil or ghee - 2 tablespoons
Ginger-garlic paste - 1 teaspoon
Garam masala - 1 teaspoon
Chopped coriander leaves - 2 tablespoons
Chopped pudina leaves - 2 tablespoons
Green chillies - 3 to 4
Salt to taste
Lemon juice - 1 teaspoon
Method
Step 1
HOW TO MAKE TOMATO RICE Heat ghee in a heavy bottomed pan. Add tomato puree, salt, red chilli powder and garam masala powder.
Step 2
Saute the mixture for 2 to 3 minutes on a medium flame.
Step 3
Add cooked rice and mix well.
Step 4
Tomato rice is ready to be served
Step 5
HOW TO MAKE SPINACH OR PALAK RICE Wash spinach leaves, coriander leaves and pudina leaves thoroughly.
Step 6
Blanch the spinach leaves. Grind the blanched spinach leaves, coriander leaves and green chillies and make a puree. Keep aside (spinach puree)
Step 7
Heat ghee or oil in a pan. Add ginger-garlic paste and onions and saute till the onions become translucent.
Step 8
Add spinach puree and cook for another 6-7 minutes on a low flame.
Step 9
Add salt and mix well. Now add the cooked rice and combine together.
Step 10
Sprinkle lemon juice well and mix well. Spinach or palak rice is ready to be served.
Step 11
Now arrange the tomato rice, plain steamed rice and spinach rice in a tricolour and serve.