Ghee rice recipe – How to make ghee rice recipe – rice recipes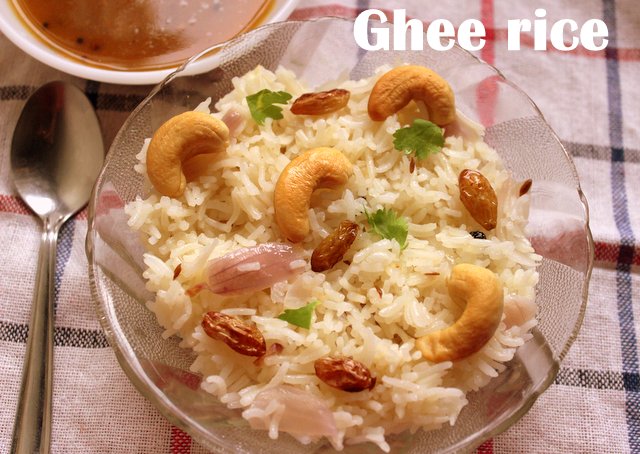 Ghee rice is a delicious and aromatic rice dish made with ghee as the main ingredient and spices.  It is easy and simple to make recipe and requires very few ingredients to make.  Spices added to rice gives a nice flavour to it.  Ghee gives a rich taste and smooth texture  to the rice.  Ghee rice goes well with plain dal, any curry or gravy and just plain as it is.  Do try this fragrant rice among the variety rice recipes.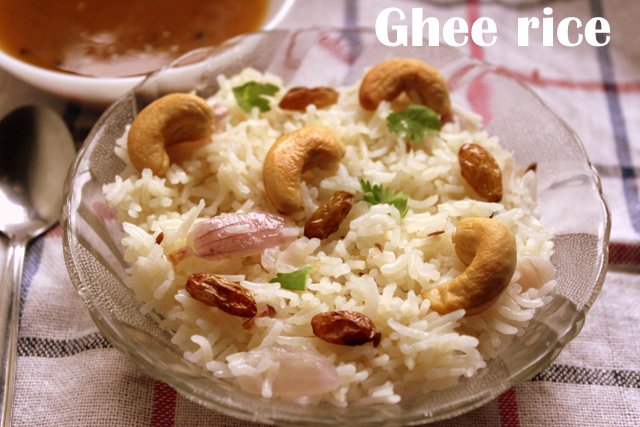 Prep Time : 10 mins plus 30 mins soaking time
Cook Time :  20 mins
Servings :  4 persons
Indian cuisine
INGREDIENTS
Basmati rice – 1 cup
Onion – 1 (medium sized) (thinly sliced)
Ghee – 4 tablespoons
Water – 2 cups
Cashewnuts  – 15 nos
Raisins – 15 nos
Chopped coriander leaves – 2 tablespoons
Lemon juice – 1 teaspoon
Salt to taste
Whole spices for seasoning
Cumin seeds – 1/2 teaspoon
Whole black pepper – 6 to 7 nos
Bay leaves – 2
Cloves – 4
Green cardamoms – 2
Cinnamon stick – 2 inch
HOW TO MAKE OR PREPARE GHEE RICE RECIPE
Rinse the basmati rice thoroughly to remove excess starch.  Then soak the rice in enough water for 30 minutes.  Heat ghee in a pan or kadai.  Add the cashewnuts and roast till light golden brown in colour.
Add raisins and stir on low flame till they puff up.  Remove them in a plate and keep it aside.  To the same pan, add the whole spices (cumin seeds, whole pepper, bay leaves, cloves and cinnamon stick) and stir fry till it gives a nice aroma.  Take care not to burn the spices.
Add the sliced onions and saute till they become translucent.
Add the soaked rice and stir  gently.  Let the rice get well coated with the ghee.
Add 2 cups of water and lemon juice.  Let the water come to a nice boil.
Then lower the flame and cover the pan with its lid.  Simmer till the rice is well cooked.  Keep checking in between to ensure that the rice is well cooked.  Sprinkle 2-3  tablespoons of water if the rice is not cooked.  Cover the pan and cook again till cooked.  Once cooked, switch off the flame.  Gently fluff the rice with a fork. Garnish with fried cashewnuts, raisins and chopped coriander leaves.
Serve ghee rice hot with dal or any curry of your choice or as it is plain.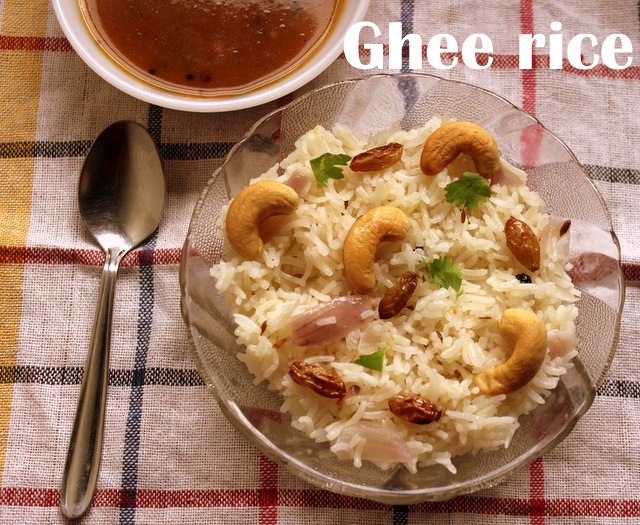 NOTES/TIPS
Lemon juice gives a nice white colour to the rice and separates the rice from each other.
Use preferably basmati rice rather than regular rice for better taste and flavour.
Avoid over cooking the rice.
Add a teaspoon of ginger-garlic paste after adding the onions.  Saute for few minutes and then add the rice.