White sauce pasta recipe – How to make white sauce pasta – pasta recipes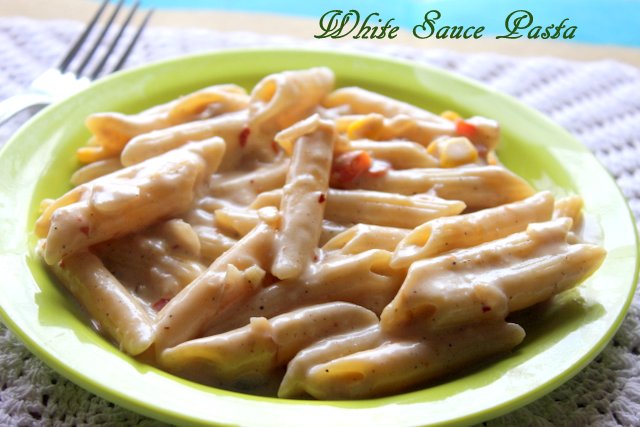 White sauce pasta – a traditional Italian dish prepared with penne pasta in a creamy white sauce and spices.  You can add stir fried veggies of your choice to make it more healthier as well as suit your taste buds.  White sauce pasta is very to easy to make and can be  prepared in half an hour's time.
White sauce is made with maida, butter and milk.  This sauce is the main ingredient which gives a creamy and smooth texture and taste to the dish.  To make it more colourful, you can add veggies like yellow or green or red capsicum, carrot or any other veggies of your choice and make it more nutritious.  It is an ideal evening snack or a light dinner and loved by both elders as well as kids alike.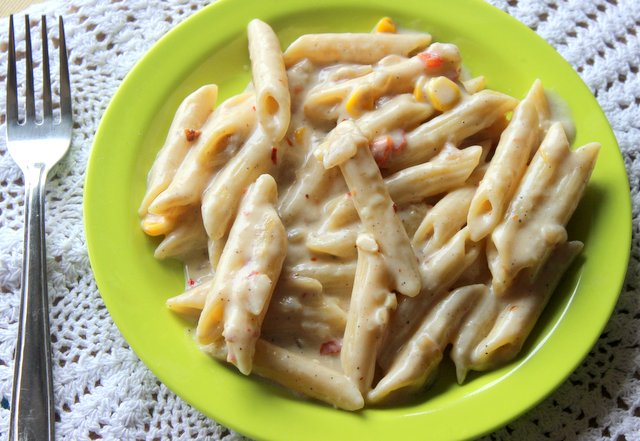 Prep Time :  15 mins
Cook Time : 25 mins
Servings : 4 persons
International cuisine
INGREDIENTS
FOR BOILING PASTA
Penne pasta – 1 cup or any pasta of your choice
Boiling water – 4 to 5 cups
Oil – 1 teaspoon
Salt to taste
FOR WHITE SAUCE
Butter – 1 tablespoon
Maida or all purpose flour – 2 tablespoons
Milk – 2 cups
Red chilli flakes – 1/2 teaspoon
Black pepper powder – 1/2 teaspoon
Salt to taste
FOR VEGGIES
Butter – 2 tablespoons
Garlic cloves – 5 (chopped finely)
Onion – 1 (medium sized  chopped finely)
Corn kernels – 1/4 cup
Carrot – 1/4 cup (chopped finely)
Salt – as per taste
HOW TO MAKE OR PREPARE WHITE SAUCE PASTA RECIPE
Take 4 to 5 cups of water in a vessel and bring it to a nice boil.  Add 1 teaspoon of oil and salt to taste.  Then add 1 cup of penne pasta to the water and boil them till cooked but not very soft.
Boil the pasta for 10-15 minutes on a low to medium flame.
Once cooked, transfer the boiled pasta to a colander and drain the excess water.  Keep the boiled pasta aside.
Heat 2 tablespoons of butter in a pan on medium flame.  Add garlic cloves, chopped onions, carrots and corn kernels.
Mix all the veggies well and add salt.  Stir fry the veggies on medium flame till little cooked and crunchy for 2-3 minutes.
Once stir-fried,  transfer the veggies to a plate.  Add another 1 tablespoon of butter to the same pan.
Once the butter is melted, add the maida and cook for a minute by stirring continuously on low flame.
Add 1 cup of milk little by little, while stirring continuously for another 2 minutes.  The mixture will start to thicken after some time.
Once the mixture or the white sauce is thickened, add 1/2 tsp of red chilli flakes and 1/2 tsp of black pepper powder and salt.
Mix everything well.  Add the sautéed vegetables.
Mix well again.  Add the boiled pasta and cook on a low flame for a minute.
Switch off the flame.  Transfer to a serving bowl and serve hot.
NOTES/TIPS
You can also add veggies like green peas, mushrooms or french beans to make it more nutritious.
Serve the pasta with grated mozarella cheese or any cheese of your choice, on top, for a cheesy flavour.
White sauce pasta tends to thicken once cooled down.  So serve the pasta and enjoy when it is still hot.
Add milk little by little while preparing the white sauce, to ensure that no lumps are formed.
White sauce pasta can also be prepared without adding any vegetables.