Hagalkai kootu or bittercourd/karela curry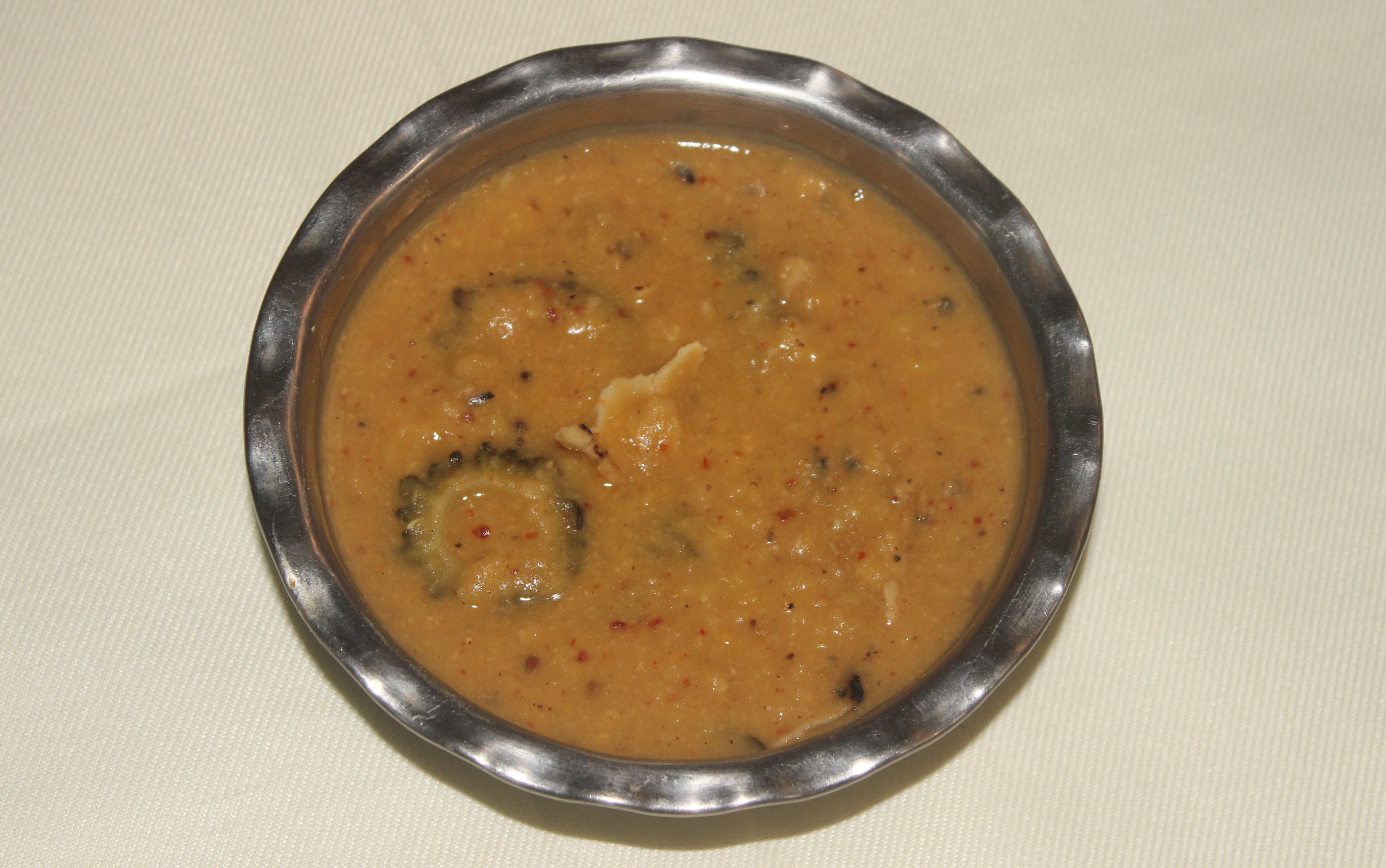 Hagalkai kootu or bittergourd curry is traditional south indian curry made from bittergourd, tamarind and tur dal.  Bittergourd curry is very delicious and healthy too.  It is best served with steamed rice.
Ingredients
Tur dal - 3/4 cup
Bittergourd/hagalkai - 1 medium-sized
A pinch of asafoetida
Salt to taste
Tamarind water - 1/2 cup
FOR MASALA
Bengal gram/chana dal - 1 tablespoon
Urad dal - 1 tablespoon
Whole red chillies - 4 to 5
Whole black pepper - 8 nos
Grated coconut - 1/2 cup
FOR SEASONING
Oil - 1 teaspoon
Mustard seeds - 1/2 teaspoon
Curry leaves - 10 to 12
Method
Step 1
HOW TO MAKE HAGALKAI KOOTU OR BITTERGOURD/KARELA CURRY Wash and soak tur dal for 45 minutes. Pressure cook the dal with enough water and 1/4 teaspoon of turmeric powder, till 4 whistles. Once cooled down, mash the dal and keep aside.
Step 2
Deseed the bittergourd and cut them into thin round slices. Apply salt to it and set aside for half an hour. Then squeeze the salt water and wash in fresh water and keep aside.
Step 3
Heat 1 teaspoon of oil in a pan. Add chana dal, urad dal, red chillies, black pepper and roast till the aroma goes and dals turn light brown. Add grated coconut and fry for few seconds. Remove the mixture from the pan. Allow them to cool down. Grind the mixture with little water to a smooth paste.
Step 4
In the same pan, add 2 tablespoons of oil. Add bitter gourd slices and stir fry till light brown.
Step 5
Heat a heavy bottomed vessel. Add tamarind water, fried bittergourd slices, salt and asafoetida and boil till the raw smell of tamarind goes.
Step 6
Add the ground mixture and mix well. Cook on a low flame for 2 to 3 minutes.
Step 7
Then add mashed tur dal and little water to bring it to a medium consistency. Combine together and cook on a medium flame for 5 to 6 minutes.
Step 8
Heat oil in a tadka pan. Add asafoetida, mustard seeds. Allow mustard seeds to splutter. Then add curry leaves. Pour this seasoning to the curry and mix well.
Step 9
Roast 2 papads on an open flame. Once roasted, break them into pieces and add to the curry and mix well. Let the papads soak in the curry for 10 to 15 minutes. It enhances the taste of the curry. But this is optional.
Step 10
Serve hagalkai kootu or bittergourd curry with steamed rice.